In My Own Footsteps
Michael Pennington
Michael Pennington Books
Released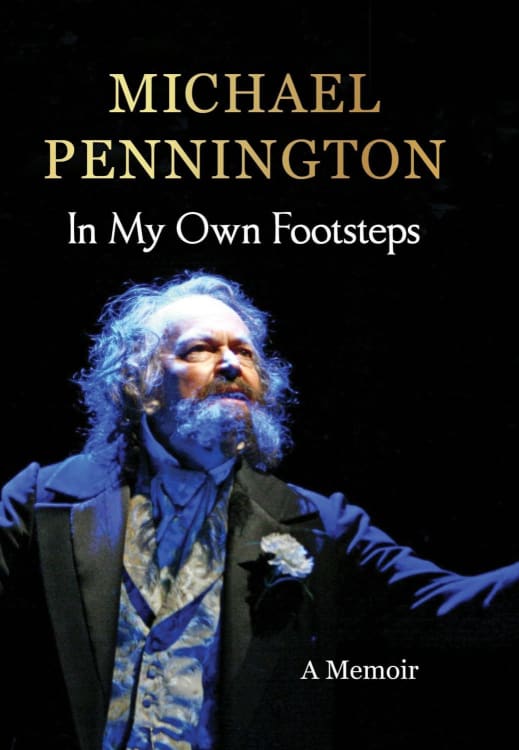 Michael Pennington is now a grand old man of the theatre, having been everywhere and done everything in a career currently extending into its sixth decade.
In My Own Footsteps, published by new imprint Michael Pennington Books, falls somewhere in the ground between autobiography and memoir, while recalling what has generally been a very full and happy professional life.
This delightful volume is one of the few happy consequences to arise from the coronavirus pandemic, since without more free time than its author would ever have wished for, it might never have been written.
Pennington is a superb anecdotalist, which should be the big selling point. Indeed, this book reads like the upshot of a series of nights out sharing a few drinks in a comfortable theatre bar or possibly enjoying a sumptuous meal in a small, intimate group.
Without any family history in the industry, as a child, Michael Pennington knew that he wanted to be an actor and neither public school nor Cambridge could knock the idea out of him. Indeed, his varsity career involved very little study but a great deal of stage action in a generation that included the likes of future National Theatre directors Sir Trevor Nunn and Sir Richard Eyre, as well as John Cleese, Miriam Margolyes and Stephen Frears and lifelong friends John Shrapnel and Robin Ellis.
The breadth and depth of this actor's career is astonishing. There must have been odd periods when he was resting but these rarely manifest themselves, with one acting opportunity chasing joyously after another from graduation to the present day.
Younger readers may not be aware of many of the early highlights in the career of a man whom they might best recognise for his appearances in Star Wars movies. He is also an accomplished and experienced director and producer who created the English Shakespeare Company with Michael Bogdanov.
Pennington managed three separate stints acting with the Royal Shakespeare Company and candidly describes his attempts to become its Artistic Director in 2002 when he was beaten to the finishing line by Michael Boyd.
This book can read like a Who's Who of British theatre in the second half of the 20th century and the beginning of our own, which is partly a tribute to a warm and open character who seemingly befriended everyone he met from Nicol Williamson and Peggy Ashcroft in the early days to John Barton, Sir Peter Hall, Richard Griffiths, Francesca Annis, Dame Judi Dench and hundreds more.
On a wider stage, we also learn about his friendship with Romanian actor / director / politician Ion Caramitru. A cynical reader might begin to accuse him of name-dropping but that would be unfair given his genuine interactions with all of the great and the good.
One of the pleasures of reading this life story is its ability to veer off course to tell fine stories, before coming back to a relatively chronological account of a life and career. Favourite writers also make regular appearances, particularly Shakespeare, Chekhov and the Neapolitan Eduardo Filippo.
Away from the theatre, the story can be a little more clouded as alcohol and other intoxicants certainly played a part, love of beautiful women another, while a passion for cricket learned in childhood leads us into the text. Readers will also learn some helpful tips about actual directing techniques from a deeply insightful chapter on two productions of King Lear.
They will eventually come out considerably better informed about theatrical politics, the joys of working on the stage and the nature of a man whose company would clearly be a pleasure if you ever bumped into him in a pub or theatre bar.
Reviewer: Philip Fisher