In the Name of the Son
Richard O'Rawe and Martin Lynch
GBL Productions, Green Shoot Productions
Grand Opera House, Belfast
–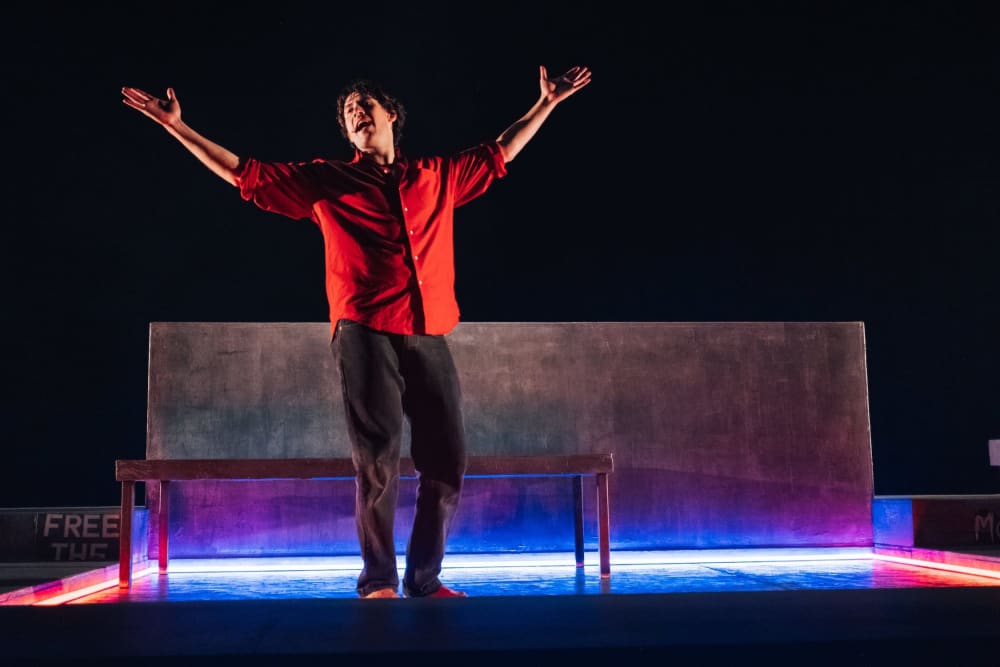 First seen in Belfast's Lyric Theatre in 2021, In the Name of the Son returns to the city's Grand Opera House prior to an Edinburgh Festival run with Shaun Blaney reprising his bravura solo performance as Gerry Conlon.
Conlon was one of the so-called 'Guildford Four'—three Northern Irish men and one woman—who were wrongly accused of involvement with an IRA bombing in 1974 and imprisoned until their convictions were quashed in 1989.
At a time when to be Irish in Britain was to be both pariah and suspect, the injustice meted out to Conlon was by no means unique. His father, Giuseppe, died in prison as one of the 'Maguire Seven', while the 'Birmingham Six' also served time at Her Majesty's dubious pleasure for similar crimes of which they were all wholly innocent.
Conlon's story was memorably told in Jim Sheridan's 1993 film In the Name of the Father, when he was played by Daniel Day-Lewis, with Pete Postlethwaite as Giuseppe. What happened after his release is the subject of In the Name of the Son, co-written by Martin Lynch and Richard O'Rawe and based on O'Rawe's similarly titled biography of 2017.
O'Rawe (a childhood friend of Conlon) and Lynch both share a long association with Republicanism, sympathies that discreetly inform a blistering work of righteous anger at prejudice and injustice, and the terrible, eviscerating cost it inflicted on one man's life. It is arguably Lynch's finest work since his award-winning Chronicles of Long Kesh in 2009.
The night belongs to Shaun Blaney, fresh from success in Marie Jones's Stones in His Pockets earlier this month at the Lyric. His Conlon is a mercurial creature, born into Falls Road poverty and petty crime who seeks a new start in England only to find his life turned inside out.
Playing more than 30 characters, Blaney's turn-on-a-sixpence switching between them is done with dexterous vocal inventiveness, agile physicality and provocative poignancy as he ricochets between newfound wealth (Conlon received—and squandered—more than £1 million in compensation) and Hollywood celebrity before freeloaders, failed relationships and crushing guilt over his father's death led to drug addiction and attempted suicide.
A portrait of a life interrupted, it's a tale infused with madness, acidly-tinged by Conlon's wrestling with demons, but told with compassion and redeeming humour, not least the wickedly funny account of encounters with assorted A-list film stars at the Oscars ceremony.
Deftly allowing Blaney sufficient space, director Tony Devlin maintains a steady and taut pace, albeit with moments of longueur in both acts.
Echoing a prison cell, Tracey Lindsay's minimal set is sepulchrally lit with neon accents by James McFetridge. Garth McConaghie's sound design—an electronic ambiance peppered by pop songs from the 1960s to the 1990s—risks sounding rather over-dominant at times.
Blaney's use of a microphone in the otherwise accommodating acoustic of the Frank Matcham-designed Grand Opera House creates moments where he competes with the amplified soundtrack, the whole becoming a blur of undifferentiated sound.
That cavil aside, In the Name of the Son is a powerful work, uneasily pertinent at a time when England's Parliament is again seeking scapegoats to excuse and disguise the latest of its own self-inflicted crises. As such, it is very much a Play for Today: an excoriating critique of prejudice at the heart of British politics and an invigorating testimony to courage and resilience.
Reviewer: Michael Quinn