Stones in His Pockets
Marie Jones
Barn Theatre, Cirencester
Lyric Theatre, Belfast
–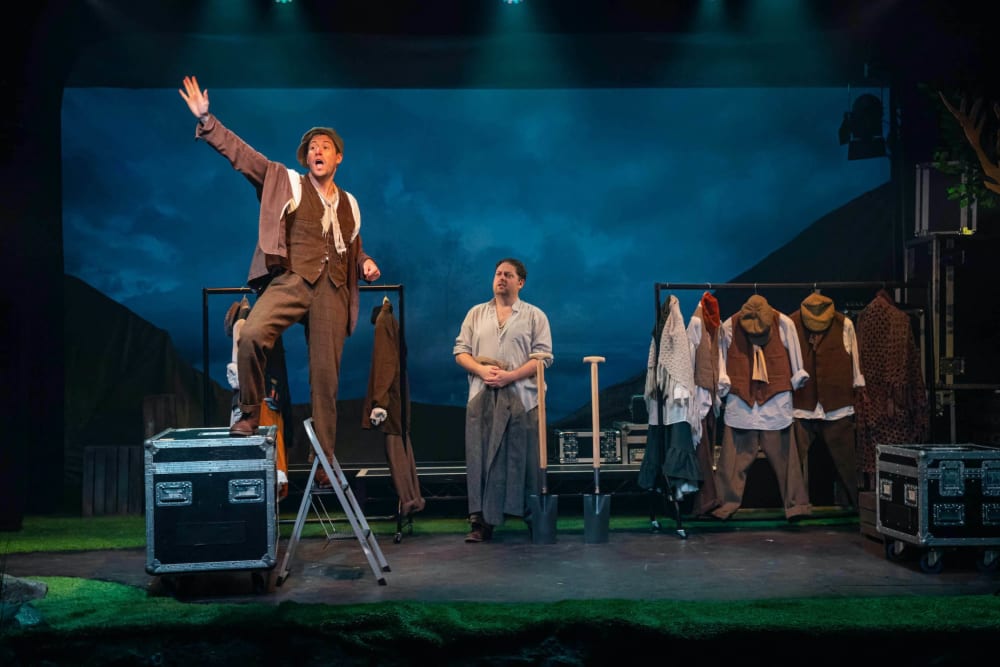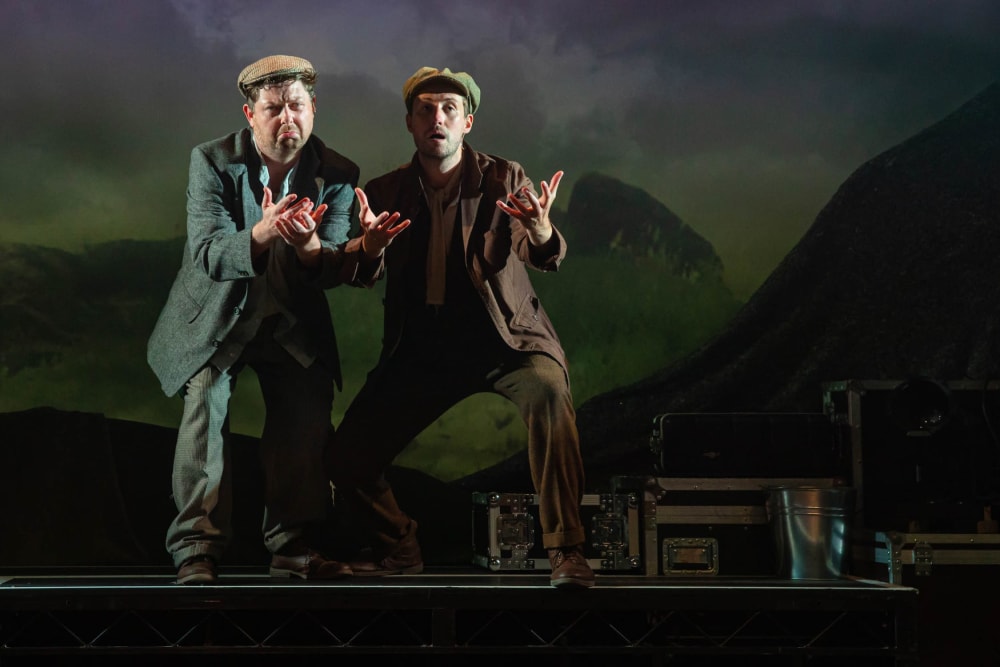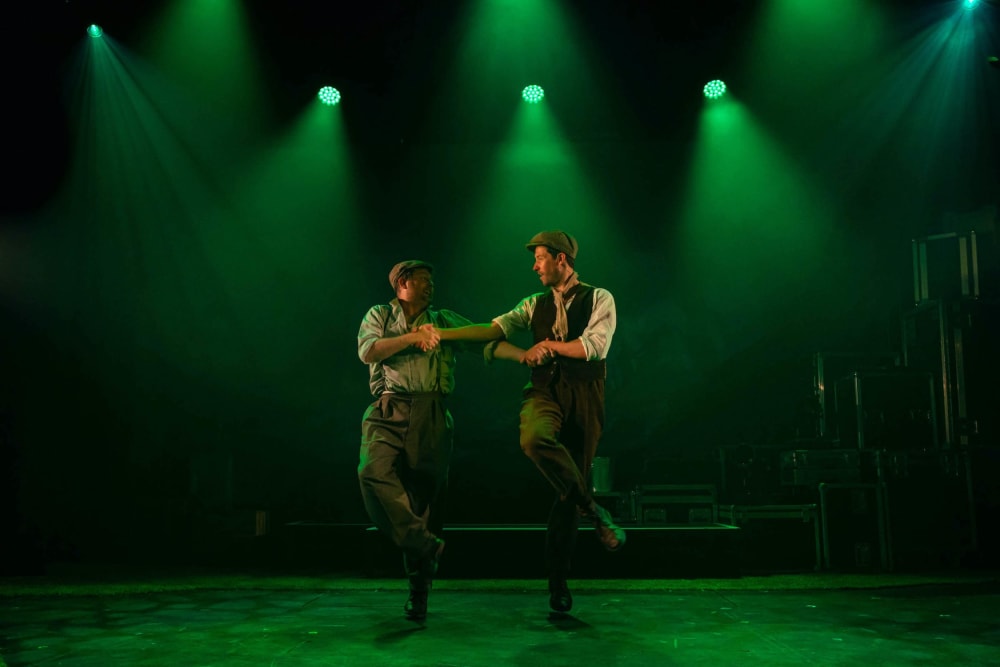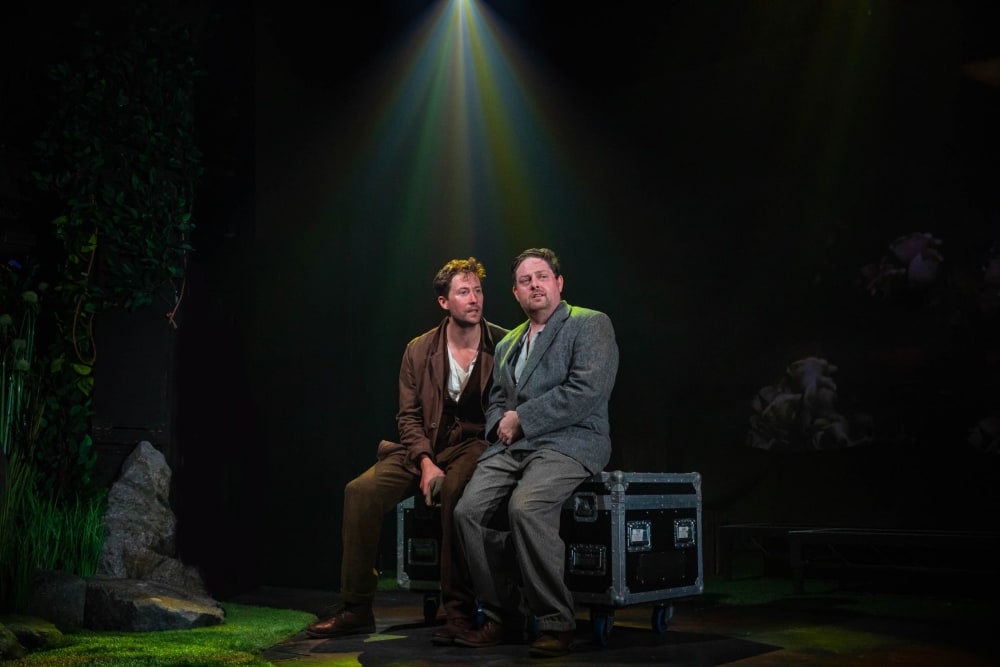 Matthew McElhinney's glossy revival of Marie Jones's Stones in His Pockets, first seen last year at Cirencester's Barn Theatre, marked the Tony-nominated, Olivier award-winning play's 25th anniversary. It returns home to Belfast's Lyric Theatre with a splash of celebrity cameos adding glamorous (albeit glancing) endorsements for Jones's most successful play.
Much has changed in Northern Ireland (although much, with atavistic stubbornness, also remains the same) since Jones's tragicomedy was first seen at the 1996 West Belfast Festival as the region was beginning to breathe more freely in the wake of paramilitary ceasefires after three brutalising decades of internecine violence.
The County Kerry-set play's interrogation of the commodification of Ireland's unspoilt rural landscape—here by the filming of an extravagantly 'Oirish' Hollywood blockbuster—still has much to say about Ireland's doggedly abiding conundrum: an idyllic surface appearance masking wounds, not yet fully healed, that lie beneath its tranquil, tourist-seducing façade.
Jones's clever conceit of employing two actors—nominally extras on the film set—to play a multitude of characters remains its central strength. Especially when so agilely and resourcefully served by Shaun Blaney and Gerard McCabe, whose second-act Irish dance sequence (choreographed by Fleur Mellor) earned a standing ovation from a packed opening-night audience, enthusiastically repeated at curtain-fall.
Newly returned home from an unhappy sojourn in New York, Blaney's disillusioned Jake is ill at ease with finding his way back into a place where he fears he no longer belongs. Conversely, McCabe's Charlie, a deeply rooted son of his home soil, dreams of a world elsewhere; the film script he keeps on his person a talisman loaded with the promise of an other, less mundane, more fulfilling life.
Both realise the shape-shifting demands of Jones's busily populated, jump-cutting script with aplomb. For all the chutzpah of their handbrake-turns as they switch in an instant between characters, neither loses sight of the essential, defining poignancy at the heart of the play: the conflicted relationship between the reunited friends. One brought to boiling point by the off-stage suicide that provides the play with its bubble-bursting punch to the stomach. "It's not us they want," as Jake pointedly comments, "it's the scenery."
Wholly new here is the dazzle of Benjamin Collins and Alex Tabrizi's audio-visual design, which facilitates filmed appearances by Jones and a baker's dozen of luminaries including Liam Neeson, Adrian Dunbar, Ciarán Hinds and Saoirse-Monica Jackson. Much hyped though these cameos were, many were lost in the fast-cutting blur of the finale.
Lost, too, amidst the projected scenes of spectacular countryside, grazing cows and film locations, was the play's essential concentrated quality, a playing time of two hours and 30 minutes risking occasional longueurs.
While witty topical references to Amazon Prime and Apple's Siri ink in appreciable contemporary touches, noticeably absent still is a breadth of female voices to match those of multiple male perspectives. A surprising oversight by the author of Women on the Verge of HRT and Dear Arabella.
Cavils aside, Stones in His Pockets remains a potent theatrical experience and something of a triumph for all concerned here.
Reviewer: Michael Quinn