In Time O' Strife
Joe Corrie
National Theatre of Scotland
Sherman Cymru
–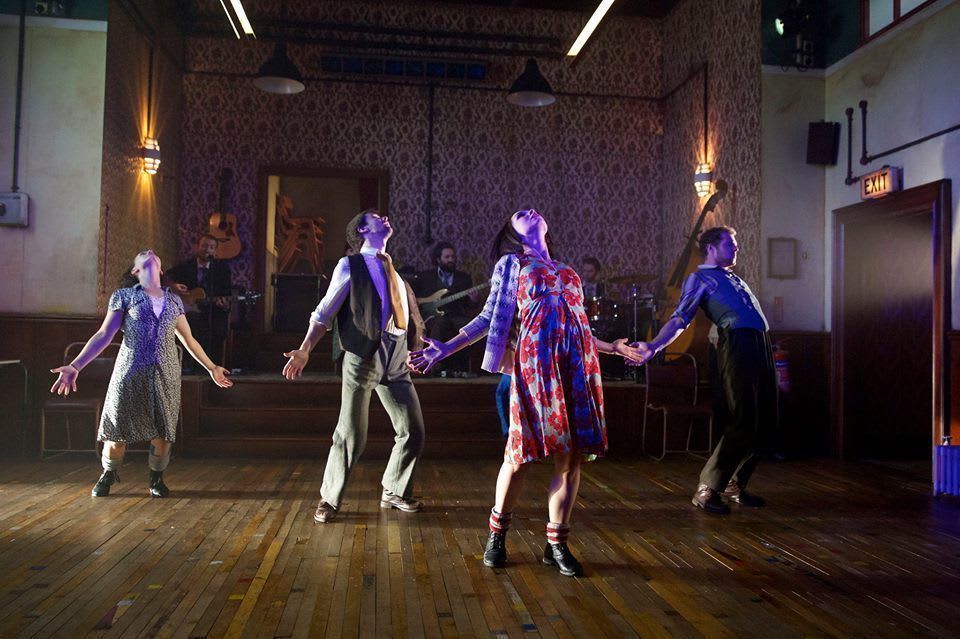 There are those who believe that theatre should be all about singing and dancing; others feel that as an art form its duty is to confront bourgeois audiences with unpalatable truths about oppression. For a fair amount of its running time, In Time O' Strife has a fair attempt at appealing to both constituencies.
This National Theatre Scotland production, visiting Cardiff on the last leg of a tour which has taken in much of its home country (as well as, bizarrely, Oxford), is based on the work of Joe Corrie, the pitman playwright who began his theatrical career by putting on theatrical entertainments in order to raise money for those involved in the General Strike of 1926. In Time O' Strife is set during the aftermath of this more high-profile, short-lived dispute, as the miners continue their struggle.
As the audience files into the space, we are entertained by a band playing lively versions of folk songs by non-contemporaneous writers such as Pete Seeger and Ewan MacColl. The presence of electric instruments alerts us to the time-fluid nature of the setting, even before we notice the minimalistic decor, vaguely representing a living-room, with a television perched high, the duration of the dispute displayed on it—later it will broadcast images from more recent strikes. Cast members are dancing to the music, and invite members of the audience to join in (on press night, there were no takers).
The drama, directed, designed and adapted by Graham McLaren (with some dramaturgical input from Iain Heggie), eventually kicks in, telling the story of two families affected by the strike. Jenny (Hannah Donaldson) is engaged to Wull (Owen Whitelaw), who is tempted to go back to work in order to make money for them to emigrate to Canada.
Meanwhile, her father, Jock (John Kazek), who is fond of a drink and a gamble, jokes about becoming a "blackleg", but in reality remains solidly in support of the strike, along with his wife Jean (Anita Vettesse), and son Bob (James Robinson).
Bob, in the meantime, is in love with Jenny's friend Kate (Vicki Manderson), whose father Tam (Tom McGovern) is growing steadily more desperate as his wife's health declines—she is going without food in order to leave more for their other children.
Corrie's text stands up well for a piece dating from the late 1920s, dealing as it does with familiar topics: love, family ties, loyalty, the need to escape, the politics of divide-and-rule. There's even room for nuance, with criticism of the union leaders' handling of the dispute, and ironic acknowledgement of the workers' dependence on an industry which might well kill them.
McLaren's adaptation incorporates some of Corrie's poems as adapted into songs by Michael John McCarthy. These are seamlessly woven throughout the first part of the narrative, the band being on stage throughout the whole performance. The poetry seems to work less well, though, when the ensemble step out of character and address it directly to the audience.
The cast cannot be faulted, however, in terms of their characterisations—these individuals are all likeable, relatable victims of circumstance. The actors also deal well with Imogen Knight's impressively angry choreography.
In the second half of the piece, regrettably but perhaps understandably, the band falls silent as defiance turns to despair and defeat seems inevitable. There is bereavement, imprisonment, lost love and financial ruin. A moment of confrontation causes the audience to gasp. All is gloom.
"There is no power on earth that can crush the men that can sing on a day like this", says Jean as hope fades. But, unlike in Matthew Warchus's recent film Pride, there is no celebratory moment of solidarity to mitigate the bleakness. The singing of "The Red Flag" is bitter rather than hopeful.
Obviously, history cannot be rewritten, and In Time O Strife ends on a sour, angry note. As a tribute to the proletarian spirit, however, it is perversely, crowd-pleasingly heartening.
Reviewer: Othniel Smith