In Two Minds - A Biography of Jonathan Miller
Kate Bassett
Oberon Books
From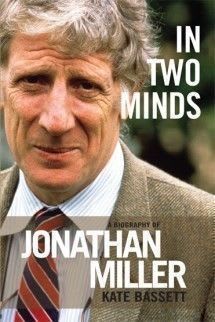 After reading this intensively researched biography, one could almost wonder whether its author, Kate Bassett might know Jonathan Miller (now a knight of the realm who doesn't like using his title) better than he does himself.
Miss Bassett, who is theatre critic of the Independent on Sunday, seems to have researched in detail every aspect of Dr Miller's life and interviewed every surviving person with whom he ever came into contact.
Dr Jonathan Miller is one of the greatest polymaths of his day. He has excelled in a greater number of fields that seem possibly a single lifetime.
It therefore comes as something of a surprise to realise that they can will be encompassed in a mere 330 pages of text, supplemented by no fewer than 150 more of notes, indices etc., paying homage to the extraordinary efforts of the author to convey such a varied life.
Where Kate Bassett really scores is in painting a rounded portrait of a man who has changed his direction more often than a frisky dodgem car at a funfair.
Even at school, young Jonathan had the makings of a genius. It helped perhaps to be the son of an eminent doctor with an interest in minds and a rather less eminent author with an equal interest in matters cerebral.
His dual passions for arts and sciences were discovered in those early days and continued through to Cambridge where he studied medicine.
At the same time, the young man fell in with a different crowd who were more interested in having fun. This did not stop the budding genius from getting his degree (though not a first) or becoming a doctor. It did allow him to continue a prodigious career in entertainment that started even before he made up to varsity.
University introduced him to the legendary Cambridge Footlights and by extension Beyond the Fringe. This was the making of the young man, as he suddenly found himself a stage and media celebrity at the kind of tender age when these days people are merely contemplating taking a year out before entering real life.
This dichotomy between medicine and the entertainment industry has continued ever after.
On medical front, having qualified and practised as a doctor then giving it up, Miller subsequently took time out for research periodically right into his 50s. However, it became apparent that someone with so restless a mind was far better suited to flitting around the arts than poring over a microscope.
At various times, Jonathan Miller has been a comedian, actor, TV and radio personality, author and auteur, director, adapter, and also more recently an artist and a sculptor.
Over the years, he has worked with all of the major theatre companies in the country, on Broadway and at the best opera houses in the world, as well as doing a vast amount for the BBC.
In this latter role, he has been a popular scientist who created not only an iconic TV series, The Body in Question, but also a series of other TV programmes and spin-off books which helped the man in the street to understand the workings of the body, mind and even spirit.
He almost certainly did much more but that is enough for many normal lives.
Thanks to her diligence research and entertaining writing style, Kate Bassett pays a fantastic tribute to a great, if sometimes irascible man.
Whatever their interests, readers will find much to entertain, whether in the sections on science and medicine or those on comedy, theatre and opera. They will also come out at the end of In Two Minds feeling that they know Dr Jonathan Miller, a possessor of one of the finest brains of his generation, as closely as many of their own friends.
Reviewer: Philip Fisher