INALA – A Zulu Ballet
Choreography by Mark Baldwin, music by Ladysmith Black Mambazo and Ella Spira
Produced by Sisters Grimm: Pietra Mello-Pitman & Ella Spira
Sadler's Wells
–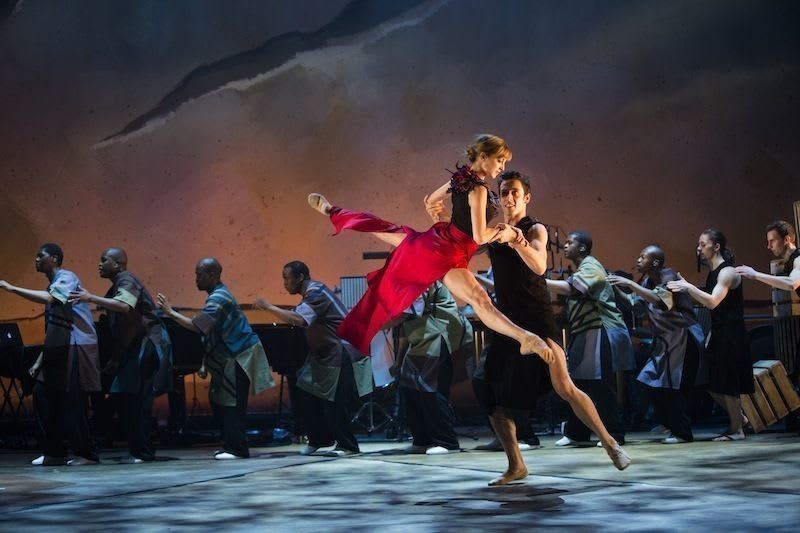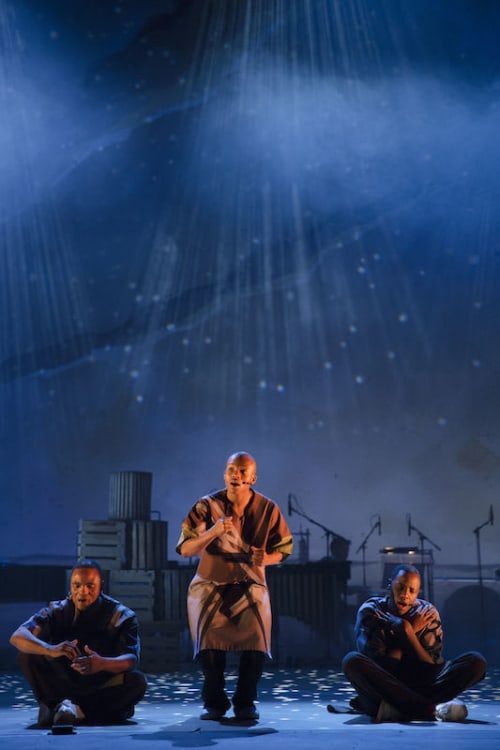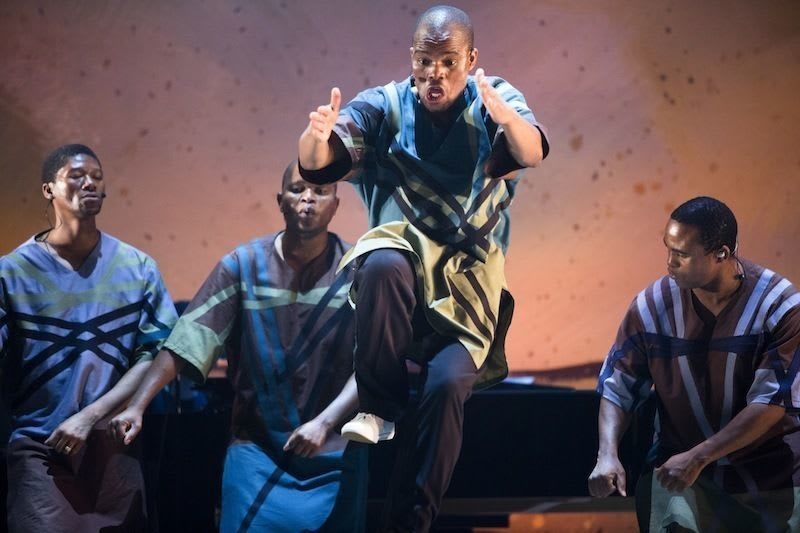 Ladysmith Black Mambazo need very little introduction. Nelson Mandela called them South Africa's cultural ambassadors to the world. Paul Simon put them on the global map with his album Graceland. You will have heard their voices on many film soundtracks and the albums of other star performers.
Four-time Grammy award-winners, the Ladysmith Black Mambazo singers have been together since the 1960s, so in tune with each other, 'a wall of sound' according to producer/composer Ella Spira, that they must have little to prove, which makes for a relaxing evening.
We are invited to take from INALA whatever we want: to lose ourselves in the experience, in the moment. The experience may be individual but the response is universal—a standing ovation.
And just in case we have too little to draw on, choreographer Mark Baldwin, Rambert's artistic director, assisted by Deborah Galloway, is at hand to help as intermediary between the songs and us, conjuring up the sounds, smells, and essence of Africa with his troupe of dancers drawn from South Africa, Singapore and the UK, from his own company and others.
Original score composed and performed by Ladysmith Black Mambazo, led by Joseph Shabalala and Ella Spira, blend and fuse with trained dancers in a hybrid production: African songs, western music, and contemporary ballet knit into a tapestry of sound and textures.
Musicians at the back, silhouetted against Temple Clark's painted amber backcloth, a simple set of moveable stackable handy wooden crates, nine singers gather as if in a village square.
Birdsong and cicada chirrup, exotic feathered creatures, plumage of many colours, flit and fly across the stage. A flock of flamingos stand on one leg. A continent in song and dance, a cabaret of sorts...
Love songs are sung, love duets are danced. Superstitions and village tales enliven the end of the day when work is done and shadows fall: languid evenings of storytelling, gossiping, fishing, rowing and pulling in the lines.
Death stalks the land in the shape of Dane Hurst and Mbulelo Ndabeni, both Rambert dancers. But village life goes on in rainy season and steamy heat. Singers and dancers intermingle, show off their moves, take turns in the outdoor space, a forum of entertainment.
Natural rhythm and choreographed form, the body wants to dance to the infectious music. This is a music gig, sitting politely won't do. Letting one's hair down is not comme il faut at the ballet, though.
Call and response songs invite response, but all we can do is clap. Percussive beats, xylophone, piano and strings—fabulous musicians—are nectar to the soul.
Episodic scenes, a slide show of dance interventions and interactions, but when the singers and dancers join forces, dancing with each other, this is when the evening comes to life for me.
The finale, in which all get a chance to show their tricks, brings the house down. Transcending language and country, dance and music unifying the solace and the excitement of feeling it in the head and the heart.
Eleven dancers, not all regulation size, may reveal the context of the songs, but when the Ladysmith Black Mambazo singers get a chance to sing without any embellishments, their sweetly harmonising voices alone move one to distraction.
Eighteen songs sung in the vernacular—no surtitles—evocative, absorbing, commanding and stunning in their simplicity. Their humanity, gentle wit, and respect for the culture they come from shines through.
A structured show, slick and professional, a sell-out at the Edinburgh International Festival, feel-good INALA is touring to Gateshead, Manchester, Nottingham, Bristol, Coventry, Basingstoke, Poole, Birmingham and Cambridge.
If you want an uplifting evening, do go. Georg Meyer Wiel's costumes are worth a look, too.
Reviewer: Vera Liber