In Celebration
David Storey
Duke of York's Theatre
(2007)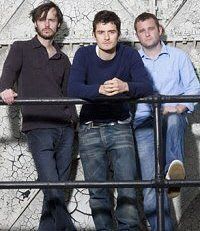 When Festen was released in America, the title was translated as The Celebration. To an extent, In Celebration might be a British equivalent with its far from happy family gathering and child lost long ago. David Storey's family though hail from Yorkshire mining stock and in this case it is a matriarch who might be guilty of an unspeakable sin.
On a different level, this is a semi-biographical kitchen sink drama written by one of the very few people who has had acclaim at the highest level as both novelist (he won a Booker Prize) and playwright (Evening Standard and New York equivalents).
David Storey wrote In Celebration in 1969, reputedly taking only three days to do so. It was originally directed at the Royal Court by his regular collaborator Lindsay Anderson with the three brothers played by a distinguished trio - Alan Bates, Brian Cox and James Bolam.
This time around, a woman, Anna Mackmin directs a cast that is headed, at least on the billboards, by Orlando Bloom. The much-loved film star is making his West End debut a long way from the Caribbean and even further from any hint of the piratical. He plays Steven, a writer haunted by his past and the recollection of an older brother who died aged only 7.
Three sons have travelled North to celebrate their parents' fortieth wedding anniversary. Tim Healy plays a dogged miner who refuses to retire early despite failing health. His whole life is now dedicated to his job underground and the worship of a perfect wife played by Dearbhla Molloy.
The couple are almost a working class cliché: he a hard drinker, she calmly running the house and when they head out for dinner at a posh hotel, making a formal entrance into the living room of their claustrophobic miners' cottage looking like a cheap imitation of Her Majesty, whose photo graces a wall.
The family gathering is completed by the arrival of Andrew, a solicitor who has given up the law to become a painter of abstracts, and nouveau riche Colin.
Gareth Farr plays the latter, a man who has left his past behind to become an industrial relations officer helping the bosses in their perennial fight with the unions, down South. This camp youngest son's problem is to live up to Mam's expectations and his announcement of possible marriage doesn't convince anybody.
Paul Hilton steals the show giving a powerful performance as argumentative, opinionated and damaged Andy, a man who is determined that the truth will out, however painful it might be for all concerned and shouts his views over all objections.
And what of Orlando Bloom, the swashbuckling heartthrob that so many members of a predominantly young, female audience had paid up to £45 to see? There was a real frisson as he made his first appearance but the star does not have real stage presence.
His role as a writer cracking up did not offer great scope but it is a good bet that those who turn up in ignorance of his history would guess that a screen legend is in front of them. Strangely, Bloom's performance throughout the first half seemed to be modelled on Michael Palin's Monty Python Northerner, never more so when the brothers recalled the good old days when "times were hard".
There are also nice cameos from Lynda Barron and Ciaran McIntyre as the kind of nosy neighbours who are more part of the family than their absent flesh and blood.
Lez Brotherston's design narrows the stage space to a small rectangular box representing the living room of a typical miners' cottage, with a sinister upper floor on which light never shines, even when characters disappear up there. Thus, it might be seen as an extension of the deep pit in which the old man spends his working life.
In Celebration feels far older than its 38 years. This is partly because the deprived Yorkshire pit villages were always behind the times and more since, like miners' strikes, they are now more a part of our dimly-remembered history.
Anna Mackmin's revival relies on the outstanding Paul Hilton for much of its entertainment value, although Tim Healy is very touching as the father. David Storey's intention may well have been to go further than merely portray a world that was dying, like the father in his play. Since unlike Festen, the sinister tale of the dead child is not fully explored or realised, we are left with little more than a straight depiction of a family quietly imploding like the community that it symbolises.
Visit our sponsor 1st 4 London Theatre to book tickets for In Celebration.
Reviewer: Philip Fisher