Incident at Vichy
Arthur Miller
The Phil Willmott Company
Finborough Theatre, Earl's Court
–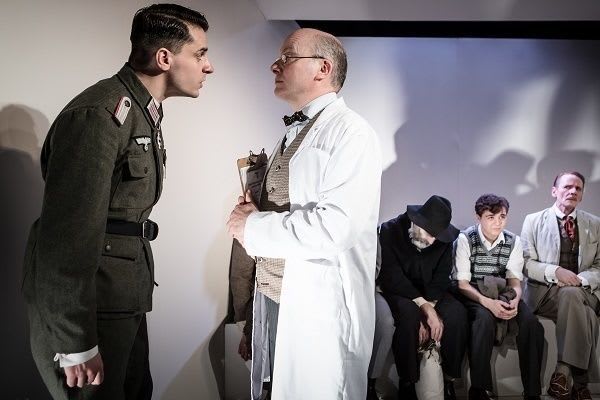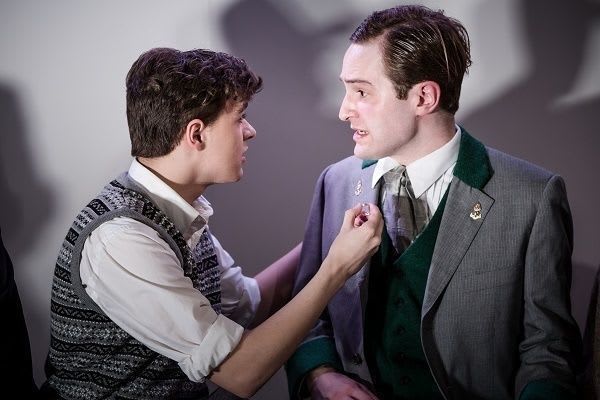 Written in 1964 and set 22 years earlier, Incident at Vichy addresses the horrors of the Holocaust in a manner that can almost simultaneously be both very direct and deliberately oblique.
Phil Willmott's production takes place in a claustrophobic white box setting that briefly becomes the home to first seven and then three more men picked up on the streets of the French city.
At first, members of the ill-matched group apparently recognise no commonality, nor the reason why they are the chosen.
A hysterical artist, portrayed by Lawrence Boothman, betrays anxiety to the irritation of his already nervous colleagues, threatening their dubious equanimity.
As the 90-minute production develops, the men's predicament comes into much sharper focus when Timothy Harker playing a sinister Professor of Racial Anthropology, accompanied by his Nazi henchman, takes them away for examination one by one. Like the Agatha Christie classic, they disappear until And Then There Were None, although the non-Jews at least get to go home.
Panic does not set in until a waiter leaks the import of an overheard conversation allowing his fellows (and the audience) to become fully aware of the enormities of the concentration camps and their ovens.
Before that, an actor played by P K Taylor has acted the role of denier, peddling what we now instantly identify as fake news in trying to persuade himself and the others that passivity and acceptance will make their problems go away. His unfortunate logic is that nobody could be so inhumane, particularly the civilised Germans.
The evening also benefits from a skilful cameo by Andro Crespo taking the role of a Gypsy, looked down upon even by those whose own situation offers them little reason to be proud.
The best of the remaining debates take place between Edward Killingback's humanitarian Austrian Prince, who is undeniably Catholic, and Gethin Alderman as a psychiatrist with strong views almost certainly borrowed from Arthur Miller. Their argument is muscular and almost becomes physical. It also leads to a satisfying finale unashamedly stolen from Charles Dickens.
Incident at Vichy works well as a series of meditations on man's inhumanity to man and the terrible fate of 6 million Jews (and millions of gypsies) at the hands of the Nazis but struggles to convince as a play, the drama almost always taking second place to a series of academic arguments.
Reviewer: Philip Fisher