Infinita
Familie Flöz
Familie Flöz
Pleasance Courtyard
–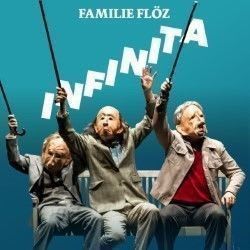 Familie Flöz makes a welcome return to the Fringe this year with Infinita. This internationally acclaimed mime troupe brings a much more touching and emotive story that juxtaposes youngsters in their infancy and people in their old age completing the journey through life.
It is quite a change from their previous shows Hotel Paradiso and Teatro Delusio but still has their remarkable trademark mask theatre style that is truly stunning to watch.
As the audience enter, there is a silhouetted funeral procession to the sound of a tolling church bell. This is the end of someone's life.
On the other scale, we have a young baby tentatively learning to stand and walk and the awkward squabbles of toddlers as they test each other out.
By contrast, we have the inhabitants of the care home. A new wheelchair-bound man is distraught and having to leave his wife and seeks solace in playing the piano. Then there is the incontinent anxious resident, a resident who is addicted to his pills and a rather sophisticated gent who has desires on the female care assistant.
When the three old men sit on a bench listening to the radio, we are treated to a masterclass of comic inventiveness.
There is much to enjoy in the playfulness of the children on a giant chair and table trying to rescue a radio and the fun they have with a large blue ball they throw back and forwards with the audience.
Silke Meyer and Andrea Dihm's black and white video animation adds a new dimension to the piece which is perhaps less effective.
This is masked physical theatre work at its finest and a joy to watch.
Reviewer: Robin Strapp