Insane in the Brain
Bounce Street Dance Company
Sadler's Wells Peacock Theatre
(2009)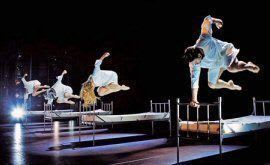 Last year Swedish street dance company, Bounce, hit London with its freewheeling "street dance version of One Flew over the Cuckoo's Nest based on the play by Dale Wasserman & the novel by Ken Kesey", and divided the critics. Now they're back touring England with their "most successful production" since their formation in 1997.
Hip-hop dance with its popping and locking, its up- and down-rocking, its competitive stand-off duels would seem an interesting interpretative vehicle for Kesey's satirical mythical dystopian novel, in which the outrageously challenging, symbolically rebellious free spirit of Randle McMurphy fights the oppressive authority figure of Nurse Ratched who rules her psychiatric ward with demonic discipline, and abusive orderlies.
Of course, reaction will depend on whether one has read Kesey's 1962 novel, or seen Jack Nicholson's iconic performance in Milos Forman's 1975 film version (five Academy Awards), or Steppenwolf's 2001 revival of Wasserman's 1963 stage version at the Barbican's Bite:00 season with Gary Sinise in the lead role.
I guess most of the young audience (and it will be a young audience that will come to this) will be fresh to the story (and all the better for it), as they demonstrated with their whoops, cheers, and gasps at McMurphy's lobotomy and subsequent mercy killing. My 20-year old companion went home to watch the film on DVD He loved the show, though he did lose the patchily told storyline from time to time, not that it mattered too much to him. 80 loud minutes without a break was just about the right attention span, too.
Nine energetic acrobatic dancers cover some territory in 21 set numbers to an eclectic mix of music ranging from Gotan Project's and Astor Piazolla's tango sounds to Missy Elliott, Cypress Hill (from whom the title of the show has been taken), Notorious B.I.G., and Dizzee Rascal; from Lionel Richie, Santamaria's Watermelon Man, Sembello's Maniac to Panjabi MC, and the Kronos Quartet, and Edvard Grieg's In the Hall of the Mountain King. And that's only the half of it.
The set (Per A. Jonsson) and lighting design (Palle Palmé) are simple but effective - white barred cells, prison yard with barbed wire, observation towers, and windows set high in a sloping back wall, used for the ECT sessions, where the victims hang and dance off bungee harnesses and convulse into crucified formations. There is a huge supporting creative team and touring crew.
But, striking images, clever staging, inventive solutions (Nurse Ratched's strict discipline represented by ballet barre work for her unruly patients), wit, and blissful commitment to dance from the terrific dancers cannot hide the limitations of street dancing vocabulary.
Breakdancing can be breathtakingly exciting. Here the dangerous edge is missing and the dynamic unvaried. Maybe a single unifying choreographer or director would see the bigger picture. But, in democratic organic free expression to delight Kesey himself, the show is choreographed by everyone.
And there is absolutely no need for speech in the opening scene. Someone lost nerve. Trust the dance and the audience. They get it.
In the dangerous moments I wanted more danger; in the sad moments I waited to be moved. My emotions were rarely engaged, though my feet and body were by the company's infectious joy of dance, and the throbbing music.
Street dance works best in the comic cheeky scenes, when McMurphy (a charismatic Fredrik 'Benke' Rydman) takes the inmates out to see a slapstick silent movie. They climb over the audience (over Clement Crisp, FT ballet critic par excellence, of all people), scattering and throwing popcorn as they go, to watch themselves dressed as toffs and tramps battling hip-hop style on the screen. Great fun.
Joe Jobe and Filmon Michael as the two orderlies Joe Good and Michael Evil come closest to demonstrating the heightened confrontational moves of hip-hop, whilst Daniel Koivunen shows his ballet training in his solo as Chief Bromden, a slight catatonic Christ-like figure rising from his wheelchair.
Wafer-thin Robert Malmberg is a delicate Billy Bibbit, who finally loses his virginity to hot Candy (Ambra Succi doubling as Mrs Taber) - as the audience cheers him on. The wet dream number is a hoot. Two of Kesey's characters have a sex change in this production - Martini becomes Miss Martini, and Max Taber Mrs Taber. It works.
Miss Martini (Jennie Widegren) shows what she is made of in the funky 80's Flashdance / Fame number. Alvard Aguilera (doubling as obsessive compulsive Dale Harding and music editor to the production) does a credible OCD repetitive sequence, taken up by the others, on a row of iron bedsteads. Unfortunately, Nurse Ratched is not as billed, and is an underwhelming presence.
There you have it. A loose, not too perilous, Swedish feelgood hip-hop version of a tragicomic subversive book... Nothing that would scare the horses... Just "parental discretion advised" - blow-up sex doll, institutional rape, an alcoholic drug scene to hippie-trippie bhangra dub, and music that teenagers have probably downloaded already
Reviewer: Vera Liber