Insomnia

Riotous Company
Home Manchester at Number One First Street
–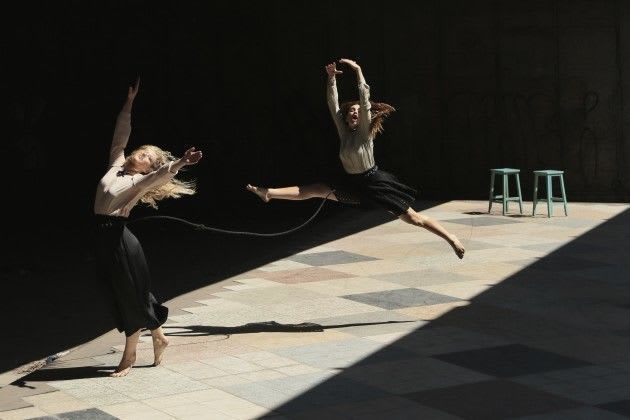 Described as "a pas de deux drama for two girls and a piano man", this short movement piece from Riotous Company promises to take us into "a wordless dreamlike world that blurs the distance between reality and invention, slumber and sleeplessness".
However for me the title and this description are largely misleading. While there is a sleepy beginning and end, as a whole it comes across as a portrayal through dance of a deep and close friendship or relationship between the two girls.
It begins with the entrance of pianist Nikola Kodjabashia, who worked on the Home production of Romeo and Juliet in September. He accompanies the whole performance with his percussive piano playing with music of many different styles, utilising the whole of the upright piano, with its case opened so that its guts are exposed, by plucking and hitting as well as through the keyboard.
The girls initially appear wearing anoraks, rustling across the floor as they sleepily progress using one another's bodies to move in different ways. Those anoraks are removed to cleverly become, briefly, another character, one of many interesting little sequences and images.
The relationship is bonded when the rope belts of the girls are knotted together to become a blue and red umbilical cord, tying them together for the rest of the piece. There is a significant moment at one point when the more dominant of the dancers holds up the knot and looks directly around the audience as though emphasising the importance of that bond.
The piece is consistently inventive and occasionally amusing but becomes less surprising when it becomes a sequence of disconnected images rather than an expression of the relationship between the characters with no easily discernable narrative. The theme of sleep and dreaming perhaps explains this, but isn't strong enough to bring the disparate elements together.
There are consistently impressive performances from dancers Mia Theil Have and Irene Cioni and from musician Kodjabashia, who becomes part of the movement aspect of the performance from time to time.
It's an hour of intense movement and inventive music—ranging from pop to avant-garde—which won't satisfy anyone looking for a clear narrative but has plenty to offer in its abstract symbolism, and it's only here for two nights.
Reviewer: David Chadderton