An Inspector Calls
J B Priestley
Novello Theatre
(2009)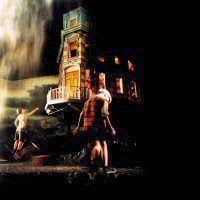 It seemed odd to put a play into our Top 5, recommended by Philip Fisher, when he had not seen it for eight years, so he revisited "An Inspector Calls".
It is a delight to report that almost two decades on from Stephen Daldry's original production at the National Theatre, his version of J.B.Priestley's 1945 classic is still as close to perfect as ever.
Watching it again after eight years, Daldry's vision seems even more impressive with its Chekhovian overtones of an affluent society on the brink of collapse and its inherent response to the underlying ethos of Thatcherism's rejection of society and by extension responsibility.
At a simpler level, it is a cracking mystery play that repeatedly toys with viewers until its highly satisfactory ending with the wealthy Birling family brought to account for their individual misdemeanours.
The combination of Ian McNeill's Hopper-like set featuring a miniaturised house that feels symbolically close to disaster from the start with stormy weather and the lower classes at the gates, Rick Fisher's eerie lighting and Stephen Warbeck's alternately stirring and chilling music takes some beating. However, the ambience would be nothing without a superb play well performed.
The central figure of Inspector Goole (Ghoul?) has been here before in the person of Nicholas Woodeson who enjoyed the role in the West End and on Broadway fifteen years ago. The actor may not quite match the unforgettable Alastair Sim on film but he gets the balance of nonchalance and menace just right as the unsettling Inspector cajoles and interrogates the family of David Roper's Arthur Birling, a financier and local bigwig.
The unsuspecting group are obliviously celebrating a diplomatic marriage worthy of royal houses, let alone Yorkshire's industrial finest.
Then, An Inspector Calls and not only are their lives changed forever but so, it is suggested, is society, which with a setting in 1912 is inevitable.
First, following the death of a young woman, the old man is in the spotlight. Birling is upbraided for his selfish arrogance but soon enough, his haughty wife, Sandra Duncan doing an Edith Evans Lady Bracknell impression, their wayward son and son-in-law and even decent daughter Sheila all have to face the music.
Indeed, though Gerald, the young intended of Sheila is proclaimed as the most honest of the group, it is Marianne Oldham as the caring and genuinely contrite daughter who comes out best, the actress really excelling in a strong cast.
By the end of an emotional roller-coaster, one can't help but feel emotionally ragged but it is well worth it. If there is a criticism, it might be that Associate Director Julian Webber, who has presumably taken responsibility for rehearsing this cast, makes them a little too deliberate and stagey.
That is not really a great concern in a glorious 1¾ hours that cannot be bettered on the London stage at the moment, though Enron is a close contender. This run may be short but cannot be recommended strongly enough.
Playing until 14 November
Corinne Salisbury also reviewed the 2009 production at the Novello
Visit our sponsor 1st 4 London Theatre to book tickets for An Inspector Calls
Reviewer: Philip Fisher