In the Heights
Music and Lyrics by Lin-Manuel Miranda, Book by Quiara Alegría Hudes
Richard Rodgers Theatre, New York
(2009)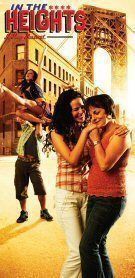 In the Heights is currently one of the hottest shows in New York, with ticket sales apparently looking good well into the New Year. It won a whole host of awards Off-Broadway and challenged the big hitters at Tony time last year as well.
This new musical from rookie Lin-Manuel Miranda has flaws but enthusiasm and joie de vivre carry it into its own heights. The show also has appeal for a triple audience of regular theatregoers, youngsters and the large Latino population in the city, who get few chances to see musicals that they can relate to.
There is no very serious book, with the main interest developing around the inhabitants of Washington Heights. This is an area of Manhattan that the tourists never see under the George Washington Bridge, seen in the background behind the shabby brownstones where the immigrant community from the Dominican Republic and Puerto Rico tries to make ends meet.
This focus on an underclass struggling to get by makes In the Heights a kind of distant cousin to another unexpected Broadway hit, Avenue Q (though without any puppets) and in all likelihood will appeal to a similar, young audience. They will certainly respond to sharp, sexy choreography from Andy Blankenbuehler and music that ranges from rap, through the horns and percussion of Latin rhythms to songs that are much closer to Broadway standards.
The action takes place on a Third and Fourth of July, with little to celebrate. The main catalysts are Usnavi (Javier Muñoz understudying for the playwright) and Mandy Gonzalez as Nina, each seeking love but also a more spiritual kind of fulfilment. They then trigger their compatriots.
Usnavi is a likeable, shy shopkeeper who expresses his feelings through rap and dance, both of which are strengths of Muñoz, who does not quite have the charisma that one imagines has projected Miranda to stardom. The strangely-named rapper also struggles to overcome a humorously irritating kid cousin Sonny, spiritedly portrayed by Robin de Jesus.
Usnavi's search for love and happiness centres on a possible return to his home country and an unspoken desire for Janet Dacal's pretty Vanessa, a hairdresser with her own problems and a great set of pals led by her boss, Andréa Burns playing witty, street-smart Daniela.
Soul is injected by Usnavi's Abuela (Grandmother) Claudia, who steals the show with two great songs beautifully sung by Olga Merediz, particularly Paciencia y Fe which brought the house down.
Mandy Gonzalez invests Nina with both intelligence and a powerful singing voice, heard at its best in When You're Home then Everything I Know, as her character struggles to clamber out of the Barrios created around 181st Street at the top of Manhattan. She has made it to Stanford but without enough money to survive there and exercises her parents' patience by falling for Benny a boy beneath her played by Christopher Jackson, with whom she movingly sings a couple of yearning duets.
Her loving parents played by Rick Negron and Priscilla Lopez have hard decisions to make, and a song each with which to express themselves
The real coup de théâtre comes just before the interval, when there is real uncertainty about whether a powercut is taking place for real or just on stage. This leads into possibilities of resolutions for all.
Unfortunately, it also results in a series of plotting inconsistencies that are remarkable for a show that has made it to fame and awards. Again and again, the lack of power is ignored where this does not suit the story, though perhaps that is the nature of such an urban folk fable.
Most people will go away from their visit happy. The exuberance and energy overcome the limitations of the book and there are some memorable songs to go home humming, especially No Me Diga as well as the catchy 96,000 and Carnaval del Barrio.
Rachel Lynn Brody reviewed this production in 2008
Reviewer: Philip Fisher