Into the Woods
Music and lyrics by Stephen Sondheim, book by James Lapine
Roundabout Theatre Company in association with The McCarter Theatre Center presents the Fiasco Theater production
Laura Pels Theatre, New York
–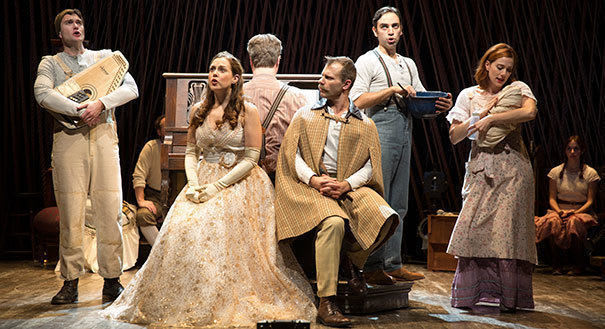 Roundabout Theatre has picked the right moment to launch this revival. While Stephen Sondheim has a strong following, companies don't always get to tap into a multi-million dollar marketing budget to popularise their productions.
However, when one of the biggest movies of the year starring the likes of Meryl Streep, Johnny Depp and James Corden shares the same source, that is the obvious outcome.
Stephen Sondheim's dark music and humour are a perfect complement to folk tales that usually have terrors hidden not too far beneath the surface.
On this occasion, the presentation is a large part of the pleasure, as Fiasco, a company that has reinvented Cymbeline amongst other works, uses its ensemble techniques to great effect.
On a set that is backed by symbolic walls of ropes and harps, a team of 11 often take multiple roles for just over 2½ hours and also play an assortment of instruments.
The first half blends together a number of fairy tales as a Baker and his Wife played by co-director Ben Steinfeld and Jessie Austrian seek a solution for their barrenness.
This comes direct from Jennifer Mudge playing an unpleasant Witch, who demands four artefacts from other stories as the price of a babe.
Her demands bring in Claire Karpen as an exhausted Cinderella, Emily Young doubling greedy Little Red Riding Hood and hairy Rapunzel and Patrick Mulryan as dim Beanstalk Jack.
Regular collaborators, book writer James Lapine and Sondheim then weave the five tales together in literally magical fashion combining thrills and spills with many laughs, some courtesy of the invention of Steinfeld and fellow director Noah Brody plus the company.
They achieve much with low key props and costumes but unlimited enthusiasm and talent, which stretches beyond versatile ability as unselfish character actors to their singing.
After the interval, the tales go off piste as the forlorn travellers join together for a battle to the death with a distressed giantess. This doesn't have the same power as the mixed tales but probably hides many more lessons in morality, if one takes the time to analyse.
The song that everyone will go home humming is the one after which the show is named but, as ever with Sondheim, there is great variety in the composition and all help to advance the story in addition to pleasing in their own right.
Fiasco is a company that is worth following, since the company is adventurous and never predictable. It is a perfect choice to link up with Sondheim and Into the Woods so that the result should provide strong competition or support for the movie, depending on how you look at it.
Reviewer: Philip Fisher