Into the Hoods
ZooNation
Novello Theatre
(2008)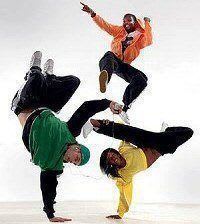 A 'theatrical event' opens this week at the Novello Theatre. I call it that because more conventional terms do not do it justice: dance presentation is too unexpressive, musical comedy too lightweight and hip-hop show too limiting.
Into the Hoods is a fusion of all these things - and more, and if it enjoys the same success down south as it has had at the Edinburgh Fringe for the past two years, it is going to take the West End by storm.
The action is played out against almost non-stop musi,c some of which is from bands that, if I am honest, I had not heard of such as Jay-Z and Dr Dre but since the music is so expertly selected for best effect I would defy anyone not to enjoy it.
Visionary director and choreographer Kate Prince took her inspiration for the storyline from Stephen Sondheim and James Lapine's Into the Woods. However, Sondheim detractors and novices have nothing to fear from this piece which is easy to follow, moving and funny and, unlike most Sondheim, singularly un-wordy, dispensing almost entirely with dialogue and narration.
Few words are needed since here is a phenomenally talented cast of 19 adults and three children who dance, act, Hip-hop and breakdance their way through the story which is transposed from Sondheim's wood to 'the hood'.
The neighbourhood in question is the high-rise Ruff Endz Estate where two children, truanting from school, find themselves at the mercy of wicked Landlord who offers them a place to stay and the bus fare home in exchange for working for him.
Their task is to find a red hoodie, a white iPod, a gold trainer and blonde hair extensions in only four days - a mission that requires them to cross paths with other high-rise residents: Lil Red, Spindarella, Prince, Wolf, Rap un Zel, Giant and Jaxx.
The fairytale characters don't utter a word but the principal characterisations are heart-warmingly full; our familiarity with the traditional stories adds an extra dollop of humour as convention is thrown to the wind with the portrayal of the secondary characters - Spindarella's nymphomaniac Stepmother and Ugly Sisters provide hilarious interludes, as does the scene in drug-baron Giant's penthouse.
The scenery is provided by a continuously changing projected backdrop with timing slickly coordinated to the action on stage and the voiceover. Props are kept to a minimum; the brief pause offered by some furniture being brought on was a respite from the activity on stage which rarely slowed from break-neck speed.
If this goes to make Into the Hoods sound like a dizzying series of pop videos then, no... well, yes... well yes and no. The fast pacing does give a sense of that sort of speedy cutting but don't let that stop you from going - what you get here is much more exciting and satisfying.
I am no dance aficionado but I was won over by the range of the choreography and sheer energy and precision with which it was delivered. The three children - Russell Royer and Alicia Lai as the lost children and Annie Edwards as Fairy Gee - all danced as if they born to it and amongst the adults Rowen Hawkins (Jaxx) and Teneisha Bonner (Spinderella) should not go unmentioned.
Into the Hoods is a refreshingly funky show in the heart of mainstream theatre; it is uplifting entertainment for all ages and it will hopefully get thousands of young people to the theatre.
But it's not on for long - you had better grab the kids and go!
"Into the Hoods" runs for a limited season until 10th May - Monday to Saturday at 7.30pm with Wednesday and Saturday matinees at 3pm. Suitable for age 8 and over.
Visit our sponsor 1st 4 London Theatre to book tickets for Into the Hoods.
Reviewer: Sandra Giorgetti