Into the Woods
Music and lyrics by Stephen Sondheim, book by James Lapine
Landor Theatre
(2009)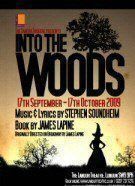 To mark the fifteenth birthday of the Landor Theatre, artistic director Robert McWhir has chosen a revival of the venue's first musical production Into the Woods.
This Sondheim-Lapine collaboration interweaves a number of fairytales into a story of their own devising and, as fairytale convention requires, there are journeys, adventures, happy endings and a moral or two.
But the sunset-rays into which everyone walks happily ever after turn into something of a dark shadow: in the second act the characters have to face the consequences of their actions, and the deeper themes emerge surrounding the nature of teaching and learning and what one generation bestows on the next for good or ill.
The action is played out over, around and within an imaginative bookshelf-inspired set from the talented and budget-strapped Nina Morley. One book cover reads, 'The Book of Goblins' and hints at the inspiration for director Robert McWhir's unprecedented addition of two 'little faerie folk' to the company of characters.
With the challenge of an already large cast to accommodate onto a diminutive stage, adding another two seems almost folly, but McWhir's device is both practical and inventive and executed with nimble precision by Andrew Keates and Frank Simms. The sprites have a certain roguish charm as they flutter around providing props and effects perfectly on cue until, that is, their mischievous cavorting becomes a distraction too many and you want to strangle the fidgety little pucks.
Lori Haley Fox proves an intriguing Witch. She has more presence masked and elegantly ravenish in black feathers, than following her underwhelming transformation after which seriously sinister undertones are missing.
Jonathan Eio is a pleasingly blonde Jack and what Tricia Deighton as Jack's mother lacks vocally she makes up for with a comically expressive face. The good-to-look at Princes disappoint with a dull "Agony", and in the rush of delivery the wit and acuity of "On the Steps of the Palace" goes almost for nothing, and both these pieces should be high points.
In a production where much of the singing is underpowered, Sarah Head stands out as the Baker's Wife and her rendition of "Moments in the Woods" is one of the show's best numbers as is "It Takes Two" with Leo Andrew as her husband, also giving a strong performance as The Baker.
Andrew is also in the number that leads the way to an ultimately fulfilling conclusion - the Mysterious Man and Baker duet "No More". In it Andrew and Dring, steering clear of sentimentality, find the depths of emotion and understanding so that The Baker's return to the woods is a convincing act of resistance, not indecision. Andrew then reflects that ably in "No One is Alone".
This is a production of highs and lows but as the award-winning lyrics attest, "If Life Were Only Moments, then You'd Never Know You Had One".
"Into the Woods" plays until 17th October 2009
Reviewer: Sandra Giorgetti