Intra Muros
Alexis Michalik, translated by Pamela Hargreaves
Adam Blanshay Productions
Park Theatre
–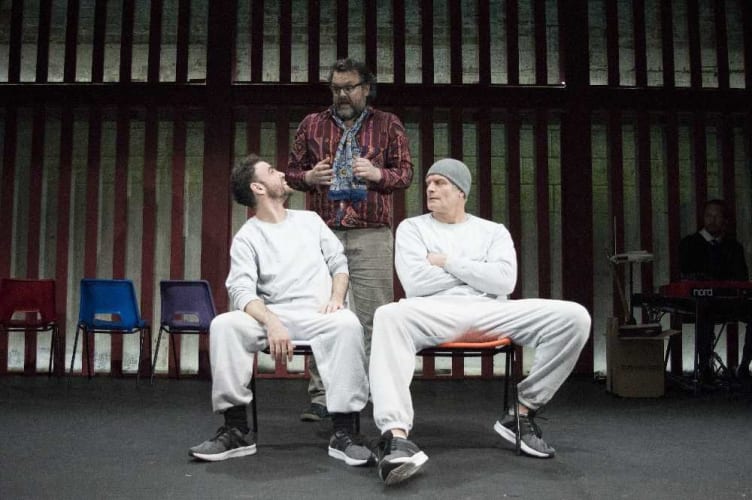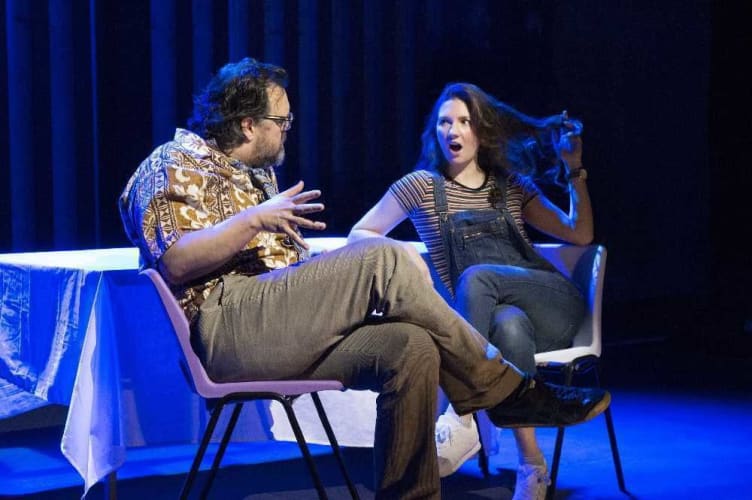 Adam Blanshay Productions has done Londoners a great favour by introducing this clever but also deeply moving piece of French metatheatre to the city a couple of years after its Parisian debut.
The opening moments are deliberately unsettling as Ché Walker, who not only takes a leading role as Richard but also directs, eyeballs terrified audience members in an effort to discover what theatre means to them.
Soon enough, we find ourselves following Richard and his colleague Jane played by Emma Pallant into a strange example of the medium, after they agree to put on a therapeutic acting workshop for a group of 10 to 15 prisoners in a high security gaol in Norwich.
Mediated by Summer Strallen as social worker Alice, the pair begin to break down barriers with their audience. Against expectations, this numbers just two and they are an unlikely duo.
Declan Perring takes the role of Kevin, a likeable, if sexually predatory, likely lad whose incompetence as an armed robber is matched by his inability to work out the unwritten rules of prison life. On the brink of victimisation, he was saved by some serious mentoring from muscular Angel, portrayed by Victor Gardener, strong, silent but also wise and prison-savvy after 28 years of incarceration in two spells.
An initial series of acting games / exercises barely breaks the ice but offers some strong comic moments and proves to be an introduction to an evening that gets increasingly deep through its 1¾-hour running time.
The catalyst for a change in mood and atmosphere is Richard's desperate attempt to involve his class in some real theatricals. Using techniques that will be familiar to any actor, or for that matter anyone who has read any acting manuals, he starts using simple role-play, which swiftly turns into virtual psychoanalysis.
As a result, a series of stories is revealed by almost everyone present, many of them proving to be circular, as connections that may be a little too coincidental are identified.
While some of the tales are broadly comic, the evening develops into an opportunity for catharsis and psychological release as it builds to a truly dramatic dénouement.
The action is accompanied by a soundtrack provided live on stage by Rio Kai using a variety of musical instruments and technology.
Playwright Alexis Michalik is also an actor, which becomes very apparent from this highly intelligent play. He has the ability to make audiences laugh but also create extreme tension, aided on this occasion by a fantastic British cast every one of whom steps up to the mark when required.
Intra Muros is a special night out that deserves to sell well at the Park and might have what it takes for a transfer to a bigger stage in due course.
Reviewer: Philip Fisher