Inventing the Truth
Mike Bradwell
Nick Hern Books
Released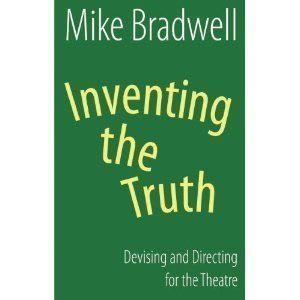 This book is undoubtedly both informative and educational but it is necessary to be aware that only about 70 of its pages are original.
Former Bush Theatre Artistic Director Mike Bradwell has set out to explain his methodology for devising and directing plays in clear, amusing style. The book is therefore split into two parts. The first half, subtitled "Making It up: Techniques Towards Devising a Play", features a pithy little run through of the techniques required to create a stage work from scratch without a script.
This encompasses the creative methods pioneered by Bradwell and more famously Mike Leigh, with whom he worked in their formative days, as one can discover in Bradwell's eccentric autobiography, The Reluctant Escapologist.
It becomes clear that in order to work in this way, directors need nerves of steel, confidence and a good measure of luck. It helps to have a really talented cast as the performers will be obliged to take a significant role in creating the work.
In simple terms, the team model themselves on people they have known or bumped into and, having done so, begin to interact with each other. In theory at least this will then lead to a series of situations that together create an entertaining stage work.
That is certainly what happened with Bradwell's play for Hull Truck, A Bed of Roses first seen on the Edinburgh Festival Fringe in 1977. This provides ample demonstration of how well the methodology can work, with a cleverly layered text that brings together a group of characters each of whom could have stepped straight out of real life.
To prove its quality, the text is published in full, which will prove to be of benefit to those that have not already got a copy.
After the interval, as it were, stage two is entitled "Blinding Gloucester: Working with a Text". This basically does the same for text-based plays, centring on Jack Thorne's highly impressive debut, When You Cure Me, the script of which also forms part of this book.
The methodology is surprisingly similar. While there is no text to invent, there are still characters to create. Bradwell once again works closely with his actors to build up credible people on stage, using their own experiences blended in with what they can discover about those that they are to portray.
The results work perfectly for Bush plays such as When You Cure Me, though there is no reason why they cannot apply equally in any other context.
This is a fascinating, if brief, insight into a directing style that can be incredibly effective.
Reviewer: Philip Fisher