The Invisible Man
Ken Hill, based on the novel by H.G.Wells
Menier Chocolate Factory
(2010)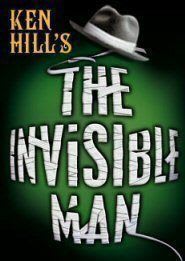 In around 2¼ hours, Ken Hill's adaptation of the H.G.Wells classic attempts to balance three rather diffuse elements.
It is framed by a music hall turn and part of the evening is devoted to seasonal humour featuring century-old jokes that would often not be out of place in a pantomime.
There is also a poignant thriller about a scientist who, after a failed experiment, disappears into unseen unhappiness.
The invisibility generates by far the evening's strongest suit, a series of illusions created by Paul Kieve that frequently surprise and occasionally amaze, as magic is introduced around the evening's central theme.
Director Ian Talbot has put together a cast packed with well-known names to entertain his visitors. Comedian Gary Wilmot offers a little nasal, Cockney variety patter but also becomes embroiled in the plot as Marvel, a comic tramp.
With help from an MC, he takes us back to 1904 and the misfortunes of sinister Griffin played by John Gordon Sinclair, not that you can be sure of that until after his character has breathed his last.
In a picture postcard village named Iping, he wreaks havoc, bent on petty revenge against a former business partner and, rather less explicably, world domination - an unorthodox mix.
There, he encounters a bog standard stage landlady, Maria Friedman making a rare foray away from musicals, her dumb assistant played by Natalie Casey, plus the local nob and his assistant (whose role in life is to be a running joke). Jo Stone-Fewings and Christopher Godwin respectively play a pair who each harbour hidden talents.
Throw in an assortment of Bobbies from the days when they still pounded the beat and a trouserless vicar and you have the picture.
Paul Farnsworth's primarily black and white design uses flat panels and a very long curtain with photographs and cartoon-like illustrations to take us from location to location.
The light-hearted 39 Steps style comedy dominates the first half, while after the interval the tale gets much darker in true Wellsian fashion.
This melodramatic concoction doesn't hang together all that well but there are enough attractions, especially of the magical variety, to overcome the production's artistic contradictions.
Reviewer: Philip Fisher