Iphigenie auf Tauris
Tanztheater Wuppertal Pina Bausch
Sadler's Wells
(2010)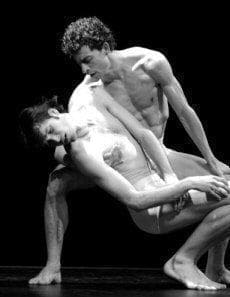 Last year two major league choreographers passed away within weeks of each other, Merce Cunningham aged ninety and Pina Bausch prematurely at sixty-nine. Cunningham's Nearly Ninety opened at the Barbican on Tuesday and will play till 30th October, whilst Pina Bausch's 1974 Iphigenie Auf Tauris opened at Sadler's Wells on Wednesday and will play till 31st October. A remarkable coincidence And both a must for dance aficionados.
Before it disbands in 2011 one company is touring its final piece as a memorial to a grand colossus of the contemporary dance world who danced with Martha Graham; the other is a tribute to a much loved woman, whose legacy is to be cherished through continued performance of her works.
Martha Graham has left her mark on both. Her imprint is markedly visible in Bausch's choreography in the Euripidean Iphigenie Auf Tauris. A dance-opera, it is a veritable Gesamtkunstwerk, and one that has not dated at all. In fact, it is one of her most accessible pure dance works.
And with what an audio-visual resonance - a live orchestra in the pit, singers arranged in the tiered boxes either side of the auditorium, and a spare yet grandiose set evoking classical Greek drama (design by Pina Bausch and Jürgen Dreier).
Christoph Willibald Gluck's opera, libretto originally written in French in 1779 and two years later translated into German, is sung (the German version) crystal clearly by London Voices, so stereophonically clear, I could make out the libretto, and follow the essence of the drama almost without the aid of the programme synopsis. Schmerz, Herz, and Tod encapsulating the grief and love being painfully measured out on the stage - words and music made flesh, the body played like a musical instrument.
The stage bare and exposed with white sheets hanging from the lighting gantries, pale dresses like empty chrysalises on pegs at the back, and a partially hidden bath. A monolithic rust-red back wall suggesting a palace / temple, and later an inner atrium with an added square pond around which sit the temple priestesses in statuesquely posed compositions.
The final scene changes, for most impact, to a white cinema screen stretched diagonally across the stage, and the bath moved front stage for the sacrificial murder. As the drama moves towards its culmination - in a catharsis of realisation, resolution, and reconciliation, it sends shivers down the spine. Bausch knew how to squeeze the maximum drama from any situation. Angst, grief, guilt, only the strongest emotions would do for her. Euripides suits her well.
According to Euripides at the point of her sacrificial death in Aulis Iphigenie is spirited away by goddess Diana to her temple in Tauris to serve as her high priestess. Here she sees in her dreams visions of her father Agamemnon's death at the hands of her mother in revenge for her daughter's murder. Orest kills his mother in turn, and flees with his best friend Pylades to Tauris.
Iphigenie grieves for her brother, but is told by the Scythian king Thoas (Jorge Puerta Armenta, Wagnerian in his tent-like black leather coat), that she must kill any strangers to reach his shores, as omens predict these will cause his downfall. Fear and longing; despair and murder Orest and Pylades are captured, tortured, but each tries to save the other.
Pursued relentlessly by the Furies, a man and woman in thirties German expressionistic dress wandered in from a Murnau film strangely out of joint with the classical uniformity of the rest of the cast, the women in long white shifts, the Scythian men in long black dresses, and Orest and Pylades in flesh-tone shorts (heroic Grecian statues), the tension mounts.
Dread escalates in the ritualistic preparation of the altar for the victim: the butcher's table decked in white flowers, the bath to catch the blood, the diagonal procession of women.
Iphigenie feels some strange sympathy for the two men, and helps one of them escape to carry a message to her sister Electra in Mycenae. Orest sends Pylades in his place, and prepares for his own death, but Iphigenie cannot plunge the knife into his stretched-out neck. As he is about to die, Orest cries out that this is how his sister died, and Iphigenie stays her knife. Love wins out.
Ruth Amarante as Iphigenie, a tiny figure in flowing black dress, her long black hair a veil, hands reaching out in supplication, deep pliés distorting her body-hugging black dress, is a reincarnation of Martha Graham. And her women are from Stravinsky's and Nijinska's Les Noces. Bausch premiered her dance piece Le Sacre du Printemps in 1975.
Pablo Aran Gimento and Damiano Ottavio Bigi, as Orest and Pylades, have the best duets, mirroring each other's moves, supportive, loving, in tender pietà embrace. Cast on the shore, under banks of bright lights, they are laid out like slabs of meat on a butcher's block, their ribs sticking out like racks of lamb ready for the slaughter.
Images are startling, tableaux and stage pictures vivid and suggestive. And the dancing is superb. A complete work of art, entrancing, moving, evocative. An intense two hours with a much-needed interval to release one's breath. I'd love to see this in a bigger house. It is made for a Greek amphitheatre.
Till 31st. October 2010
Reviewer: Vera Liber