Irina Kolesnikova London Season – La Bayadère
Choreography Marius Petipa, music Ludwig Minkus
St Petersburg Ballet Theatre
London Coliseum
–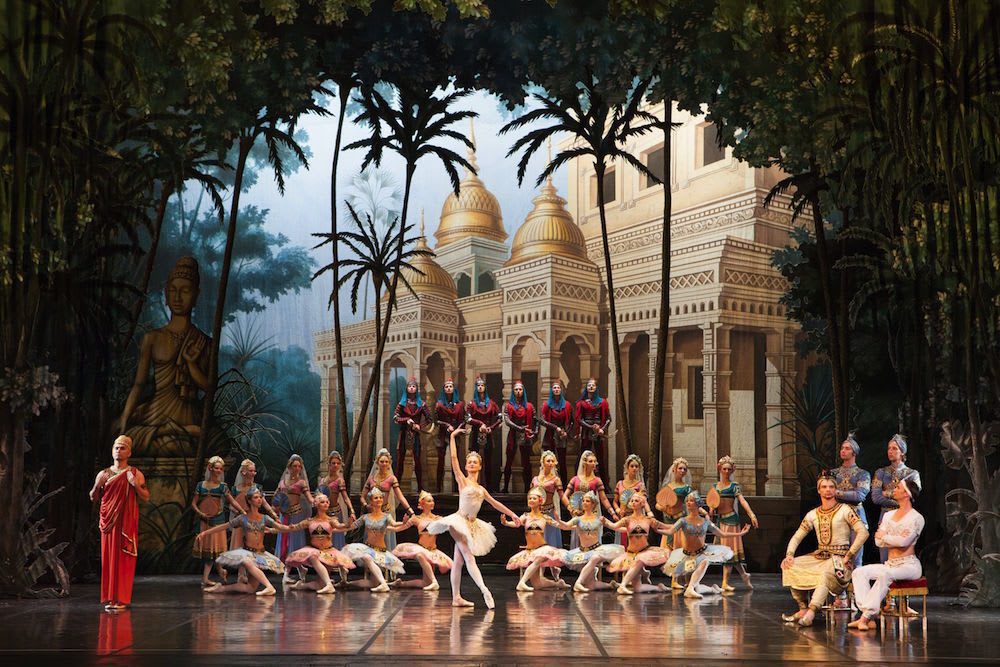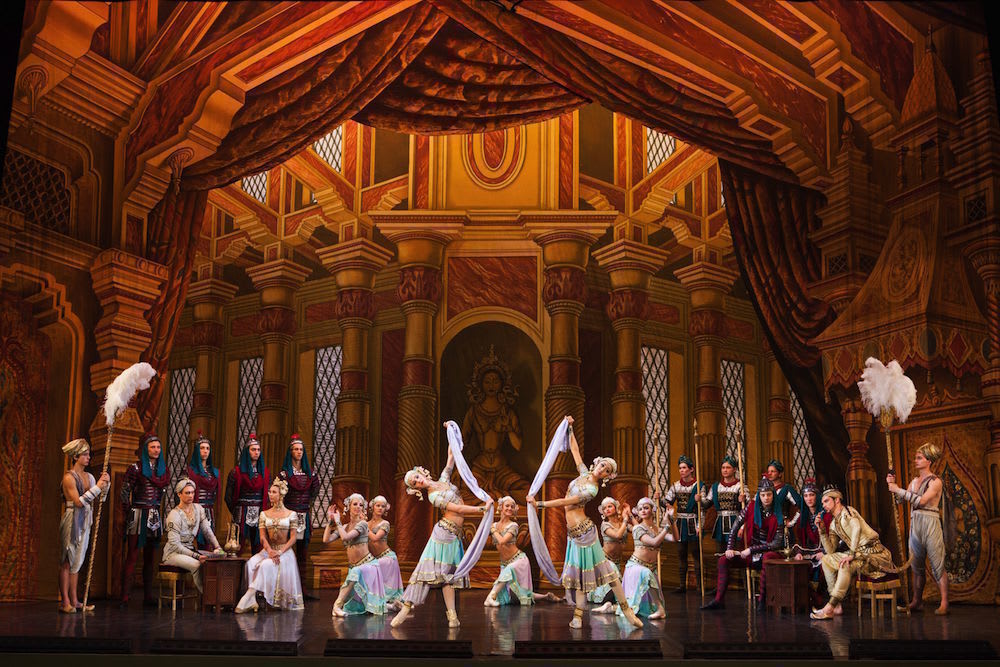 Hope is rewarded. After an indifferent first night of Swan Lake comes dazzling dancing and partnering from Irina Kolesnikova and Denis Rodkin in Marius Petipa's La Bayadère, staged (2004) by Elena Vorontsova and Albert Mirzoyan.
What a difference a week makes. Indicative of the demands of touring, tired dancers, good troupers that they are, carry on regardless but it does neither them nor their audiences any favours when they are visibly flagging as they were in Swan Lake a week ago.
Shorter at two and a half hours than the Natalia Makarova version at the Royal Opera House, this Bayadère takes a while to kick in: vivid 'Himalayan' tableaux and determined miens, lots of mime and storytelling substitute for, and delay, the dancing.
But when it does get going, most notably in the iconic Kingdom of the Shades finale, it is worth waiting for that final half hour. Kolesnikova is a lyrical Nikiya, all supple back and long yearning arms, Rodkin a soaring Solor, his grands jetés and cabrioles very Bolshoi in every sense, his landings soft as down.
The fashionable nineteenth century white ballet inserted into the equally fashionable Oriental-flavoured spectacle of that time (an excuse for glam costumes and set, here by Galina Solovieva and Semyon Pastukh respectively): cruel Rajah, spoilt daughter Gamzatti, High Brahmin in lust (Dimchik Saikeev not terribly convincing) with temple dancer Nikiya, la bayadère of the title, and betrayed love (think Giselle).
Solor, who professes undying love for Nikiya, is compelled to marry Gamzatti and Nikiya pays the price. Her vengeful rival (a spiky Natalia Matsak showing off her fouettés) engineers Nikiya's death by snakebite. A distraught Solor in an opium dream sees the spirit of his dead love refracted into twenty-four maidens dressed in white.
"In this ballet, the corps de ballet is the leading role and each member of it should feel like a ballerina. Yet the corps must always work together as a unified whole, they must dance and breathe as one." (Natalia Makarova).
I must admit I was holding my breath for these maidens, their entry one by one in arabesque needs to be exact, and they manage it, what a relief. Gone the insecure raggle-taggle corps de ballet of Swan Lake, here are embryo ballerinas.
The three leading Shades, Anna Samostrelova, Miho Naotsuko and Ludmilla Mizinova, give a very good account of their individual variations. Samostrelova's musicality, Naotsuko's high extensions, and Mizinova's sure and steady progress earn them deserved applause.
There's lots of hokum, much is pantomimic, the gawky male corps has little to do but stand on guard, Andrei Fedorkov's brief inexplicable appearance as the Bronze Idol is very like Sergei Fedorkov's perky Jester in last week's Swan Lake, one has to suspend one's disbelief at the lack of continuity, and this is not the best version I've seen, but it's a welcome one nevertheless.
The lead couple receive curtain call after curtain call. They have scored a hit, their solos and duets superb, their characterisation credible, she showing her range, pliant and fiery, he his proud erect bearing and wonderful épaulement.
Soulful music mixes with frenzied, underscoring the storybook setting and the choreographic fireworks when they come. A pity there are only two performances of La Bayadère, a ballet that's infrequently staged in complete form.
Reviewer: Vera Liber