Isadora / Dances at a Gathering
Royal Ballet Double Bill
Royal Opera House
(2009)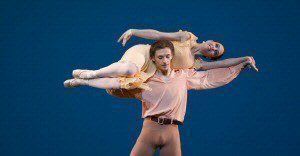 Kenneth Macmillan first thought of creating a ballet in homage to Isadora Duncan (1877-1927) in the 1960s, but it was Frederick Ashton's 1975 one-act Five Brahms Waltzes in the Manner of Isadora Duncan, danced by Lynn Seymour, which finally nudged him towards realizing his notion in 1981.
Macmillan's ambitious multimedia two-act Isadora with Isadora represented by two performers - a dancer and an actor who spoke Isadora's words - confounded the critics when it premiered.
Now, his widow Deborah Macmillan is presenting a carefully considered condensed version - the one-act version, she feels, which was struggling to get out of the longer piece. No doppelgänger actor on stage but a voice-over narration, and today's slicker technology to speed up and tighten the structure. That may be, but the 61-minute disjointed production, in which dance is overshadowed and outshone by talk and film, is a bit of a curate's egg. Isadora is no Manon, Mayerling, or Romeo and Juliet.
A bare stage and a screen for projections of archive film of Loie Fuller, New York, London, Paris, and St. Petersburg (where Isadora witnessed the 1905 and 1917 revolutions), war, the jazz age, images of the sea, peacocks, posters, and Richard Rodney Bennett's commissioned score with its echoes of Chopin, Brahms, Liszt, and Scott Joplin's syncopated rhythms providing the soundtrack results in an interesting history lesson, but there's no artistic intensity. And if anyone led an intense life it was Isadora Duncan.
The three main men in her life were the self-centred English stage designer Edward Gordon Craig, the French millionaire Paris Singer and the wild Russian poet Sergei Esenin - an opportunity for an expressive range of style.
But Esenin has been cut from this truncated episodic glimpse of a life supposedly lived to the full. A tempestuous relationship where neither spoke each other's language is made for a dance-drama. But, he's out because he didn't feature in her autobiography That's the conceit of this version - an edited looking back on a picaresque life.
Not easy to condense a biography crammed with dramatic incident, tragedy (the death of her children and their nurse in a drowning accident), many lovers, much travel, a sad early end strangled by her own scarf in a beautiful motor car, and her spontaneous free dance style, into a distilled dance-drama. How do you capture and confine a strong-willed spirit in a short work?
There are flashes of Macmillan's raw realistic style in Isadora's grieving pas de deux with Singer, and there are some good dramatic set pieces, but it needs a Lynn Seymour, Macmillan's former muse so memorable in another of his earlier biopic-ballets, the 1967 one-act expressionistic Anastasia, to inject some sense of the complex convention-flouting personality of Isadora Duncan.
Fine first soloist Isabel McMeekan is not larger than life (I didn't see the first night cast with Tamara Rojo in the lead), though her spirited solo, accompanied by the voices of a Russian choir singing folk songs, on a darkened stage in Russia danced holding a lantern suggests that simple effects work best. And there is a marvellous short gigolo tango from Thiago Soares - a flash of personality.
Personality and technique are of the essence in Jerome Robbins's 66-minute Dances at a Gathering, first created in 1969 for Balanchine's New York City Ballet with the characters of the ten chosen dancers a part of the equation. It is a sensitive joyful celebration of dance as a response to music - to Chopin's witty, soulful, and lively solo piano pieces, mazurkas, waltzes, etudes, a scherzo, and a nocturne, played by Philip Gammon who deserved the warm applause when he took his bow.
The audience sighed with pleasure. A fine accessible choice to partner Isadora - the spontaneity of dance Dancers singly and in variable numbers, flirting, changing partners, wander dreamily, move as if wafted by breezes, arms lifted on a gentle puff of air, stand still and listen to the music, reflect, and exuberantly dance the joy of living - against a pale blue sky. Until finally all five couples are on stage together - a bucolic gathering, a community. Open spaces, shifting moods, changes of tempo, of light and shade, the interior life reflected in the exterior.
Individuality matters in Robbins's creation - the first British cast included Rudolf Nureyev, Lynn Seymour, Anthony Dowell, and Antoinette Sibley. Noticing the difference between American and British productions and dancers, Robbins once wondered how a Russian company would look in it
The internationally mixed young cast had their work cut out to follow that, but they made it their own in unforced unostentatious fashion. Yuhui Choe (replacing an injured Alina Cojocaru), light as a wisp, captivated with her cloud nine dancing, and Lauren Cuthbertson (replacing Tamara Rojo) continues to reveal a delightful personality and acting talent to match her dancing.
In rep till 21 March
Reviewer: Vera Liber