It Just Stopped
Stephen Sewell
Orange Tree, Richmond
–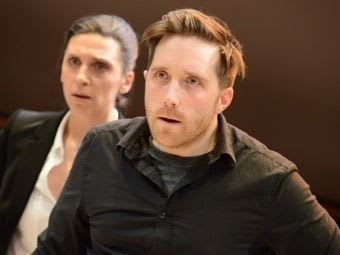 Australian playwright Stephen Sewell has written a dystopian comedy during which he sometimes seems so intoxicated with his polemical views that the plot rather gets left behind as the writer proves his own maxim that "Everything is a fake version of something else".
The early scenes are genuinely witty featuring speedy, wise-cracking dialogue as a highly educated but mildly impoverished American couple relocated to Melbourne struggle to come to terms with an all-encompassing power cut from the perspective of their 47th floor Sam Dowson-designed apartment, stylishly wallpapered by jelly beans.
Joseph Kloska's Franklin is a music critic for the New York Review of Books with dangerous opinions. It is alright to dote on Wagner but most of us (including his wife) would draw the line at anti-Semitism.
Beth played by Emma Pallant seems saner. She produces a radio show featuring by a misanthropic shock jock.
The power outage somehow engenders a mood of panic and reflection but also fuels a number of very good jokes as Armageddon might be minutes away.
The tone changes with the arrival of neighbours Bill and Pearl. They are stereotypical ockers who seem determined to live up to the worst image of brash, tasteless Aussies.
Gradually, John Bowler playing Mephistofelian Bill, begins to reveal hidden intellectual depths, which changes perceptions, though Cate Debenham-Taylor's Pearl still seems to have nothing between her ears.
Throughout, Sewell's left-wing opinions are intellectualised and delivered, primarily through the mouth of increasingly shaken and irrational Franklin, American capitalist values seriously challenged along the way.
This can get a bit overpowering in the long pre-interval period, as the ideas really overwhelm the plot.
Thereafter, the evening becomes by turns completely bizarre and then switches through a twist in the tail that rather negates much of what has been witnessed before.
However, under the direction of David Antrobus, some magnificent diatribes are delivered, Franklin firing off before completely unexpectedly, Pearl reveals hidden depths as the Empire strikes back at American hegemony.
It Just Stopped feels overly long at a little more than two hours but contains some fascinating ideas and strident speeches to entertain those that are happy to go with the flow and not ponder too deeply where the story might have gone to.
Reviewer: Philip Fisher