It's a Wonderful Life
Composer Jake Heggie, libretto Gene Scheer
English National Opera
London Coliseum
–

Listing details and ticket info...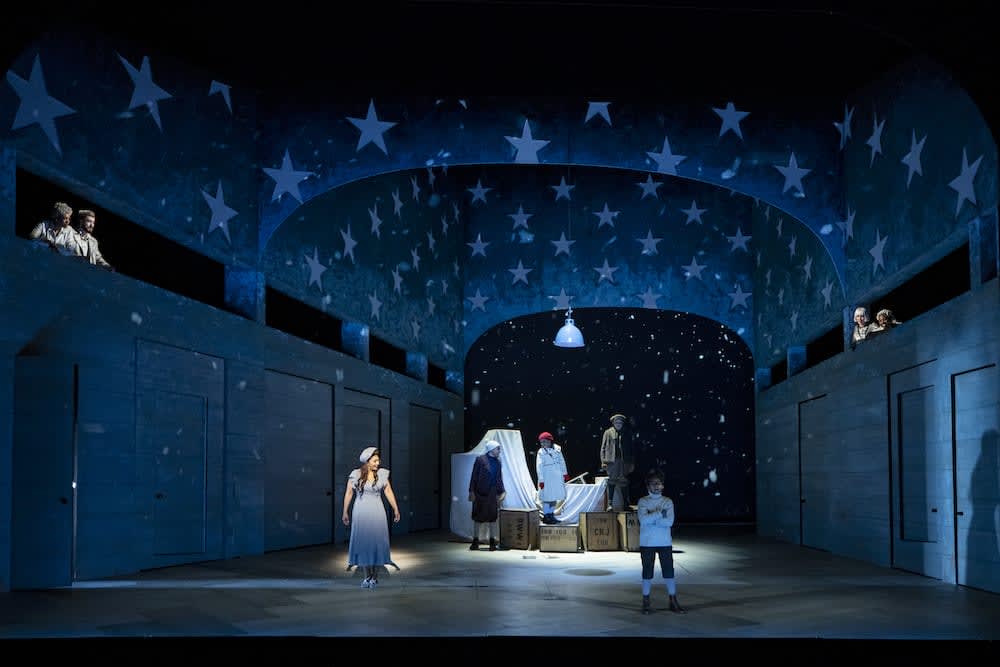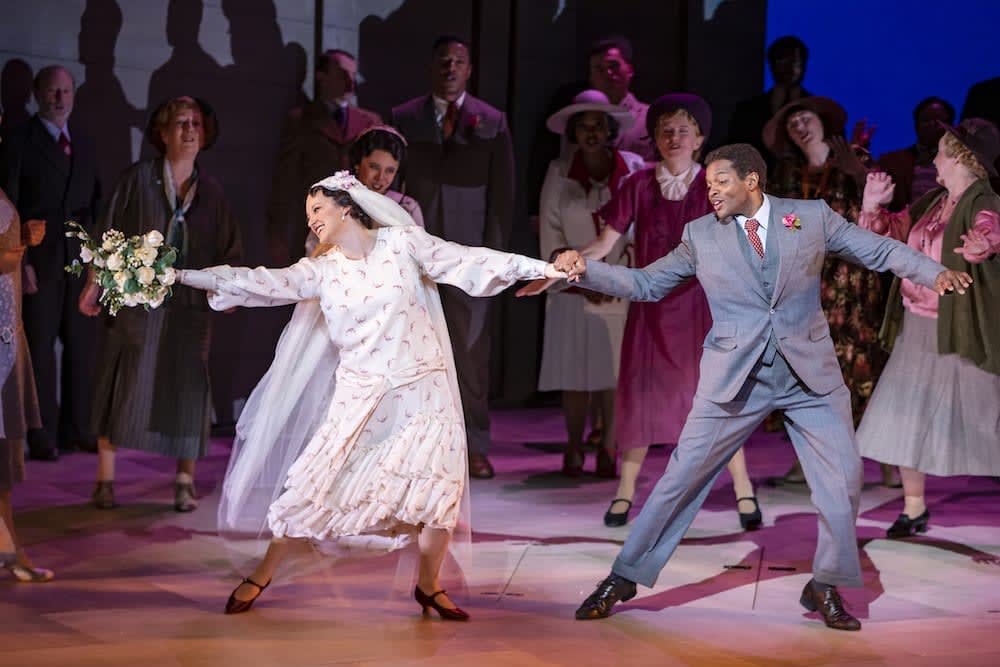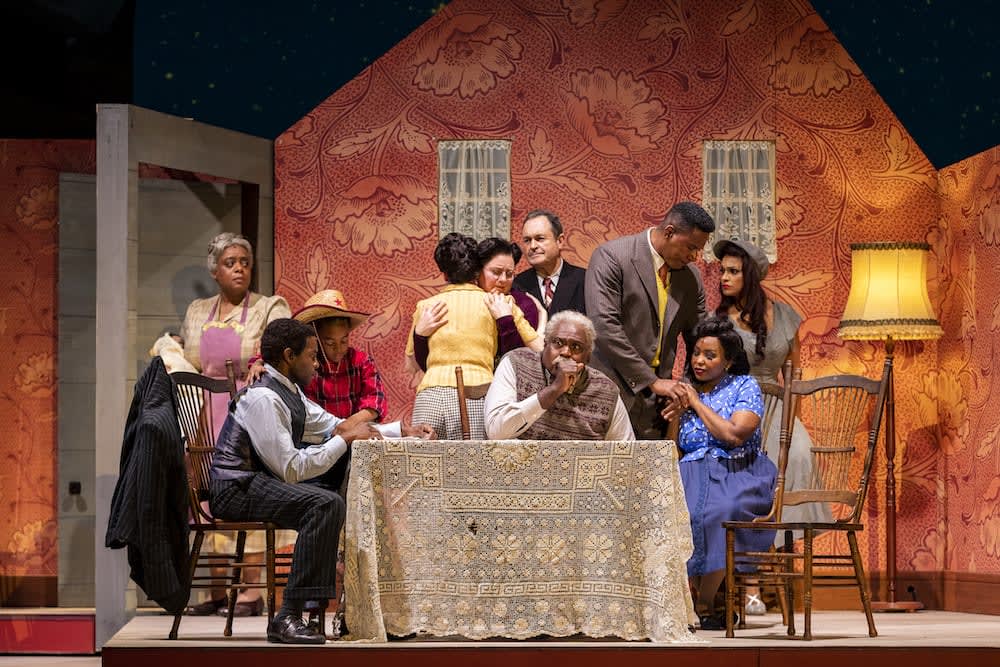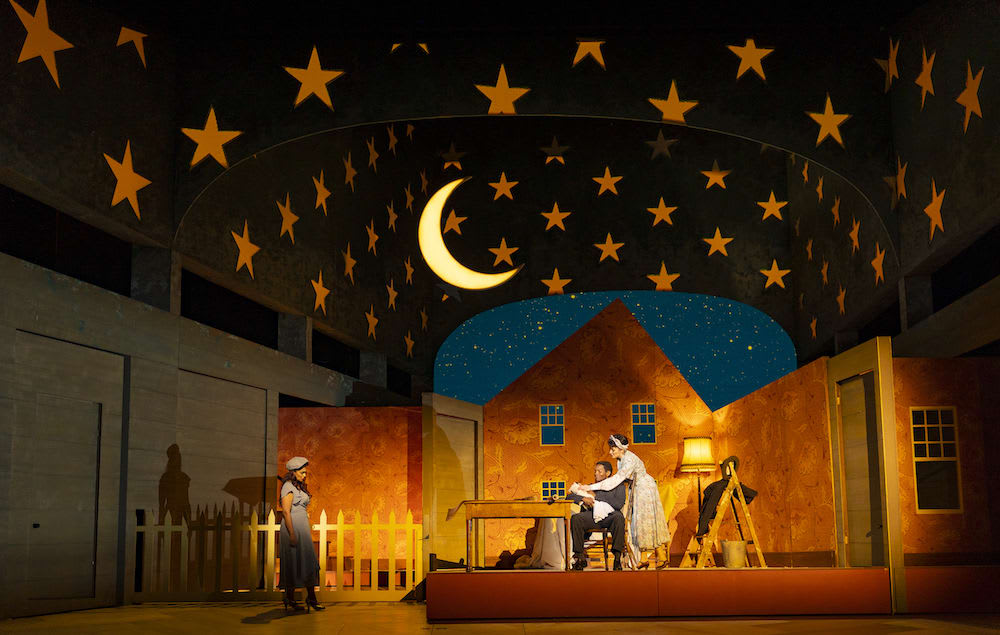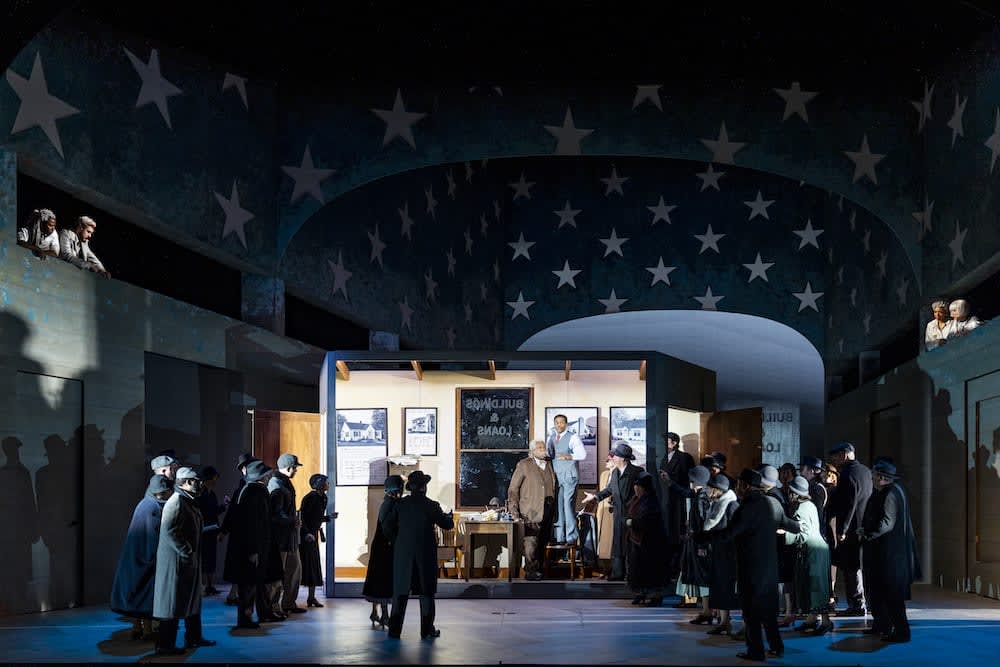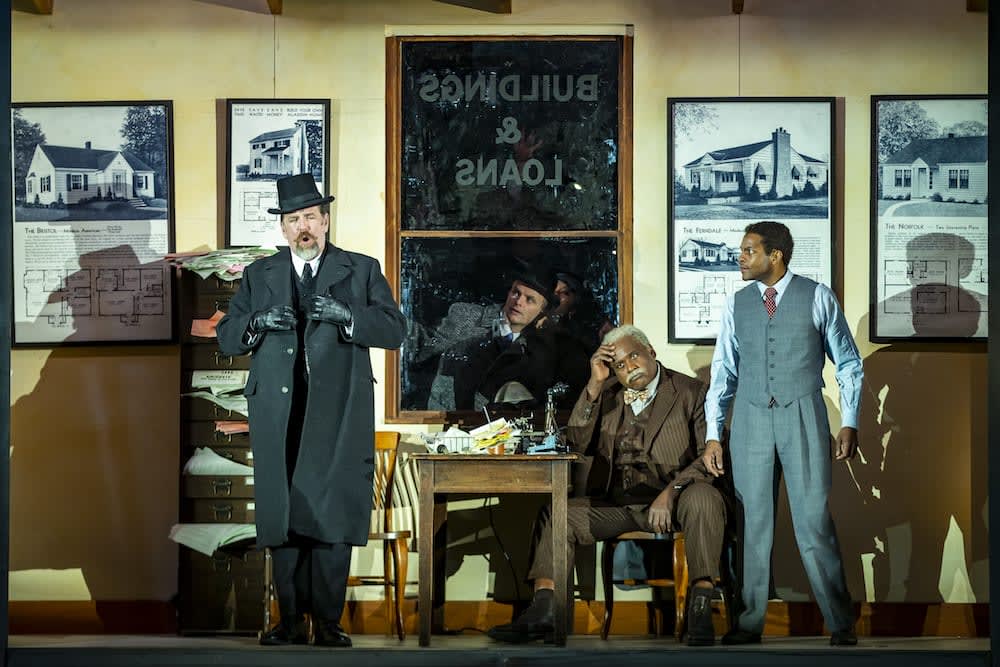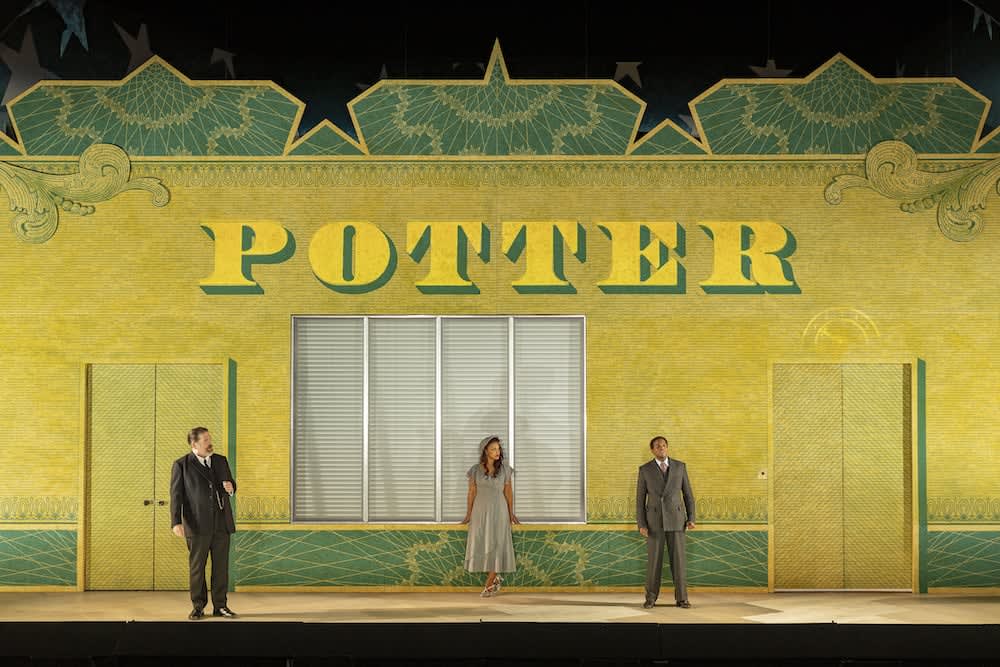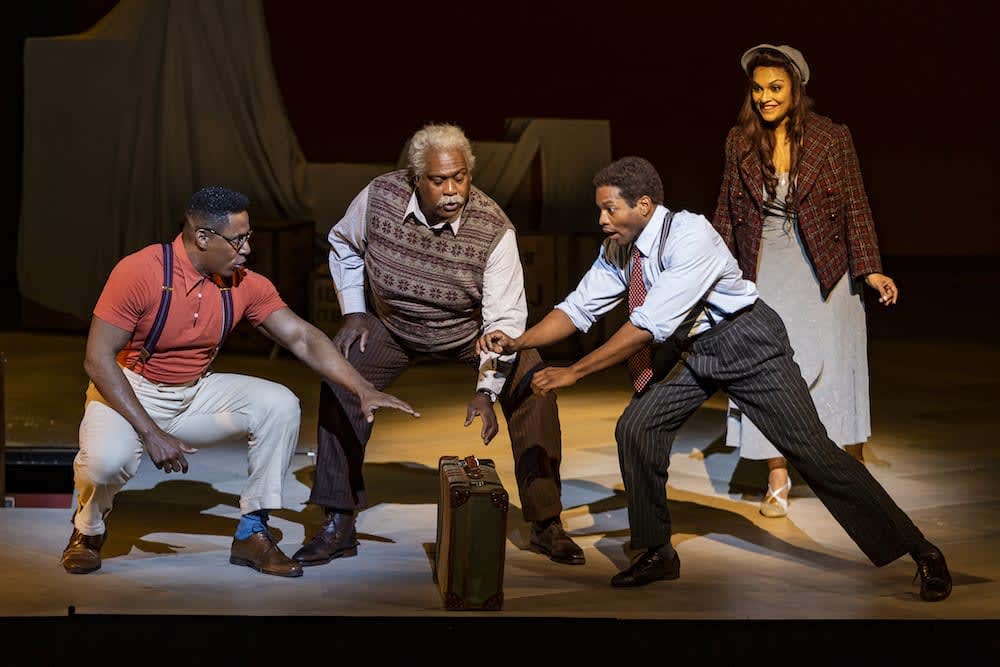 'Tis the time of Christmas Carols—I mean Dickens's—but here's one with a difference, a lyrical American opera with musical theatre vibes, "commissioned by the Houston Grand Opera"—where it premièred in 2016—"with Co-Commissioners San Francisco Opera and the Jacobs School of Music at Indiana University." "Based on the 1946 Frank Capra movie of the same name (by permission of Paramount Licensing Inc.) and "The Greatest Gift" by Philip Van Doren Stern." Stern in turn was influenced by Dickens.
Can anyone replace the black and white film, which was a flop in 1946, too sad maybe after the war—aren't we sad right now with so much global catastrophe? Can anyone replace James Stewart? Maybe two Americans who claim to love the Capra film with its angels, simple good folk, corny lines about lassoing the moon and depression-era corrupt businessman. Hope springs eternal with shooting stars and glitter.
Composer Jake Heggie admits to influences from Leonard Bernstein, Samuel Barber, Stephen Sondheim, jazz standards and more, even Rogers and Hammerstein I'd say. Librettist Gene Scheer has given the tale a twist: Frank Capra's Angel Second Class, Clarence Odbody played by gentle Henry Travers who must have been in his seventies, is now Clara played by the delectable soprano Danielle de Niese.
She is a constant in every scene, as she unpicks how George Bailey comes to be contemplating suicide on Christmas Eve. She has been waiting two hundred years to earn her wings, counting prayers not stars. Her time has come. Four Angels First Class (soprano Keri Fuge making her ENO debut, and three current ENO Harewood Artists: mezzo-soprano Idunnu Münch, tenor Zwakele Tshabalala and bass-baritone Ossian Huskinson) send her down to earth to rescue George, but first she must learn about his life.
Not unlike Dickens's Christmas Spirits she reveals his past, observes the present, foresees a bleak future if he commits suicide. In grey dress and magic grey cap, she descends off her high swing down to picket fence Bedford Falls, which George (tenor Frederick Ballantine debuting in role) is desperate to escape—to college and world travel. It is not to be—fate plays him bad card after bad card. His father dies: he has to take over the family building and loans business. He is a good man, doing the right things, saves his brother from drowning as a boy, now Henry (bass baritone Donovan Singletary) takes his place at college.
One thing goes right—he marries his childhood friend Mary (lovely soprano Jennifer France), but the pressures of work and life, and the bank run of 1929, upturns it again. The dastardly Mr Potter (fabulously sonorous baritone Michael Mayes), the devil incarnate who charges high for his loans, almost destroys him when he pockets the eight thousand dollars George's Uncle Billy (tenor Ronald Samm) mislays.
Life's not fair, why must good people suffer and bad gain? Clara's face says it all—she's like a Greek chorus. She is appalled, but what can she do? She can stop the action momentarily by taking her grey cap off to consider the frozen scene. And she can grant him the wish to have never been born, showing him the grim scenes of life without him. The music stops, plain dialogue takes over, it's as if colour has drained away.
Music and song restored, George finds all the people he has helped in the past, out of his own money in difficult times, have had a whip-round and saved him from Mr Potter (there's a Scrooge for you—"profit is the lifeblood of a country") and the law. He doesn't like people and they don't like him either…
Clara gets her 'wings', a silver dress and a harness to fly up to the sky. De Niese's megawatt smile and mild frowns light up every scene, if at times distracting the eye from the folk of Bedford Falls. All ends well and the evening is rounded off with us all singing "Auld Lang Syne"—my companion with such vigour that the people in front turn round. Yet there are empty seats after the interval—bah humbugs I guess.
"No matter how your story ends / No one is a failure who has friends"—tell that to ENO, whom the Arts Council at the government's instigation has deprived completely of funding. And they are not the only ones—cultural vandalism has been revived. Scrooge lives—are there no workhouses…
Director and choreographer Aletta Collins makes her ENO debut with regular Heggie collaborator Nicole Paiement also making her ENO debut at the podium. The pretty set is by Giles Cadle, but I must admit all those doors behind which George's past is discovered makes me think of Bluebeard… And the attic scenes of Narnia—it's a fairy tale with a message after all. Gabrielle Dalton's costume designs fix the period perfectly. A family opera, nine performances only, and under-21s go free, that's the season of goodwill…
The hard copy programme gives details of all that ENO has achieved over its ninety plus years, and there is a link to donate and sign the petition. They need more than a Clara or a Clarence, just the collective political will to put it right.
Reviewer: Vera Liber