It's True, It's True, It's True
Breach Theatre
Breach Theatre
The Studio, York Theatre Royal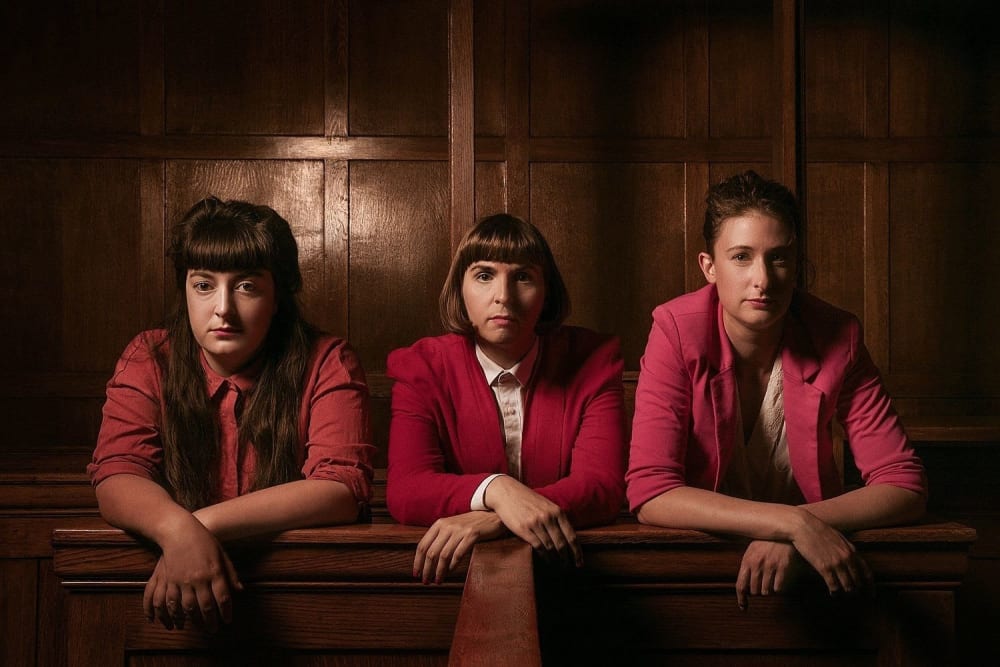 How do you convince the world you're telling the truth, when that world is constructed to believe anyone but you? That is the compelling question which drives Breach Theatre's stunning latest (though now well-toured) work.
As in previous shows Tank and The Beanfield, an historical event is the leaping-off point, and the impossibility of wholly accurate reconstruction is again part of the fabric of the piece—though here this uncertainty is, rightly, an undercurrent rather than a central thread.
The material is a seven-month court case which in 1612 rocked Renaissance Rome. A young and promising Baroque artist, Artemisia Gentileschi, brought an accusation of rape against her sometime tutor Agostino Tassi. Despite a previous history of violence which had seen him convicted of other offences, and despite at times wild and self-contradictory statements, the man continually denied his guilt and slandered Gentileschi's reputation. The court documents that survive reveal a range of astonishing assertions and facts around the case, including Gentileschi's simple repeated insistence "it is true", as she was forced to give testimony—in a case in which she was the plaintiff—under torture.
Breach Theatre—here in the form of Ellice Stevens, Sophie Steer, Kathryn Bond, Harriet Webb, director Billy Barrett and dramaturg Dorothy Allen-Pickard—has created this theatrical account of the case through some passages of close adherence to the surviving documentation, along with more imaginative speculation and contemporary idiom. The piece blends various contradictory modes, including nods to period costume and some impeccably well-chosen current pop music, yet manages to produce an aesthetically coherent and intellectually rigorous whole.
Crucially, this version of the story feels 'true' to the historical case in question, but still hugely relevant and moving in the context of current attitudes to consent and responsibility. With great humour and empathy, the production raises questions about the male gaze, societal expectations on young women, and men's exploitation of structures of power in seeking impunity from the consequences of their actions.
But that makes the show sound worthy or heavy-going; it is not. The performances are infused with wit and commitment: these are all compelling actors. Kathryn Bond plays Tuzia—the friend of the family who was supposedly acting as a kind of chaperone for Gentileschi—veering between naïve eagerness to please and a nonplussed and more distant approach as the case proceeds. Like the rest of the cast, she also switches fluidly between her role as witness and that of judge interrogating the other protagonists.
Ellice Stevens and Sophie Steer, both regular Breach performers, take on these key roles of, respectively, the accuser and the defendant. Steer, as the accused man Tassi, is electric—and hugely, impressively, disgustingly convincing. Her voice veers from staccato machine-gun denials, via lazy cruise-missile charm, to the explosive attacks of heavy mortar fire. That her first words are "Can I just say…" seems revelatory of the tactics and line of attack of the cornered man with a congenital belief in his own entitlement. Tassi namedrops his relationship with the Pope, launches slurs on his accuser's character, questions the starkest of evidence, changes his own testimony with impunity… The show does not insist, as I say, but the parallels with any number of prominent politicians, producers, pop idols are hard to ignore.
Stevens draws upon the greatest emotional range as Artemisia Gentileschi, and her performance is pitch-perfect. Capturing the frustration, passion, uncertainty and righteousness of this teenager, concerned only with her art and with restoring her reputation, Stevens's performance is beautifully controlled and often mesmerising. At one point, Gentileschi describes in detail one of her paintings, of Judith beheading Holofernes, and how she wished to capture this woman at the precise moment she takes hold of her long-held rage and channels it into action. This might be a watchword for the show itself.
And another great strength of the piece is that, in the current climate of alternative facts and a widespread encouragement to question the very nature of truth, here we are in no doubt. We believe Gentileschi, the show tells us in every fibre. Too many women now, still, do not have that assurance and know how she must have felt.
Reviewer: Mark Smith