It's A Family Affair (We'll Settle It Ourselves)
Alexander Ostrovsky and Simon Crowther
Sherman Cymru
Sherman Cymru
–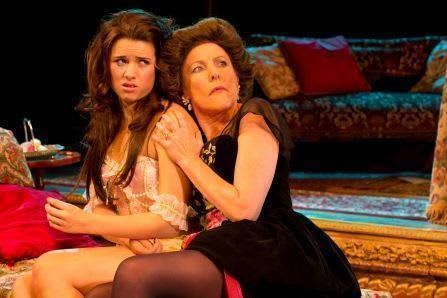 As it celebrates its 40th year, with its finances under public scrutiny, Sherman Cymru can't be accused of doing the obvious in terms of trying to get bums on seats. Thus, its latest main stage production is a clumsily-titled adaptation of a relatively obscure (at least to Western theatre-goers) 19th century Russian comedy.
Prior research (courtesy of a 1917 edition of translations by George Rapall Noyes, freely available online) confirms that while Ostrovsky is not amongst the first rank of Russian dramatists his achievement was to shine an unflattering light on the lives of the bourgeoisie, as opposed to the nobility and the serfs, who were the subject matter of the majority of the literature of the time. In It's A Family Affair…, a nouveau riche family has to deal with financially troubled times; thus one does not have to over-exert oneself to find contemporary relevance.
Successful merchant Bolshov ("Big Man") is under siege from his numerous creditors; meanwhile, his daughter, Lipochka, is fast-approaching 20 and desperate to marry before she grows too old; marriage-broker Ustinya is anxious to be of assistance, for a small fee. Supported by his devoted wife, Agravena, Bolshov hatches a plot with disbarred, dipsomaniac lawyer Rispolozhensky to declare himself bankrupt so as to avoid having to pay a dowry; said scheme involves the connivance of Bolshov's faithful clerk, Lazar, who happens to be infatuated with Lipochka.
William Thomas and Ri Richards seem to relish the opportunity to play it big as the uncouth older couple; Sian Reeves also enjoys herself as the blowsy, cynical matchmaker. Rachel Redford, in her professional debut, makes an immediate impression, and not only because she has to deliver the opening monologue in her (relatively modest) underwear; as the flighty, spoiled daughter she gives an impressively assured performance.
Lee Mengo, as the eminently corruptible and extravagantly bearded Lazar, consolidates his growing reputation as an engaging comic presence. The cast is completed by Guy Lewis (who seems a little young to be playing the increasingly down-at-heel Rispolozhensky), Valmai Jones, as the deceptively dim old servant and Gareth Tempest (also making his debut) as the facetious houseboy; they all proficiently provide comedy business.
Simon Crowther's adaptation cleverly fillets the text of outdated references (despite the South Wales accents, the Moscow setting is retained) but adds plenty of cheerily unsubtle jokes. The crucial scene in which Lazar woos Lipochka is both funny and touching. The mood changes drastically in the final act, but this seems well-earned, given the previously light-hearted approach to the subject-matter. At 160 minutes (including interval), the piece is perhaps over-long, however, and the tagged-on epilogue seems to drain the actual ending of its impact.
Crowther and director Roisin Brinn combine to engender a crowd-pleasingly crude tone, owing much to pantomime, with cartoonish sound-effects, plentiful asides to the audience, and overt references to plot devices. Alyson Cummins's sets are lavish, the fact that during the first half they are increasingly littered with Bolshov's unpaid bills providing an effective visual metaphor.
The costume designer goes uncredited in the programme, but surely deserves plaudits for Lipochka's remarkable Fat Gypsy Wedding-esque costumes in the play's later stages. The appearance, at a celebratory point, of a Russianised version of the Sly And The Family Stone song called to mind by the title really shouldn't work, but somehow does; indeed, musical director Dyfan Jones provides an effectively upbeat soundtrack throughout.
It's A Family Affair is consistently funny (except when it intentionally isn't), and given its instantly recognisable characters and their predicaments, is effortlessly relatable. It certainly deserves to find an audience.
Reviewer: Othniel Smith