Ivan Putrov - Men in Motion featuring Sergei Polunin

Sadler's Wells
–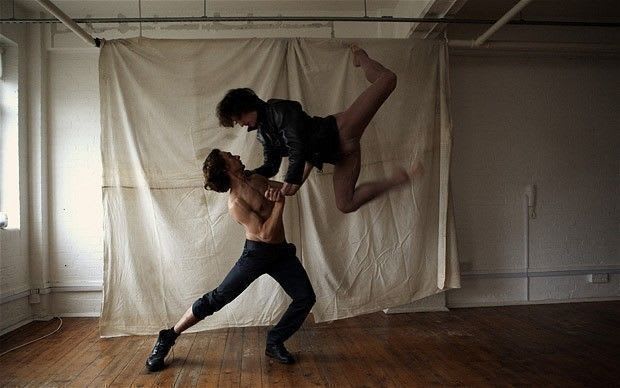 Six weeks after the first tentative programme of amuse-bouches, producer-performer Ivan Putrov brings another programme of morsels, eight hors d'oeuvres that do not a feast make. Better though, better, Putrov is learning on the job. No visa problems this time, Nacho Duato's Remanso, promised in January, is finally delivered, and there are music credits in the programme notes.
Capitalising on his young friend Sergei Polunin's newsworthiness, Putrov does him no favours. Headlining Polunin, who repeats Goleizovsky's Narcisse of the previous programme, takes on a redacted version (by Putrov and Polunin) of L'Apres-midi d'un Faune, in which he proves to be no Nijinsky or Nureyev, and is given the opportunity to expose his troubled psyche in a first-time heart-on-sleeve choreographic piece on soul mate James Dean, left me feeling very sad for him...
Yes, he can do multiple leaps and turns, but he is no actor. Not yet. He should have stayed a little longer with the Royal Ballet, where he was developing nicely, as his Des Grieux in Manon showed, and where he was about to spread his acting wings as Romeo, but, despite the interviews, one can only guess at the true crisis, or delayed teenage tantrum, that has derailed him.
Let him have a sabbatical, get the demons out, but would someone please advise him to return to the fold of the Royal Ballet to mature as a performer before hollow fame and the fickle celebrity world consume and destroy what talent he has?
Putrov, on the other hand, can act, undaunted to be stepping into Baryshnikov's shoes in Leonid Jacobson's Vestris – a solo originally choreographed in 1969 for Baryshnikov (see a two and a half minute YouTube clip of Jacobson tutoring a young Baryshnikov in facial mime.
Preceding Tim Rushton's Dying Swan, performed by Andrew Bowman, more a capsule Zéro de conduite pillow fight than a swan shedding its feathers in its terminal moments, and following L'Apres-midi d'un Faune and a brief solo, Round About Tim, for Tim Matiakis (Royal Ballet of Denmark) by Jorma Elo to the solo violin (Eugène Ysaÿe's Sarabande from his Sonata No 4 in E minor) of Benjamin Baker, Vestris (after Auguste Vestris le dieu de la danse) at least has substance.
A run though of commedia dell'arte stock characters, an audition for the Comédie Française perhaps, of Le Bourgeois Gentilhomme going through his dancing paces, it requires wit and precision, and Putrov delivers, if not quite Baryshnikov, the period wrist flourishes, reverences, elegant leaps, spins, and 'artistic' silent acting.
But it is the shorter second half of the programme that pleases most. James Dean is wrapped protectively in Nacho Duato's Remanso and Russell Maliphant's Two x Two tender embrace, and it is these two that make the evening worthwhile.
Their music, Enrique Granados's Valses Poeticos, and Andy Cowton's rhythmic beat, the expressive long arms and shoulders of Clyde Archer (from Spain's Compañía Nacional de Danza) in Nacho Duato's trio for men, and the finesse of Dana Fouras in Maliphant's stunning Two x Two, steal the limelight.
As in January's Men in Motion, it is Maliphant's work that stands head and shoulders above the rest. Maestro Michael Hulls's light beams pick out two figures, Dana Fouras, and Jesse Kovarsky taking his lead from her, standing on two separate square blocks. T'ai chi style movement, each fluent fluid slow gesture delineated in dramatic detail, the two doubling the effect, takes one's breath away.
A thing of beauty, articulate physical calligraphy to a musical loop accruing layers of sound and motion in a unique vocabulary, finds expression beyond words. And it's a woman, Maliphant's wife, who delivers the goods in a show to highlight men's prowess in the ballerina-dominated world of ballet…
Reviewer: Vera Liber