Ivanov
Anton Chekhov in a new version by Tom Stoppard
A Donmar Warehouse production
Wyndham's Theatre
(2008)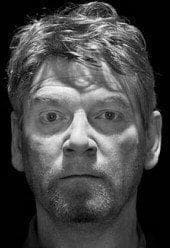 The long-heralded Donmar season in the West End is finally upon us and opens with Kenneth Branagh starring at the head of a glittery cast in a new Sir Tom Stoppard version of a lesser-known, early Chekhov play under the direction of Michael Grandage.
Anton Chekhov always believed that his works were comedies and 120 years on, with great assistance from director and adapter, this triumphantly funny evening with a dark heart might suggest that he was right after all.
Ivanov is an amoral antihero of a very modern kind. Thus he is well served by a brisk, 2½ hour version of his life that uses bold, contemporary language. Having said that, so vicious are his opinions and value system that they can be hard to take, even today.
Branagh is well cast as a doleful character who seems the embodiment of world weariness. We first see him at a time when his beautiful, Jewish wife Anna is diagnosed with tuberculosis by Tom Hiddleston's straightforward, earnest young Doctor, who is inevitably made up to look like the playwright.
Although the part is not big, Gina McKee is one of a number of actors who shine, garnering great sympathy for a selfless woman who gave up her heritage and family to marry this penniless wastrel.
The odd thing is that despite his air of gloom and self-disgust, no sooner does she take to her bed than another beauty a generation younger inexplicably falls for dreadful Ivanov.
The highly talented Andrea Riseborough moves from bouncing youthfulness to serious ardour and then mature empathy with great assurance. This fine actress is well supported by Kevin R. McNally giving a bravura comic turn as her henpecked father Lebedev, the unfortunate husband of a characteristic Chekhovian skinflint.
He is one of a number of maudlin drunks, who also include Malcolm Sinclair's proudly spiteful Count, himself pursued for his title by a much-loved plain widow, Lucy Briers' Martha. The cheerless drinking pals contrast with the epitome of drunken hope and happiness, the wheeler-dealer Mischa played with energy and wit by Lorcan Cranitch.
Christopher Oram somehow manages to create full-scale sets that can be changed quickly from the lavish to the mundane and evoke the time and place as well as Adam Cork's enjoyable, period folk music.
For four acts, we see Russian country life, warts and all, as Ivanov loves and loses with a terrifying determination to eschew even a glimpse of happiness. We also meet a great selection of what would become standard types in the later plays, the lovelorn doctor, the aspiring businessman, the female penny-pincher, drunks with nothing to do, girls who love the wrong men and ineffectual older men.
By the end, there is perhaps a little too much absurdity but the Donmar's Ivanov is an excellent revival which ensures that this new venture of Michael Grandage's starts off on a real high.
Reviewer: Philip Fisher