Ivona, Princess of Burgundia
Witold Gombrowicz
Tibaldus
Upper Church @ Summerhall hosted by RBC
–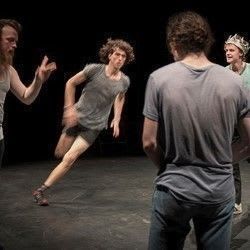 Ivona is a complete mystery. Witold Gombrowicz is known as the Polish Shakespeare and is seemingly as prone to directorial whim as the Bard. It therefore seems likely that this classic should be the equivalent to one of (say) Hamlet, The Winter's Tale or Much Ado About Nothing.
On this occasion, it feels as if the company were enjoying some private joke at the expense of their customers, practicing gender blindness and a mannered acting style, with much physical activity that didn't obviously advance the plot much to their own amusement.
The play itself is intriguing, even allowing for a cut-back, modern translation. Prince Philip gets sucked into his own joke when he proposes marriage to Ivona, in this version a kind of silent Frankenstein's monster. This shocks and offends friends and family, who immediately seek to change his heart and mind. Poor Ivona becomes a pawn in this game.
What follows becomes increasingly confused and confusing as the plot is largely left behind while the actors enjoy themselves.
Reviewer: Philip Fisher