Jack and the Beanstalk
A new version by Joanna Read and Stuart Thomas
Salisbury Playhouse
(2004)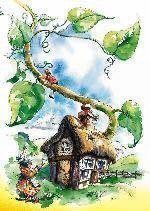 Hunting giants with children is in season once more at Salisbury Playhouse where Caroline Leslie's production of Jack & The Beanstalk entertains young and old alike to judge from a performance attended by motor showroom staff as well as contingents of young Wiltshire Guides and Brownies.
While the script of Joanna Read and Stuart Thomas contains more corn than nearby Fisherton Mill ever had, the show is lifted by some lively tunes from musical director Andrew Allpass and by the colour and invention of the costumes and the players.
Favourite with the yelling patrons is David Ashley's Dame Mary, whose greater impact on this show compared with last year's suggests that he and the writers are mastering the special requirements of the dame.
Dame Mary is run close for the honours by Tom Edden's Horrible Henchman - his Mysterioso isn't bad, either. Edden quickly has the children, and many of the parents, too, shouting their responses.
Erin Brodie makes a sturdy, thoroughly wholesome Jack while Sophie Shaw's Jill is a nice principal girl of the kind thought to have been lost to modern panto. And with those legs, she could probably play the boy, too!
Despite the loss of some of her verses in the general hubbub, Devon Black is a charming Fairy, albeit unusually rustic of speech.
While there is strong support from Peter Mair as a testy Squire (and voice of the Giant) and from Andrew Macklin as Simple Simon, the excellent Cow might, if I dare say it, be better served by faster playing of her big scene!
Richard Foxton's design makes the most of the small stage, not least in representing the physical presence of an otherwise sotto voce Giant.
.However, the show owes much of its sparkle to the involvement of the children's chorus of whom, without, of course, the irresistible competition of real school and studies, we might with advantage have seen a great deal more.
"Jack & The Beanstalk" runs until 15 January 2005.
Reviewer: Kevin Catchpole