James and the Giant Peach
Roald Dahl, adapted by David Wood
West Yorkshire Playhouse
The Courtyard, West Yorkshire Playhouse
–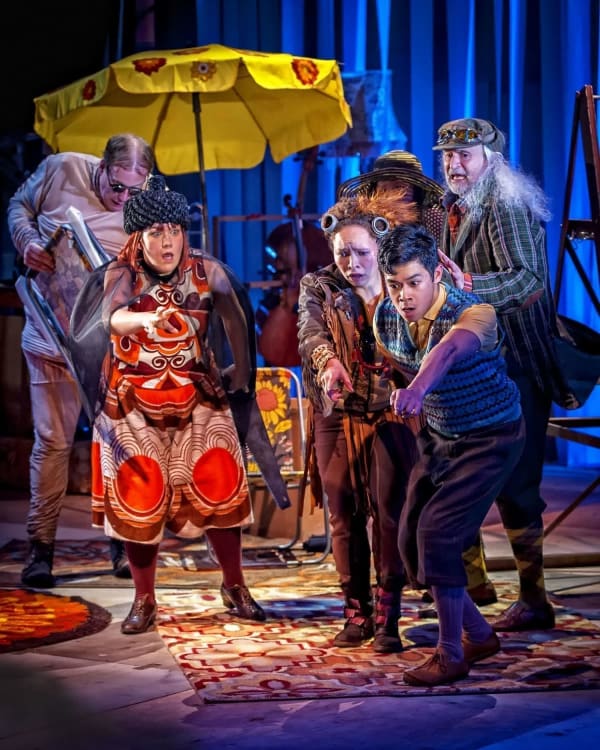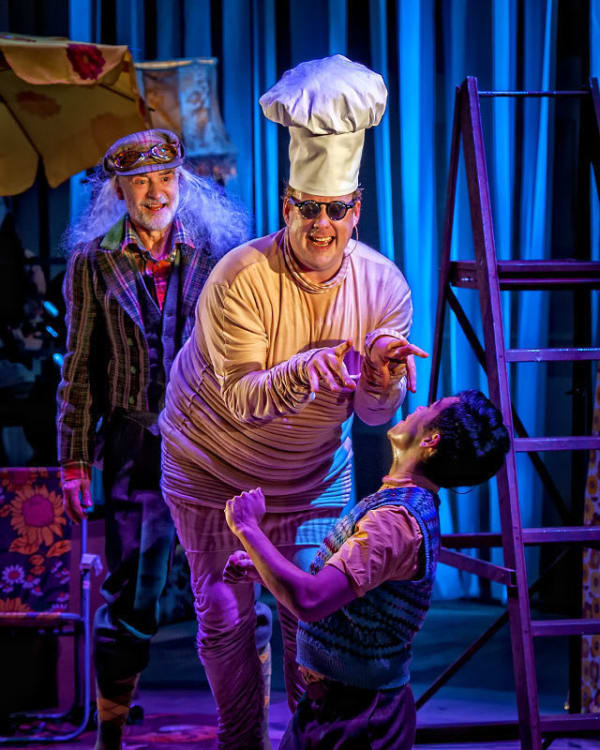 David Wood's adaptation of this Roald Dahl classic is excellent, a good scatter of jokes, laughter, pathos. The characters and narrative are well carried by Wood's dialogue, and there is plenty of opportunity for designers and director to get to work on staging.
The story is simple and beguiling, a childhood fantasy realised. James loses his loving parents when they are savaged and killed by a rampaging rhinoceros on Oxford Street.
James is taken in, on, and to pieces, by his grotesque, sadistic aunties: Spiker and Sponge. He has an encounter with a mysterious old man on a bike, who tells him that wonderful things can happen. In this production the old man (Robert Pickavance) is sinister to say the least—a Jimmy Sir Vile lookalike, even to pink sunglasses, who you wouldn't trust with soft fruit, let alone a little orphan boy.
Nevertheless, wonderful things happen. James finds an escape route in the form of a giant peach. Inside the peach ("it's a big balloon", really, my companions explained) he meets a motley gang and has adventures. The peach, by the way, sees off Spiker and Sponge—flattens 'em in good comic book style.
All ends happily when the pals are asked to take up residence in New York, the peach having been carried there by seagulls—don't ask; just enjoy.
Dahl provides the gang with a good spread of species and character: Glowworm (James Gow), Earthworm (Dyfrig Morris), Grasshopper (James Pickavance), Spider (Jess Murphy), Ladybird (Beverly Rudd) and Centipede (Paksie Vernon). Here are optimists, pessimists, cynics and innocents, just like the adults in a child's world. And, as in all good childhood fantasies, James (Chris Lew Kum Hoi) unifies the team and leads them to the Land of Happy.
Directed by Max Webster and designed by Fly Davis, this is a sound production which cracks along at a good pace and keeps the kids involved and on their toes. But it lacks the creative excitement and big warm heartbeat of those earlier WYP Christmas kids' shows created by writer Mike Kenny, director Gail McIntyre and designer Barney George.
Theirs were productions that allowed you to enjoy the show and the process of making it. So, whereas the present show attempts to hide under-budgeting, the old shows gloried in it. George's designs and McIntyre's direction exploited, indeed relied upon, our regional abundance of Pound Shops.
They delighted all ages and most tastes with cheap streamers, multicoloured clothes pegs, plastic buckets and a cornucopia of creativity. At his best Kenny's scripts were excruciatingly funny and heartbreaking.
Whilst this show's overall design is acceptable, it is rarely delightful. Good marks though for the glutinous Earthworm. But only when the rhinoceros had hand saw horns and, particularly, the seagulls were created by flapping swimming flippers, did the real magic of theatre shine through.
And those moments had my six-year-old companion giving me an excitedly whispered explanation of how it was being done. One of the joys of taking a youngster to see good theatre.
However, although a little work-a-day, this is a quality show to be enjoyed by children from five to thirteen. What with this and White Christmas, West Yorkshire Playhouse is a happy thriving venue, well worth a festive visit.
Reviewer: Ray Brown