James Graham: Plays 1
James Graham
Methuen Drama
Released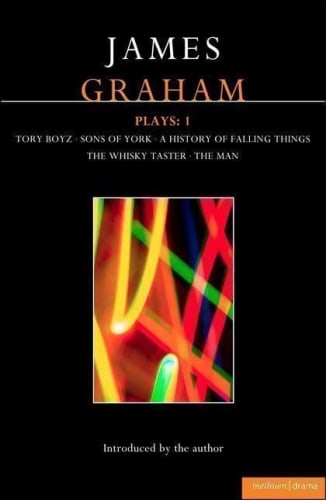 Tory Boyz
As early as 2008, when he wrote Tory Boyz for the National Youth Theatre, James Graham showed prodigious talent.
With its background of political skulduggery in the shadow of Ted Heath, the piece prefigures his best work to date, This House, currently enjoying a triumphant revival in the West End.
On one level, Tory Boyz explores the internal struggle that Tory researcher Sam faces as he tries to balance his obvious but mildly closeted homosexuality with the desire for a political career on what is arguably the outwardly homophobic side of the House.
At the same time, the play presents a good introduction to the British political landscape, as Sam volunteers to guide a bunch of enthusiastic, if lively, inner-city kids through the basics.
In the background, we follow little Teddy Heath, as he grows from decade to decade, though we stop before he hits the political highpoints, eventually becoming Prime Minister.
His sexuality remains unknown from the public as well as James Graham but there are hints about the reasons behind Heath's loneliness and his fear of touching let alone getting close to Kay, a friend whom he might conceivably have married.
This is a cracking start to what promises to be a worthy collection of early plays by a man who is fast becoming one of Britain's finest.
Sons of York
Sons of York is a gritty family drama set in the dying days of the Callaghan regime during the late 1970s.
Three generations meet in disharmony, as Jim and Brenda with son Mark prepared to move in with Jim's Dad and Mam.
Their motivations are mixed. First, Mam is suffering from severe dementia, which means that Brenda's profession as a nurse is handy. At the same time, money is tight because Jim is preparing to go on strike for what looks like being an indeterminate period.
Dad rules the roost with a rod of iron, refusing to accept that his wife is seriously ill and bullying all of his new guests.
To make matters worse, rather than being enthusiastic about inheriting the family heirloom, Aggie the lorry, Mark is studying hard and has ambitions to become a musician or at the very least escape manual labour for life.
James Graham cleverly blends the politics of the family with the politics of the country, moving towards the blackest of comedies as Dad rescues mam from her care home for a delayed Christmas celebration of which she is completely unaware.
The writing and sentiments are as sharp as a knife in a fine play that worked perfectly on the claustrophobically confined stage at the Finborough and reads well on paper.
A History of Falling Things
For those who imagine that James Graham exclusively writes political plays, A History of Falling Things will come as a surprise.
It is a quirky, small-scale love story that homes in on a couple who will probably never meet.
That is because Robin and Jacqui both suffer from what most regard as a truly bizarre affliction, if they had actually heard of it. Keraunothnetophobia is the belief, nay expectation, that if you venture out of doors you will be hit by a falling satellite.
This is apparently a genuine illness and, as readers will readily understand, victims lead very sheltered lives.
Graham sensitively tracks the burgeoning Internet relationship between the two but also attempts to give his audience an understanding of the problems that they suffer.
He then spreads the net a little more widely, focusing on a parent for each and a therapist, doing his best to help those who do not necessarily wish to be helped.
The Whiskey Taster
Themes begin to develop when one reads volumes of this type. The Whiskey Taster is set in the offices of an advertising agency where Barney and Nicola are set the task of creating a campaign for a new vodka brand.
While Nicola is a working-class Londoner with attitude, Barney is a more thoughtful northerner and intuitively uses his synaesthesia, an illness to anyone else, to develop inspirational campaigns.
The affliction means that he literally turns any experience into different colours, so that tasting a whiskey might be blue or green.
Career progression, love and the appearance of the eponymous Whiskey Taster, whose attitudes to life and vodka are refreshingly old-fashioned, all add to the mix in a comedy that makes some trenchant comments about the world today.
The Man
The final play in this volume also takes an oblique view of human kind, through the medium of Ben's attempts to complete his tax return.
This might sound an unlikely starting point for a biographical portrait that extends to his twin brother Josh.
In fact, James Graham uses boxes of receipts that develop into conversations with the taxman and the audience to make an episodic assessment and overview of Ben's year. In addition, we learn a great deal about his brother's personality and the way that the whole family is affected by a hereditary disease.
Reviewer: Philip Fisher