Jane Eyre
Devised by the company, based on the novel by Charlotte Brontë
Bristol Old Vic and National Theatre
Grand Opera House, York
–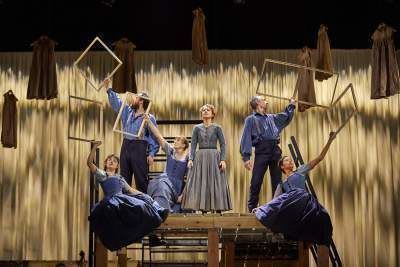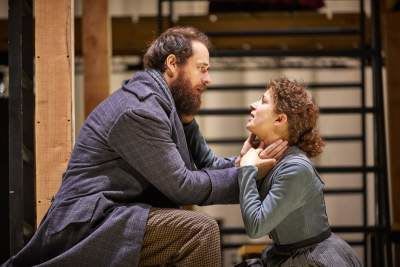 Even if you haven't read Charlotte Brontë's masterpiece Jane Eyre (1847), it's likely that you're familiar with the novel's more sensational aspects—a gothic mansion, a mad woman imprisoned in the attic, a blazing inferno. Sally Cookson's acclaimed stage adaptation preserves all these elements, but, more importantly, it stays true to the intellectual and emotional heart of Brontë's novel.
Jane Eyre has been adapted into dozens of films and TV programmes, but few of them have successfully captured the strength and complexity of the title character. In the 1944 Hollywood film, for example, Joan Fontaine's subdued Jane is totally overwhelmed by Orson Welles's brooding Rochester. However, Brontë's heroine is not the passive non-entity she is sometimes depicted as; far from it, in fact. She is one of the most admirable characters in English literature—bright and courageous, with an independent spirit.
To ensure that Jane is not overshadowed, Cookson approaches the novel as a "life story" rather than a "love story", meaning that more time is allocated to her early years than in other versions. We watch vulnerable, orphaned Jane (Nadia Clifford) suffer at the hands of her cold-hearted aunt, Mrs Reed (Lynda Reed), before being shipped off to a brutal boarding school where she is mistreated by her teachers.
Against the odds, Jane overcomes these obstacles and matures into a confident and resourceful young woman. We watch her escape the confines of her school by accepting a position at Thornfield Hall, an isolated mansion owned by the mercurial Mr Rochester (Tim Delap), where she becomes a governess to a young French girl, Adele (Francesca Tomlinson). Despite being "poor, obscure, plain and little", Rochester falls in love with his employee and asks for her hand in marriage. However, it soon emerges that Jane's employer is already married…
Some critics have bemoaned the omissions made to the original novel, but I have no such reservations. Devised by the company over an eight-week period, Cookson's thrilling production retains all the vivid characters and plot twists that make the original novel so marvellously entertaining. Some might find the production three-hour running time slightly punishing, but I was thoroughly absorbed throughout.
Cookson blows the cobwebs off Brontë's 170-year-old novel by eschewing the period detail that often suffocates adaptations of Victorian novels. Michael Vale's striking set—an immense wooden edifice made up of platforms, ramps and ladders—recreates the novel's various locations and serves as a versatile playground for the actors to roam across. This stripped-back staging results in a bold, dynamic production that seizes every opportunity for physical movement.
Cookson's ensemble—seven actors and three musicians—are superb. Nadia Clifford excels in the leading role, powerfully capturing the character's defiance (she refuses to be belittled by her social superiors) and her overwhelming love for Rochester. Also terrific is Tim Delap, who delivers all the Byronic qualities you could hope for while also capturing Rochester's playfulness and sly sense of humour.
Most of the performers demonstrate their versatility in multiple roles. Having chilled us to the bone as Mr Brocklehurst, the villainous supervisor of Lowood School, Paul Mundell delivers a brilliant comic performance as Rochester's canine companion, Pilot. Lynda Rooke skilfully captures the icy disdain of Mrs Reed and the genial warmth of Mrs Fairfax, Rochester's housekeeper. Evelyn Miller captures the haughtiness of Jane Eyre's love rival Blanche Ingram and the cold idealism of St John Rivers, and Francesca Tomlinson is particularly moving as Jane's ill-fated childhood friend Helen Burns.
As with her recent staging of La Strada, Cookson makes music an integral part of Jane Eyre by placing the band (Matthew Churcher, Alex Heane and David Ridley) centre stage. Throughout the production, their excellent musicianship is crucial to the creation of atmosphere and pathos.
Music and drama come together most powerfully in the figure of Bertha Mason, Rochester's first wife, played by the opera singer Melanie Marshall. Since the publication of Jean Rhys's Wide Sargasso Sea in 1966, we have seen more sympathetic portrayals of the first Mrs Rochester which acknowledge the harsh treatment she has been forced to endure as a result of her insanity. Far from being a frenzied wildcat, Marshall—dressed in a floor-length red dress—is a still and sinister presence on stage, who haunts Jane throughout her life. Her beautiful renditions of anachronistic pop songs—Noël Coward's "Mad About the Boy" and Gnarls Barkley's "Crazy"—add another dimension to the production.
Katie Sykes's lovely costumes evoke the period without fetishizing the past. Aideen Malone's lighting and Dominic Bilkey's sound add texture to the production, particularly during its more gothic moments.
Since it was first staged at the Bristol Old Vic in 2014 before moving to the National in 2015, Jane Eyre has received widespread critical acclaim. I can't argue with their verdict. Jane Eyre is a thrillingly inventive, fabulously entertaining piece of theatrical storytelling.
Reviewer: James Ballands