La Strada
Based on the subject and script work by Federico Fellini, Ennio Flaiano and Tullio Pinelli
Belgrade Theatre, Coventry
West Yorkshire Playhouse, Leeds
–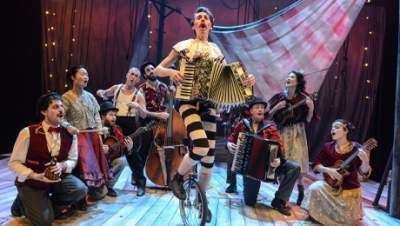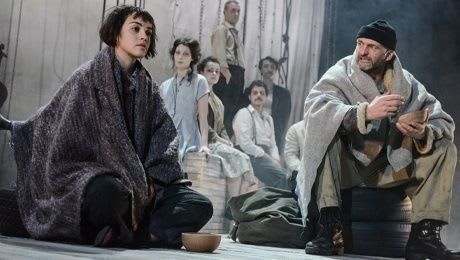 Before watching La Strada, I was reminded of a particularly stomach-churning encounter on BBC Radio 4's Today programme between stand-in host Justin Webb and writer Graham Linehan (Father Ted, The IT Crowd).
The latter believed he had been invited to discuss the challenges of transforming a much-loved film—in this case, The Ladykillers (1955)—into a worthwhile play. Little did Linehan know that an ambush had been laid, and he was expected to participate in a debate with Guardian critic Michael Billington regarding the propriety of adapting great films for the stage.
Although many of the most popular stage musicals of recent times are based on non-musical films (e.g. Legally Blonde, Ghost and Groundhog Day), the idea of adapting a film into a play remains a relatively unusual proposition. However, there is mounting evidence that dramatists are learning to appreciate the theatrical potential of the cinema.
Like Kneehigh, who dared to reimagine David Lean's Brief Encounter (1945) and Alfred Hitchcock's Rebecca (1940), director Sally Cookson and 'writer in the room' Mike Akers have taken a solid gold celluloid classic and reimagined it in theatrical terms.
In some ways, Fellini's La Strada (1954) seems like an obvious candidate for a stage adaptation, focusing as it does on the world of circus and street entertainment. In fact, Oliver composer Lionel Bart scored a musical version of the film in 1969, but the show closed after one night. Thankfully, after a critically acclaimed tour of the UK, this new production won't meet the same fate.
Set in the ravaged landscape of post-war Italy, an impoverished widow agrees to sell her daughter, the simple but good-hearted Gesolmina (Audrey Brisson), to a travelling strongman, Zampanò (Stuart Goodwin), who tours the country with his chain-busting act.
A harsh taskmaster with a fiery temper, Zampanò regularly beats Gelsomina when she displeases him. Despite this abuse, the two characters muddle along together, eventually reaching an understanding of sorts. However, the characters' fragile equilibrium is disturbed when they join the circus and Gelsomina befriends an acrobatic clown (Bart Soroczynski), placing them on a path with an ultimately tragic destination.
When critics talk about successful adaptations, they often refer to the "spirit" of the original—that ineffable quality which gives a work of art its distinctive character. Overall, Cookson's production captures the flavour of Fellini's film, skilfully combining the comic and the tragic, the quotidian and the carnivalesque.
Like the works of Kneehigh, this production is powered by a heady mixture of song, dance and physical movement. Benji Bower provides some show-stopping songs and there is dynamic choreography courtesy of Cameron Carver. I was also struck by the inventive use of props, with a wooden box and three tyres doubling as Zampanò's motorcycle truck.
Fellini's original film is rightly admired as one of the great works of Italian neorealism, offering audiences an insight into the harsh realities of post-war Italy. Although this stage production cannot hope to fully convey the bleak rural landscape of the film, with its battle-scarred buildings and windswept beaches, Katie Sykes's non-naturalistic set design provides an evocative and versatile performance space. The twin telegraph poles, for example, serve as a constant reminder of the protagonists' nomadic existence.
This production benefits from a highly talented and versatile ensemble, including three excellent central performances. Audrey Brisson refuses to be overshadowed by Giulietta Maslani's iconic turn in the original film, delivering a performance of considerable sweetness, charm and pathos. Her shuffling walk and bemused expression reminded me of Charlie Chaplin and her beautiful soprano sent shivers down my spine.
Stuart Goodwin is a striking presence onstage, powerfully embodying Zampanò's inner rage. Such is the physical disparity between him and the diminutive Brisson that I found myself constantly worrying about the latter's safety. In stark contrast, the wiry Bart Soroczynski is a whirling dervish as Il Matto (the Fool), effortlessly playing an accordion whilst zipping around the stage on a unicycle.
After the success of Jane Eyre and Peter Pan at the National, Sally Cookson has gained a reputation for delighting audiences by reinventing classic works. La Strada continues this tradition, and I urge you to watch it if you get the chance.
Reviewer: James Ballands