Jay Johnson: The Two and Only
Jay Johnson
Arts Theatre
(2008)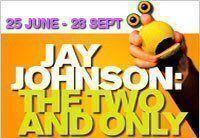 Jay Johnson: The Two and Only is one of those novelty shows that you are likely to either love or hate. It features a clever ventriloquism act hung on the framework of a history of thrown voice and some autobiography of a fine practitioner.
He may not be well known to British audiences despite starring as Chuck in the TV series Soap. However, Jay Johnson has built a good career out of speaking with his mouth shut. By the age of 14, the young Texan had begun to build a solid business and not far short of 50 years on is trying his luck with a three-month run in the West End theatre.
This show has been doing the rounds in the United States for several years and became a surprise Broadway award winner garnering a Tony in 2007, following a two-month stay at the Helen Hayes Theatre late the previous year.
Johnson is a likeable enough man who mixes speech with practical demonstration of his art. Placed in a Beowulf Borritt-designed set that looks like an attractive left luggage office, he chatted amiably way about a subject that was once damned as diabolical and apparently fuelled the Delphic oracle.
This kind of trivia is mildly entertaining but soon enough gives way to the story of how a six-year-old Johnson found his life transformed by a trip to see his radio heroes, Big John and Sparky on stage.
Immediately after, he trained himself up and hankered after a life with a dual personality. The most touching parts of his tale relate to his mentor Art, a genius both as a ventriloquist and designer of dummies who inspired the teenaged Johnson, built him a friend for life and became a kind of unseen spirit behind his act.
Johnson demonstrates his finely honed abilities with a series of associates, starting with a sock-like snake and including a mouthy tennis ball, two boys - nice and nasty - and, at the end, an irritating monkey shows his creator's remarkable talent to best effect.
The 90 minute show builds to a poignant finale, and if the opening night is anything to go by, ecstatic applause from a delighted audience. This is a surprisingly gentle evening that might have been far stronger with a higher joke count and shorter running time. However, word of mouth might well ensure good sales for a performance like no other currently running on a West End stage.
Reviewer: Philip Fisher