JB Shorts 17
Helen Farrall, James Quinn, Aileen Quinn, Peter Kerry, Ian Kershaw, Nick Ahad, Dave Simpson, Diane Whitley
Reallife Theatre Company
53two
–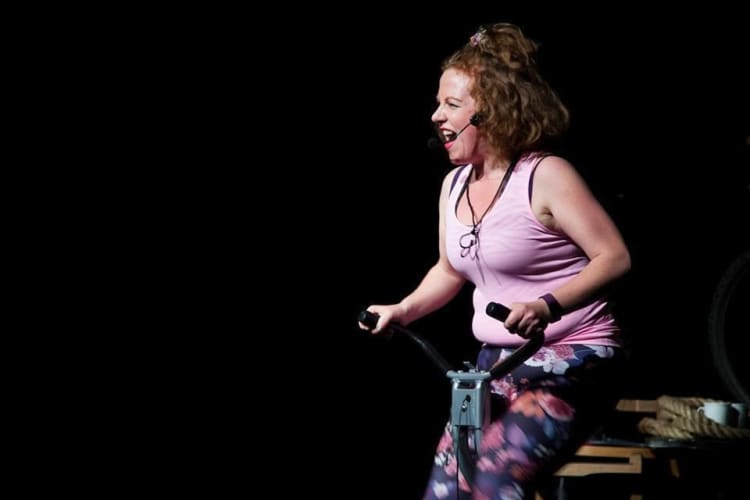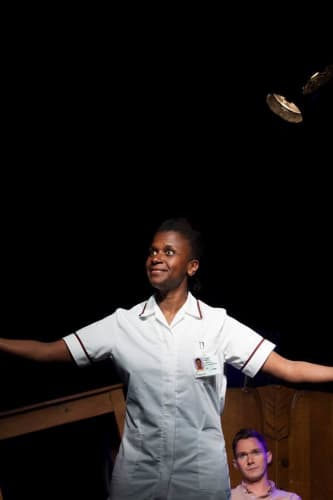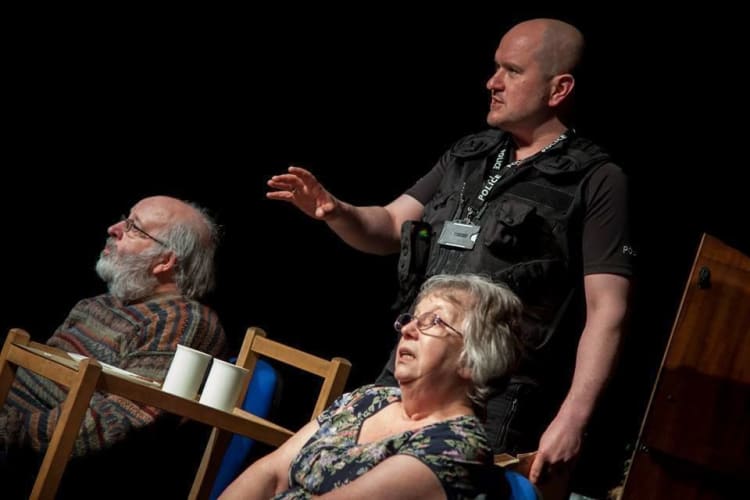 The latest JB batch of six plays is the second at its new venue of 53two, which is looking much more finished than it was at the last JB Shorts in November.
The evening opens with Turn Around When Possible by Helen Farrall, directed by Craig Sanders. Kev (Gareth Bennett-Ryan) is taking Gemma (Alexandra Maxwell) for a meal in a hotel for her birthday, the "last of her thirties" as he indelicately puts it, but they have broken down. He also hasn't mentioned that this trip happens to double with a conference from work—the sudden appearance of his boss Melissa (Julia Walsh) doesn't help Gemma's mood—plus there is also obviously a relationship-threatening issue between them.
The story is fine but seems much longer than it needs to be. The title comes from the sat nav which spits out its standard phrases at awkward moments, a good idea for a gag that isn't quite made to work. There are good performances though, especially from the main couple.
JB regulars James Quinn and Aileen Quinn wrote the next piece, a political satire called Living the Dream directed by Martha Simon. Sam (Adam Jowett) is locked in some kind of institution, looked after by Rosa (Sandra Cole), who is black—the significance of that and their names becomes obvious when Sam tells us he has been the leader of the free world for 241 years.
The script is a clever and witty look at America's changing position on the world stage, but ultimately is just an over-extended metaphor. However Jowett gives a compelling performance, supported very well by Cole, that keeps the attention throughout.
James Quinn returns as academic Richard in Pretty Pimpin' by Peter Kerry, directed by Chris Honer, agonising over his list of eight records for his appearance on Desert Island Discs with his daughter Janet (Alice Proctor), before his agent Vicky (Victoria Scowcroft) arrives to push him into a decision.
This really is a play of two halves. The first is a straight comedy in which almost every line is greeted by a witty put-down from someone else, which becomes a bit wearing. When Richard's reasons emerge for choosing "Pretty Pimpin'" by Kurt Vile instead of the Elgar Cello Concerto that is at the heart of his best-selling book, a more tender, interesting story emerges. Some clever directing conceals the big reveal very subtly until almost at the end, and there are good performances all round.
The pace picks up after the interval, starting with Keep Breathing by Ian Kershaw, directed by Joyce Branagh. Carly—the always brilliant Amy Drake in another barnstorming performance—is teaching an exercise class that she calls "Spin Haçienda", while her much skinnier bête noir is teaching yoga in the next room.
After a brief moan about Brexit and the famous NHS funding promise on a bus, we get an uncomfortable insight into her relationship with Matt (Ethan Homes), whom we only see in flashbacks. While Holmes is perfectly fine, the success of this raucous comedy rests on a perfect marriage between script, director and actress.
Nick Ahad's Inside Voices, directed by George Want, is a take on the drama game of having an unseen person voicing the real thoughts of each of the characters and acting as conscience or advisor, but it begins with some surprisingly good physical comedy from Adam Rickitt as Bob, socially awkward but about to meet Reshma (Perveen Hussain) for a first date.
Their alter-egos—Leon Tagoe for Bob; Sara Latiff for Reshma—try to coach them into not embarrassing themselves, but they end up finding their own way to communicate after dropping the pretence. There is a lovely touch of black-clothed, hard-working but polite bar worker Emma (Steph Reynolds) having her own foul-mouthed, insulting alter-ego (Amy Lythgoe) in a glittery dress. It's funny and touching, but perhaps a little cramped with six people on this stage.
It's difficult to say much about Pot Plant by Dave Simpson and Diane Whitley without giving the game away, although the double meaning in the title is a strong hint. Suffice to say that old couple Iris (Jenny Gregson) and Brian (Stephen Aintree), despite settling with their cocoa and Hobnobs and talking of the quiet life, have a secret that brings the police (Simon Naylor) banging on their door.
However this is more than just a comedy from the shock of the unexpected, as what they are accused of is much more than a hobby. It becomes quite a touching little piece with a political message that brings the evening to a neat close.
Reviewer: David Chadderton