Jeeves and Wooster in Perfect Nonsense
The Goodale Brothers, based on The Code of the Woosters by P G Wodehouse
Theatre by the Lake
York Theatre Royal
–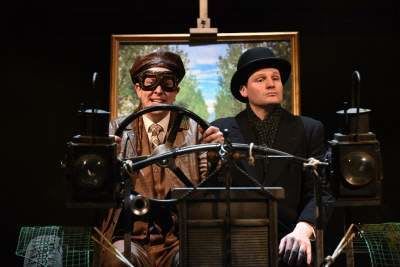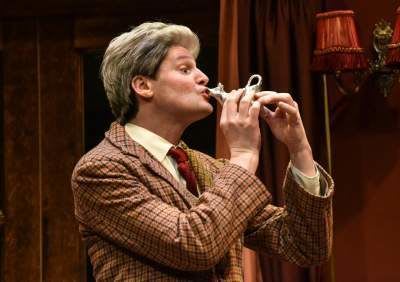 Cards on the table: I'm a big fan of P G Wodehouse. I've yet to read all of his oeuvre—he wrote 100 novels and 15 plays, not to mention the lyrics for countless musical comedies—but what I've read of his is utterly delightful. Line for line, he must be one of the greatest literary stylists ever to sit in front of a typewriter.
It's a difficult task to pick a favourite Jeeves and Wooster novel—the overall standard is extremely high and each book tends to use the same basic plot elements (bossy aunts, clinging fiancées, useless chums, isolated country houses). If I was forced to choose, however, I would probably opt for The Code of the Woosters (1938), the novel on which this play is based.
Like The Woman in Black, in which an actor helps a haunted man to re-tell his ghostly encounter through theatre, Jeeves and Wooster in Perfect Nonsense is structured as a play-within-a-play. Bertie Wooster (Thomas Richardson), a young gentleman of unerring silliness, decides to stage a show based on his recent adventures at Totleigh Manor.
However, on the evening of the première, Wooster realises that nothing has gone to plan. In true Wodehouse fashion, his trusty manservant Jeeves (Theo Faser Steele)—aided by another valet, Seppings (James Duke)—agrees to help him by playing all the other supporting characters.
So, does the play do justice to Wodehouse's superb prose? For the most part, I'd say 'yes'. The Dugdale Brothers have managed to capture the dynamic between Jeeves and Wooster that makes them such imperishable comedy characters and they orchestrate the novel's escalating madness with great skill.
The show is consistently funny throughout its two-hour running time and there are several moments of comic brilliance scattered throughout the show. That being said, the challenges of keeping a play going have been portrayed more ingeniously in other shows, such as The 39 Steps and The Play That Goes Wrong.
The greatest pleasure of watching Theatre by the Lake's productions at the York Theatre Royal has been the opportunity to watch a talented acting ensemble shine in a range of different roles.
Thomas Richardson, so understated as Colonel Brandon in Sense and Sensibility, makes a wonderfully buffoonish Wooster. He captures the wide-eyed innocence and charm that make the character so irresistible, and his impression of a newt is a sight to behold!
Theo Fraser Steele and James Duke, both tremendous in Single Spies, further demonstrate their versatility by playing a variety of oddballs. Steele's performance as Jeeves is everything it should be--calm, courteous and inscrutable—and James Duke makes a memorable Aunt Dahlia.
Director Philip Wilson keeps the action moving swiftly, and Colin Falconer's versatile set design captures the feeling of the 1920s.
I've thoroughly enjoyed Theatre by the Lake's brief residency at the York Theatre Royal. All things considered, it's been a lovely pre-Christmas treat.
Reviewer: James Ballands