Jeeves & Wooster in Perfect Nonsense
From the works of PG Wodehouse by the Goodale Brothers
Duke of York's Theatre
From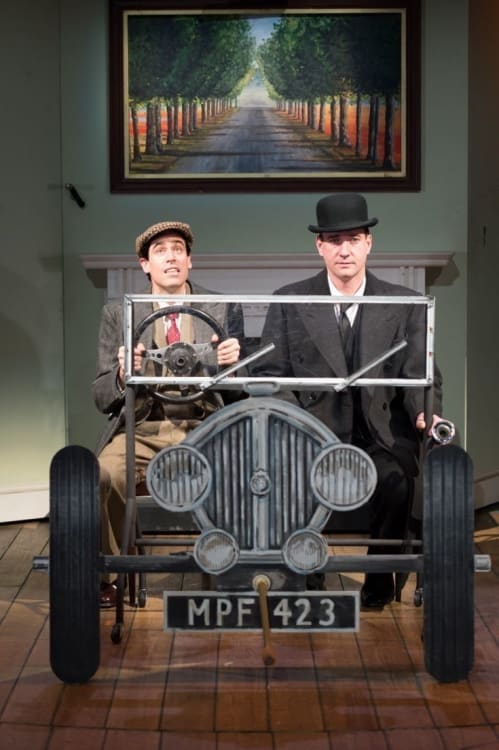 It would have been very easy for a rehash of a Jeeves and Wooster story from the 1930s to seem hackneyed. In fact, director Sean Foley has created perhaps his most enjoyable evening of comedy since The Play What I Wrote.
The style will be familiar to those that enjoyed that homage to Morecambe and Wise and is of the kind that has made The 39 Steps a West End and Broadway hit. Low budgets, small casts and characters in multiple roles will always be attractive to producers.
The start teeters on the brink, as Stephen Mangan's toothsome Bertie sits on an almost unadorned stage and explains that he is about to relate an unfortunate tale.
The appearance of Matthew McFadyen playing Jeeves adds a dimension and promises some fun. This then ensues thanks to the talents of these two actors and the imagination of their director and designer.
Mangan makes Bertie into an upper-class idiot, but Wooster is so good-natured that even a hardened socialist would probably forgive him his inherited good nature.
As the ultimate calm Butler, McFadyen remains immobile, that is if one can ignore a right eyebrow that is raised to good comic effect so often that you almost worry whether it will ever be able to come down again. He is also asked to play both males and females, creating confusion for all concerned.
However, despite the fact that this comedy is practically billed as a two-hander and the promotional photos feature only the star pairing, Mark Hadfield, portraying a weird assortment of characters including butlers, coppers, maiden aunts and wannabe Germanic dictator types, threatens to steal the show with every hilarious appearance.
The story itself tells of an errant cow creamer (don't ask) and the trouble that it causes, breaking and forming relationships with alacrity and annoying old duffers at will.
What would be a mildly amusing farce embellished with wittily Wodehousian turns of phrase is transformed into a great night out by the presentation.
Designer Alice Power's bare set is filled with rolling and flying furnishings, converting almost on the instant, and the performers switch roles and attitudes with the skills of polished farceurs.
This turns what ought to be corny humour into something far better on a constant basis, conveying the spirit of the original to an audience that might well be persuaded to go back to the originals, always the best measure of a stage adaptation.
Although some of the comedy can be a little hit and miss, the overall result is 2¼ hours of laughter, which is never a bad advertisement for a West End production.
Reviewer: Philip Fisher