Jekyll and Hyde
Jonathan Holloway (from Robert Louis Stevenson's classic story)
Chung Ying Theatre Company, in association with Red Shift Theatre Productions Ltd
Platform Theatre
–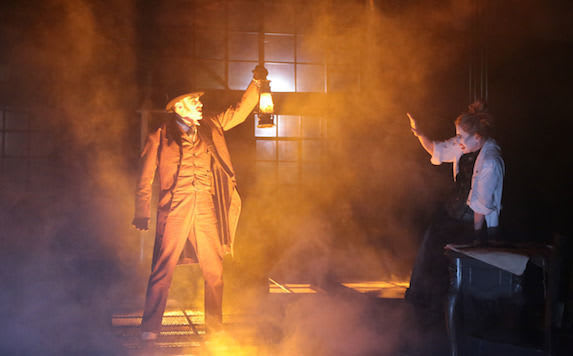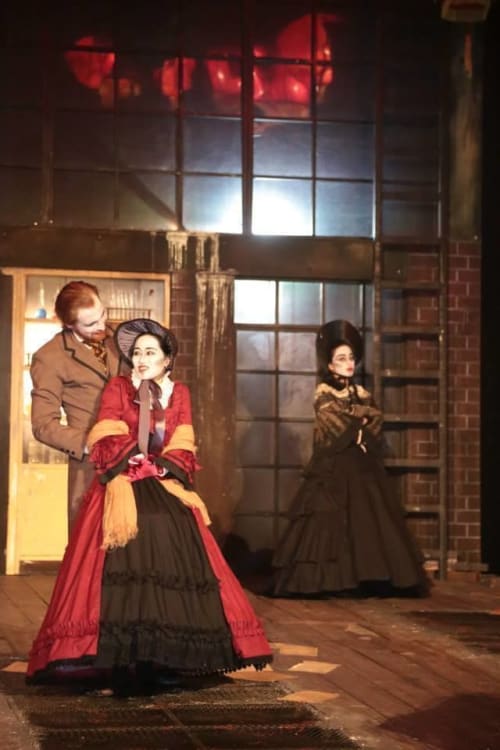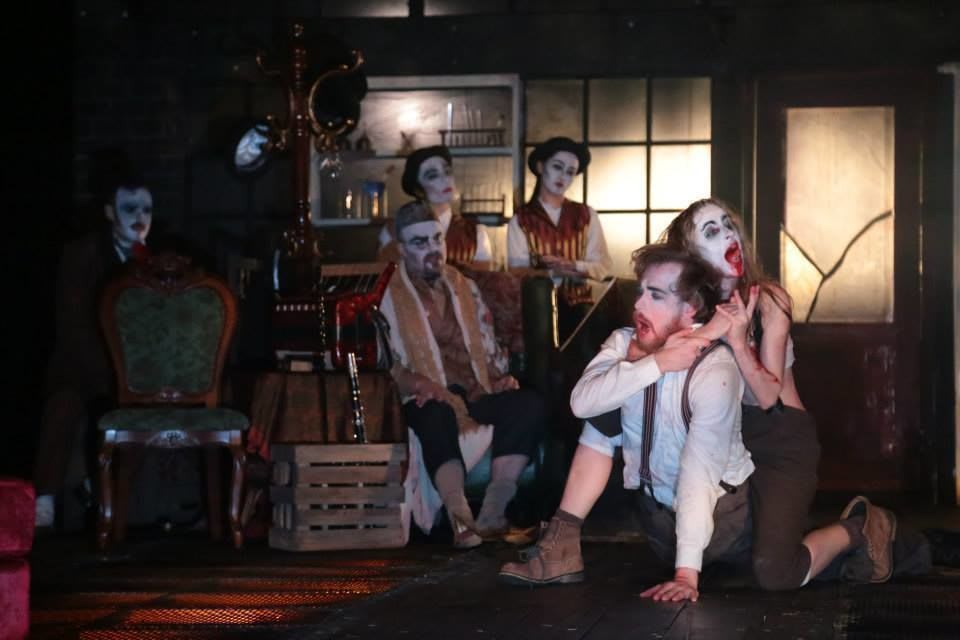 This moodily melodramatic reworking of Stevenson's classic had an earlier outing on the Edinburgh Fringe in 2013 in a Flipping the Bird/Red Shift production that BTG's Philip Fisher recommended. Now it gets a larger scale presentation in a collaboration between Hong Kong's Ching Ying Theatre and Red Shift directed by the dramatist himself.
The production does not use the ethnic mix in casting to make any particular plot point. Indeed, it tends to disguise it for it is played in white-face, which matches the theatricality with which it is mounted, painted features emerging from the shadows under misty dramatic lighting.
Thirty red Chinese lanterns hang above the stage and perhaps they are intended to suggest a Chinese or at least a Chinatown setting for the framing device that Jonathan Holloway uses.
A colourfully robed figure (Simon Spencer Hyde) has a manuscript that he is offering for sale to exotic publisher Worsfeld (Anna Leong). The story is presented to her, its gruesomeness vividly enacted within a setting that hints at shop and lab, decay and decadence. The sound of footsteps, a blinding flash of light, trapdoors to disappear down, revolving flats that turn inside to outside.
The tale is set in 1901 but the telling is told with Spencer Hyde providing a Weimar cabaret-like accompaniment on accordion and clarinet with musical assistance from his fellows. It follows Stevenson's basic outline. Richard Enfield (Graeme Rose) is walking in Lambeth with his lawyer friend Henry Utterson (Michael Edwards) when they reach a place where he had witness a scene of violence. They see an open door…
Holloway's Dr Jekyll (Olivia Winteringham) is female: Tajemnica. She has fled from rape and savagery in the Balkans and her scientific research centres on herself as subject, seeking security by becoming a man: a man, who, as in the original, becomes a murderous monster, the kind of creature from whom she had fled.
Henry Utterson becomes Dr Jekyll's lawyer; he is worried about Hyde whom he thinks may be blackmailing Jekyll. She seduces him while Polly (Chun-chun Lan), the girl who thinks she is going to marry him, is rejected. Now Henry himself is being told that to protect Jekyll he must leave other violence unreported.
This is a production big on atmosphere, almost ritualistically physical, an exotic tale you watch with wonder at the presentation, but the stylization stays play-acting, never achieving the tension that would either make you shiver with horror, nor inducing laughter.
Jon Nicholls's sound and music, Neil Irish's design and Holloway's lighting keep you engaged, along with wondering where Holloway is going to take it. Why do men and women turn into what they loath, the story seems to ask.
But as a raving Hyde, his chest still raw from Jekyll's self-mastectomy, finally falls senseless, this version throws no more light on that quandary. It is very unclear what this version is trying to tell us.
Reviewer: Howard Loxton