Jekyll & Hyde
Jonathan Holloway, based on the novella by Robert Louis Stevenson
Flipping the Bird, in association with Red Shift Theatre Company
Assembly Roxy
–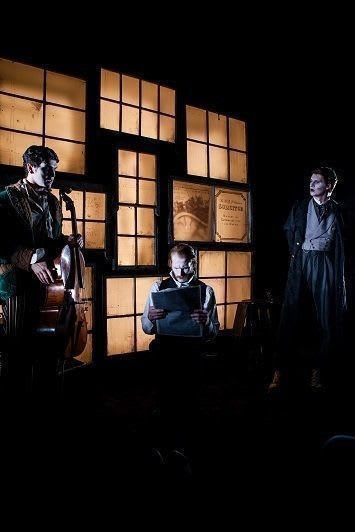 Jonathan Holloway doesn't seem to have understood that the Fringe is supposed to be characterised by haphazard lack of preparation and poor performances of terrible scripts.
Had this new version of Robert Louis Stevenson's dark classic been performed in a smaller West End house, it might well have garnered favourable reviews and a respectable run.
Instead, it can be seen in a tiny, overheated space with poor sight lines. Even so, Jekyll & Hyde is bound to win awards, thanks to a level of professionalism from all involved under the direction of Jessica Edwards that belies its humble setting.
Holloway has turned Stevenson's novel into an erotically-charged hour. The main story is framed by a meeting between a seedy seller and a rich collector (actors Elliot Rennie and Joel Phillimore), both of whom happen to play musical instruments and sing tunefully in high pitched voices.
They negotiate terms for a mysterious manuscript, brought to life before our eyes. The tale starts with Leo Marcus Wan's rakish Enfield enlisting the help of Michael Edwards as prudish solicitor Henry Utterson to seek out and solve a mystery.
This leads the pair to South East London and the lair of the beautiful Doctor Jekyll, played with wit and instinctive intelligence by the winning Cristina Catalina, who is primus inter pares in this strong ensemble.
She seduces the solicitor and eventually draws him into a mystery, the resolving of which allows the actress to take on a new persona and strut her stuff as a surprisingly believable male.
Jekyll & Hyde is presented in white face as a Victorian melodrama and benefits from careful preparation and a director's sure eye for theatrical effect. It comes highly recommended.
Reviewer: Philip Fisher