Jekyll and Hyde
Book and lyrics by Leslie Bricusse, music by Frank Wildhorn
Conceived for the stage by Steve Cuden and Frank Wildhorn, presented by Bill Kenwright
Palace Theatre, Manchester, and touring
(2011)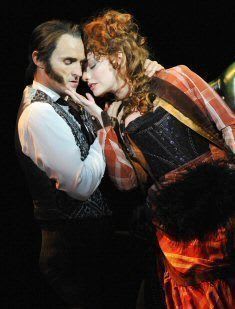 On a night when Manchester's main music venue was mobbed by followers of Justin Bieber, the baby-faced heartthrob beloved of teenage girls the world over, the Palace Theatre played host to admirers of a pop star of a different vintage.
While there were no banners, slogan t-shirts or fainting fans in the Victorian splendour of the Palace auditorium, the adherents of a man who as lead singer of the 1980s group Wet Wet Wet sold more than five million copies of a debut album were out in force.
So was their dedication rewarded? Yes and no. As the lead in Jekyll and Hyde, a musical based on the novella The Strange Case of Dr Jekyll and Mr Hyde by Robert Louis Stevenson, Pellow caressed every note and finessed each melody. His voice was so honeyed that duets with Sarah Earnshaw, who played his fiancé Emma, made the young singer sound shrill by comparison.
Initially unrecognisable as Henry Jekyll, a doctor whose fascination with the duality of human personality proves to be his downfall, Pellow never missed a note. Could this be the cheeky chappy who belted out Wishing I Was Lucky back in 1987? Was this the lad with spiky hair and a smile that reached from ear to ear? No, this was a man who has made musical theatre his home, an adult who looked and sounded the part of the lead in a major production.
Sadly, Pellow's competence as the singing Jekyll and Hyde did not extend to his dialogue abilities. Like the woman who can muster just one expression after injecting poison into her face, so Pellow's acting ability was the equivalent of verbal botox. Perhaps he meant Dr Jekyll's voice to be considered and calm but the result was a monotone which concealed any emotion he was supposed to feel. When he told a companion "I'm feeling dangerous tonight", the audience giggled.
However, Jekyll and Hyde is not a production that dwells on the spoken word; the songs are supposed to be the stars. Pellow's turns are certainly crowd pleasers, not least because of his musical talent, but the most moving numbers are performed by Sabrina Carter who plays Lucy, a prostitute drawn to the mysterious Jekyll. It is testament to Carter's formidable skills that her death evokes more emotion than the demise of Pellow himself.
Nevertheless, the music comes as something as a disappointment. Too many of the songs are similar and rather mundane and it is only really the fast numbers that get the audiences' toes tapping. And this from lyricist Leslie Bricusse who penned Goldfinger, a cracking anthem which has stood the test of time.
Despite all this, the crowd at the Palace Theatre were not let down. Jekyll and Hyde, for all its panto villains and questionable segues, was an enjoyable enough evening at the theatre. Though quite why the stalls felt compelled to give the show a standing ovation will remain a sweet little mystery to this reviewer.
To 26th March 2011
Reviewer: Helen Nugent