Jersey Boys
Book by Marshall Brickman and Rick Elice, music by Bob Gaudio, lyrics by Bob Crewe
Dodger Theatricals and Ambassador Theatre Group
New Victoria Theatre, Woking
–

Listing details and ticket info...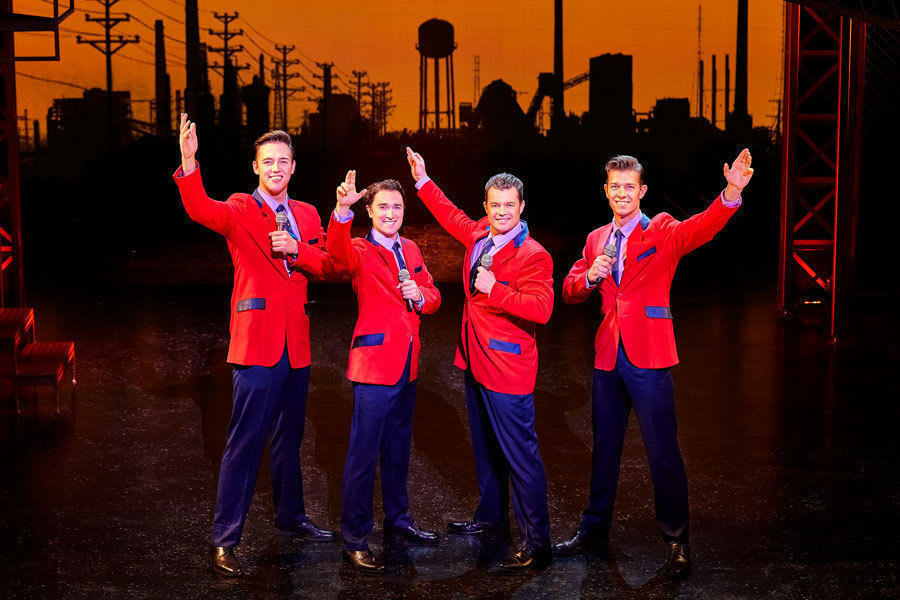 Written in 2004, Jersey Boys has become quite a sensation with many of the audience returning time and again to see this jukebox musical. Charting the rise and demise of The Four Seasons, this latest touring staging hasn't lost any of the magic.
Jersey Boys integrates the group's songs into the narrative, the story told from the four band members different viewpoints alongside a stream of hits. It reminds you how prolific this group were and how talented their songwriter Bob Gaudio is (he also provides the songbook for this musical show).
Starting right from the bands conception, we get the history of petty crimes and felonies as the band grew up in New Jersey in the projects. Klara Zieglerova's set design, Jess Goldstein's costumes and Howell Binkley's lighting design remain largely unchanged from the original staging.
The men are snappily dressed in their pressed suits and slicked-back hair, set against a tougher design of chain link fences and steel girders conjuring the image of urban New Jersey.
This is so slick that it seems even the breaths are choreographed—the Four Seasons croon, jam and wiggle their hips in perfect synchronicity for two hours with no twitch out of place.
The great success of this current show is the strength of its casting. We have Dayle Hodge (as Valli), Simon Bailey (as DeVito), Declan Egan (as Bob Gaudio) and Lewis Griffiths (as Nick Massi). They are all excellent, and finding such a diverse group of singers can't have been easy.
Dayle Hodge as Frankie Valli blows us away with his stamina—he delivers a flawless performance with barely time to change his many suits between blasting out another falsetto hit. His performance of "Can't Take My Eyes Off You" got a standing ovation mid-show—and deservedly so.
Jersey Boys' book is a cut above most jukebox musicals—Marshall Brickman and Rick Elice have written a book which ensures the pace zippy, the songs come thick and fast and it helps that there's a great story to tell.
Perhaps they were inspired to greatness by the continued touring efforts of the real Frankie Valli—just last week he returned to Radio City for the first time in thirty years. He and the Four Seasons had their first farewell concert in 1977, but that hasn't held Valli back!
Definitely the best musical I have seen this year, and I think I'll be joining the ranks of those fans who keep returning…
Reviewer: Louise Lewis