Jersey Boys
Book by Marshall Brickman and Rick Elice; music by Bob Gaudio, lyrics by Bob Crewe
Dodger Theatricals and Ambassador Theatre Group
Palace Theatre, Manchester
–

Listing details and ticket info...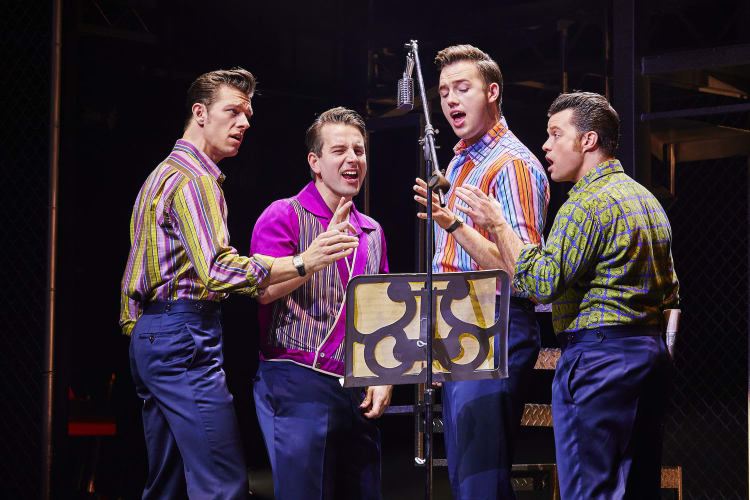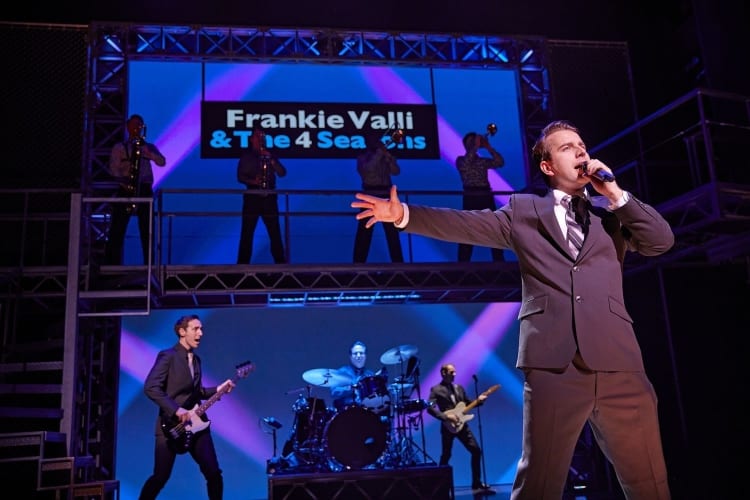 Jersey Boys, the massively successful jukebox musical dramatising the careers and lives of the original members of the Four Seasons, returns to Manchester to warm the cockles of the frost-gripped city.
Writers Marshall Brickman and Rick Elice (together with director, Des McAnuff) constructed the show from interviews conducted with the three surviving members (bassist Rick Massi died in 2000). Rather than try to resolve three perspectives into one consistent account, the writers wisely chose to adopt a "Rashomon-style" (programme notes) narrative—the story, though told chronologically, is divided into four seasons and each of the members is assigned one season to present his own take on how things were.
There's plenty of sharp wit in the script, as on Frankie Valli's first date with his future wife, Mary Delgado (Tara Young):
Mary: You got a nickel?
Frankie: Yeah, why?
Mary: Call your mamma. Tell her you'll be late home.
The best bits of dialogue, however, have the feel of verbatim accounts, as when each of the boys gives a closing monologue, summing up the journey and what happened afterwards.
Appropriately, Tommy DeVito, who set up the group, is given the first section (Spring) and Frankie Valli, who continues to perform to this day, the last (Winter). Given it is the tale of four under-educated, Italian American boys from "blue-collar" New Jersey, the tone is light, brash and witty, full of banter and bravado, even as it covers early run-ins with the law and Mafia connections. The macho flavour (featuring plenty of strong language) means that emotions rarely run deep, even when matters get serious. One exception to this covers the early death (due to a drug overdose) of Valli's daughter, Francine (Phoebe May Newman). She departs this life as her father sings "Fallen Angel".
This aside, there remain a few other points where the story really hits home. The first being when the young Joe Pesci introduces songwriter Bobby Gaudio to the group. As Valli and Massi harmonise to Gaudio's song "Cry for Me", DeVito watches the reaction of the waitresses in the club, realising, albeit grudgingly, that they have found the fourth member of the group that will become (thanks to the name of a local bowling alley) the Four Seasons. It's a special moment.
Of course, any jukebox musical stands or falls on the music which, for this largely grown-up (ie forty plus) audience, really hits the spot (a woman to my right knows all the lyrics and is determined not to let her three note vocal range hold her back tonight).
Smartly, the writers made the decision to use the music to enhance the storytelling, so songs feature in the show wherever they fit the action (rather than according to the strict chronology of their release dates).
Tonight's Tommy DeVito (Peter Nash) captures the mouthy young man whose drive keeps the group going through fruitless early years, but whose mismanagement of funds leads into dangerous waters with unsavoury people. Lewis Griffiths gives us a solid, decent, quirky Nick Massi (along with a lovely bass voice), while Declan Egan's take on Bobby Gaudio brims with youthful enthusiasm and the assurance of a young man with talent and a vision. There's no avoiding, however, that you don't have the Four Seasons if you don't have Frankie Valli, and you don't have Jersey Boys unless you have a lead who can carry off a convincing imitation of Valli's remarkable voice. Happily for all concerned, Michael Watson has what it takes. He can act and dance, too. His rendition of "Can't Take My Eyes Off You", is one of those 'hairs on the back of your neck' moments.
Tara Young, Phoebe May Newman and Olive Robinson provide some feminine balance to what would otherwise be a very masculine show: singing, dancing and playing multiple roles with passion and zing.
Klara Zieglerova's set takes us with minimal fuss and maximal effect from wire-fenced inner city play zones to recording studios, TV studios, tiny clubs and sell-out stadiums. Tonight's crowd love it all.
My advice is, call your mamma and tell her you'll be late home.
Reviewer: Martin Thomasson