Jersey Boys
Book by Marshall Brickman and Rick Elice, music by Bob Gaudio, lyrics by Bob Crewe
Dodger Theatricals, David Ian/Michael Watt, Ambassador Theatre Group
Sunderland Empire
–

Listing details and ticket info...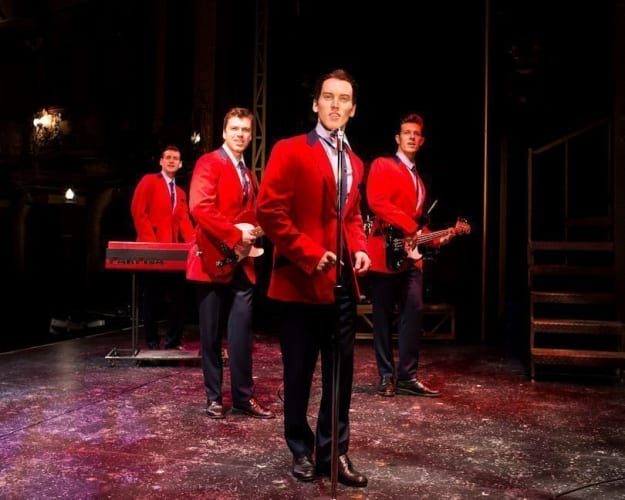 I hadn't realised just how many songs by The Four Seasons (aka Frankie Valli and the Four Seasons) I know.
I was in my late teens/twenties in the 'sixties and much more aware of the music of the time than I am now but, if you'd asked me just a couple of days ago about Frankie Valli and the Four Seasons, I'd have said something along the lines of "Wasn't he that American guy who sang really high?" and, if pressed, I'd probably have recalled "Sherry."
I suppose the Stones and the Beatles and the Mersey Sound in general so dominated in the UK that American music simply didn't register in any really meaningful way, unlike in the previous decade when a range of artists from The Platters to Bill Haley were what we listened to.
Of course there was always Elvis. Although among the girls of my acquaintance it was either Elvis or Cliff—rarely would the twain meet!
After seeing Jersey Boys I realise just how much they had impinged musically but I certainly knew nothing about them, not even that they came from New Jersey.
Now I do, because Jersey Boys is their story. It's not one of those juke box musicals which fit a totally unrelated story to their music. It's much more like, for example, Buddy—The Buddy Holly Story or those fifties musical biopics like The Glenn Miller Story.
Structurally the piece is unusual. It's not uncommon to have a narrator, but this has four. All of the original Four Seasons—Bob Gaudio, Tommy DeVito, Frankie Valli and Nick Massi—take turns telling the story from their own perspective. As they are very different—Bob Gaudio, for example, quotes T S Eliot and Tommy DeVito is a small-time criminal—they see the events equally differently.
Short scenes (sometimes very short) break up the narration and the scene changes are very quick and slick but obviously it is the music which is central. There are 33 songs in the show, not all their (i.e. Gaudio's) compositions but all were at one time or another sung by group.
The leads—Sam Ferriday as Bob Gaudio, Stephen Webb as Tommy DeVito, Matt Corner (at this performance, Tim Driesen at others) as Frankie Valli and Lewis Griffiths as Nick Massi—were obviously chosen for their ability to sing like their real-life counterparts, which they get absolutely right, but their acting skills are also put to the test, a test which they pass for, as the show progresses, they develop as individuals.
A cast of 13 more play a multitude of roles, from actor Joe Pesci as a very young man (Damian Buhagiar) to mob boss Gyp DeCarlo (Sean Kingsley).
Telling the story of a group's development, particularly if every twist and turn is to be included, is inevitably going to be somewhat "bitty" and there were times in the first half when I wanted to slow things down a little—a case of too much, too quickly—and when a technical hitch brought the safety curtain down for a few minutes while the problem was dealt with, we had a little time to catch our collective breath and absorb before more was thrown at us.
However it is the second half which contains most of the drama and emotional tension, and, as it felt less like a concert and more like a play with music, we found ourselves engaging more with the characters.
It almost goes without saying that a show like this is going to please its audience—if they're not fans why would they be there?—and so it was at the Empire press night: recognising old favourites, memories of lost youth returning, admiring a superb recreation of a blast from the past.
And if old hacks who've seen too many shows and feel the need to be critical have some reservations, who cares? The audience didn't. They loved it!
Reviewer: Peter Lathan