Jersey Boys
Book by Marshall Brickman and Rick Elice, music by Bob Gaudio, lyrics by Bob Crewe
Dodger Theatricals, David Ian/Michael Watt, Ambassador Theatre Group
Sunderland Empire
–

Listing details and ticket info...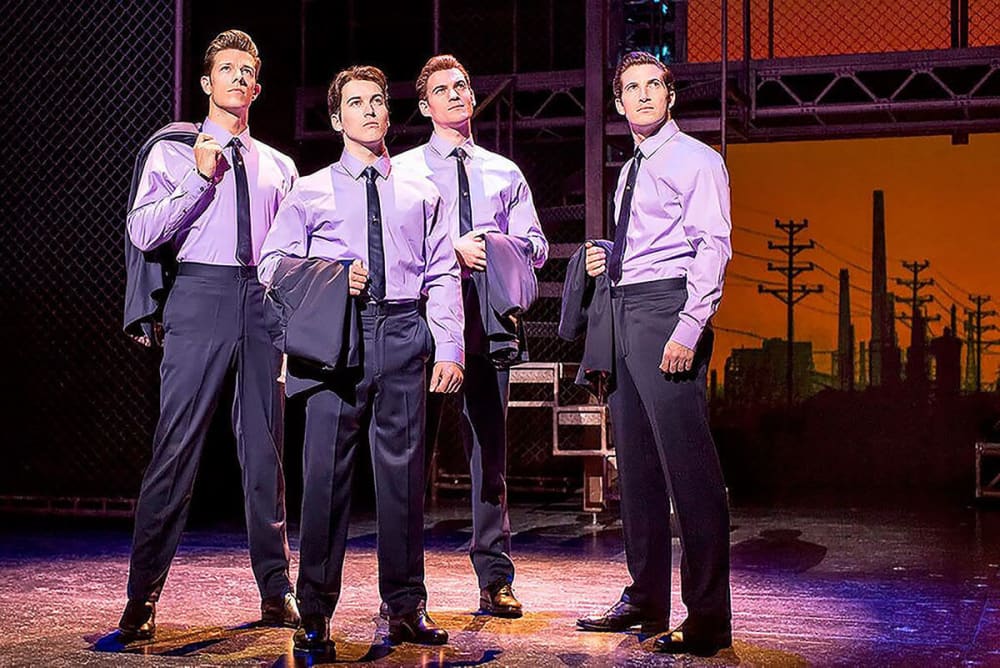 Hard to believe, but this the first time I have seen Jersey Boys. I am aware of its worldwide cult status and many followers, but for some reason it's just been off the radar. Which for reviewing purposes is ideal as (apart from the movie) I had nothing to compare it to.
It's fair to assume that everyone will know it's the story of Frankie Valli and the Four Seasons, but what a story.
We start with the stealing, jail and gangs affecting the characters' lives and the chance encounter that allows Frankie to get his first singing role. He slowly turns into a star but there are setbacks, death and money issues along the way. What is hard to appreciate is that the man himself is still very much around and the young Joe Pesci (whom the guys used to boss around) became the Oscar-winning actor.
But it's all about the songs and the singing and here this brilliant tour is faultless: four excellent leads with Matt Corner playing Valli, (looking like a smaller Rob Brydon from the circle) reaching some impossible high notes with ease (Michael Pickering plays the role at certain performances).
He is surrounded by some of the best talent in musical theatre today, namely Lewis Griffiths, Sam Ferriday and Harry Davis. But the whole cast is faultless; when you have hit after hit to sing, you know you're on a winner and this cast does the songs justice.
While this show is another in the vain of Mamma Mia, it's not a made-up story; it's based on fact and works on every level: great book, excellent singing and swift, neat set changes. A true class act at every level.
One small annoyance, apart from the audience not jumping to their feet for an instant standing ovation which it fully deserved, is people trying to sing along (more so when they're out of tune). It ruins the show for others unless it's expected as audience participation.
This is a brilliant show that I have missed out on for years and now understand what the fuss is all about. If you have not seen it, go before it's too late.
Reviewer: John Dixon