Jersey Boys
Marshall Brickman & Rick Elice
Dodger Theatricals and Ambassador Theatre Group
The Lyric, Theatre Royal Plymouth
–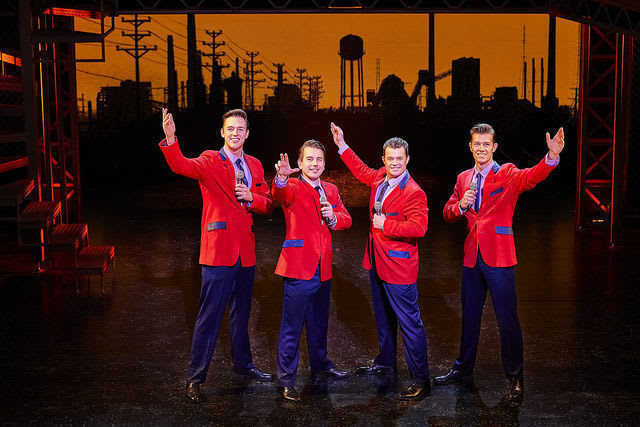 With 33 hits and an awful lot of backstory jammed in, this is no jukebox jolly as Jersey Boys reveals the seedy underbelly of the Four Seasons phenomenon.
The launchpad for the lads' meteoric rise to celebrity and fortune—and the Rock 'n' Roll Hall of Fame—was New Jersey's gangland, crime and violence: difficult to shake off.
The chronological story and hits are interwoven with four parts (seasons) as each band member gives his take on just how it all happened. And thereby hangs a tale of prison records, broken marriages, tragedy and dodgy deals—not to mention the angst of sharing a hotel room—behind the stardom, chart-toppers and world-wide adulation.
Who knew that "Walk Like A Man", "December 1963 (Oh What A Night)" or "I Still Care" came from the same pen as the poppy "(Who Wears) Short Shorts"? Or that "My Eyes Adored You" was considered too art-house for radio play? There's certainly an education to be had amongst the golden oldies that come hard and fast from a variety of line-ups and with those stilted iconic dance movements.
Simon Bailey is guitarist Tommy DeVito whose gritty, no-holds-barred determination lights the touch paper for take-off but whose gambling and dodgy dealing all but derails the gravy train while gravel-voiced Lewis Griffiths is bassist Nick Massi who, although generally taciturn, kills the one-liners with superb comic timing.
Diminutive Michael Watson nails the falsetto, the moves and a credible Frankie. Emerging from shy trainee barber, by way of marriage and name change, to polished frontman learning from a school of particularly hard knocks with just a Jersey handshake and half a dollar bill between him and abject failure. But possibly the stand-out performance in a clutch of top notch performances is Declan Egan as Bob Gaudio, subtly blossoming believably before our very eyes from gawky one-hit wonder schoolboy to accomplished, business-savvy professional songwriter.
With talented supporting actors able to pick up an instrument and/or dance, Sergio Trujillo's spot-on choreography and Klara Zieglerova's brooding industrial skyline silhouette and caged scaffold set there is much to delight—but beware the ripe language, a peculiar French rap opener, cartoon statement pieces and much furniture shuffling as required by the episodic nature of the piece.
Reviewer: Karen Bussell