Jerusalem
Jez Butterworth
Royal Court Theatre Downstairs
(2009)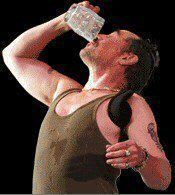 Jez Butterworth has become the premier chronicler of the English misfit ever since he hit the headlines with a whole gang of them in Mojo, which first appeared on the same stage 14 years ago almost to the day.
Even by his standards the almost Beckettian John Winston (Rooster) Byron is something special. The character, given impressive humanity in a prodigious performance from Mark Rylance, is intended to be a latter-day St George but, in his evasions of adult responsibilities, has almost as much in common with Peter Pan.
It is hardly coincidental that Jerusalem plays out on the English Saint's Day, as Rooster awaits eviction by the local authorities in Wiltshire. He may be a grungy folk hero worshipped by a group of eccentric losers and kids whom he saves from potentially unpleasant fates but our man is far from an emblematic superman.
A drunken drug dealer who befriends underage girls and wrecks any pub that hasn't barred him, Johnny Byron could easily be mistaken for a danger to village society. Indeed, a petition against him has been signed by practically every inhabitant of Flintock.
Even so, tattooed Rooster generates admiration for his way with a tall tale and the easy charm of a carny roustabout. While fearing for his sanity, one is drawn to the man's sheer bravery and devil-may-care attitude. What does it matter whether he is a West Country Evel Knievel risen from the dead or only a legend in his own mind?
Jez Butterworth really scores by showing another side to this representative of a lost English pride who is about to bow out of his community forever, inevitably in a blaze of glory. The audience has plenty of time, some 3¼ hours, to view the manifest warts in a tender portrayal of a self-destructive outsider who has heart beneath the excessive displays of macho bravado. This is most poignantly seen with the arrival of a despairing former partner and sweet young son, presumably deserted like unwanted items of clothing.
There is a little more to Jerusalem than merely a portrait of the fantasist as an ageing man. Under the sure hand of this writer's director of choice Ian Rickson, we are also introduced to a convincing crew of insecure losers. They are led by Mackenzie Crook as would-be DJ Ginger, Alan David's dotty Professor and Tom Brooke playing Lee, whose chances of success in Australia where he is emigrating seem close to zero.
On the outside are the authorities and an evil stepfather but also Gerard Horan playing Wesley, an old friend and publican mired in a mid-life crisis, who does not know whether to worship or despair at the shrine of Johnny and his childish antics.
The action takes place in a wonderful Ultz set that is anchored by a silver railway carriage, home not only to Byron but also a family of hens. This sits in enough foliage to fix the location and its heritage firmly in the mind of every visitor.
Jerusalem is not only a homage to a rural England that is fast disappearing. It is also a rich, closely observed portrait of English eccentricity that is packed with affectionate humour.
While the text loses energy following the second interval and might have been cut a little, the evening does not feel anything like its length and Jerusalem has all that it takes to become a well-deserved, if somewhat unusual, hit.
Playing until 15 August
Howard Loxton reviewed the West End transfer at the Apollo Theatre
Reviewer: Philip Fisher