Jess
Stephanie Silver
Glass Half Full
[email protected]
–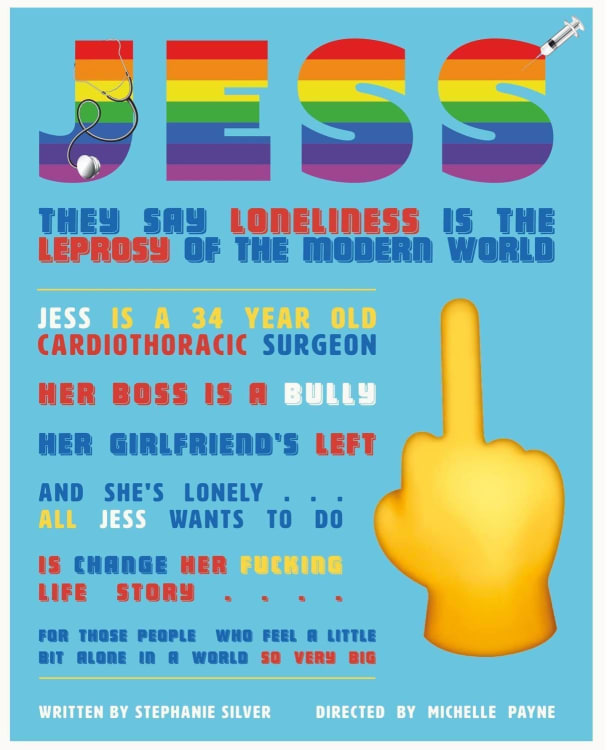 As a surgeon, Jess (Kate O'Rourke) is professionally successful. Her mother uses Jess's achievements to regard herself vicariously as middle class and now shops at Waitrose buying unpleasant but expensive biscuits. Jess knows her lifestyle as a whisky-drinking, binge-food-eating shift worker is not healthy and when she experiences weight and hair loss, she self-diagnoses breast cancer only to be told she is entering early menopause. The diagnosis pushes Jess towards an unexpected epiphany.
Stephanie Silver's script is a fine example of character development. Initially, Jess, with her accurate but sharp observations of friends and colleagues, seems defensive, claiming she doesn't need other people. At the heart of the script, however, there is a sense of loneliness, even emptiness. Much of this is communicated with a dark humour—Jess has not dated for so long she has to Google ways of being attractive. At her lowest point, Jess feels jealous of parents whose child is ill because at least they have something to lose. Yet Silver gives Jess a wry sense of self-awareness that helps the audience sympathise even when the character does not seem appealing.
Director Michelle Payne uses a series of sharp cuts inserted into scenes to help viewers share the growing stress and confusion Jess is experiencing. Jess's discussion with her doctor is disrupted by her medical beeper and memories of wandering around a graveyard. The play is, however, far from dour and has an understated wit running throughout—when Jess resigns herself to "lying back and thinking of Ireland", it is notable she is wearing a green dress.
The menopause imposes a timetable and forces Jess to consider if she wants to have children. This unwanted urgency is apparent in Kate O'Rourke's weary and desperate performance. O'Rourke plays Jess as someone with one eye on the clock but also with a level of intelligence that makes clear she is aware her actions are impetuous and regrettable. O'Rourke takes Jess from a sense of shame to, in the closing moments of the play, a feeling of resolution—an awareness of how she will move forward.
Jess is a mature piece of work and, as such, does not pretend there can be a happy ending to Jess's confused situation. The conclusion does, however, suggest Jess has achieved a degree of contentment and, as by then we like her so much, it is hoped that is the case.
Reviewer: David Cunningham