Jews. In Their Own Words.
Jonathan Freedland
Royal Court Theatre
–

Listing details and ticket info...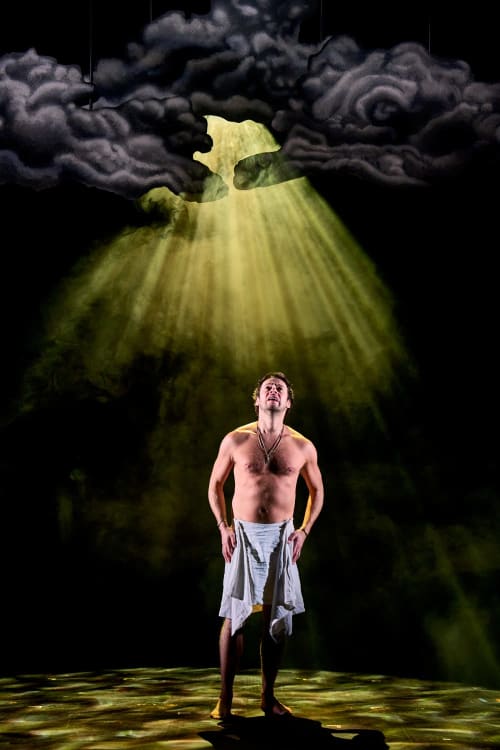 Jews. In Their Own Words. is just that. Gathered by Guardian columnist, Jonathan Freedland, based on an idea by actor Tracy-Anne Oberman, this angry verbatim piece picks at the wounds of the Jewish British experience through a clamour of raw voices who share their stories to create a bleak picture of centuries-old bigotry, reaching back to 1144, the first blood libel in Norwich and catalyst for anti-Semitism that gripped Europe.
In 100 minutes of testimonials based on interviews from 12 British Jews, not only are we reminded of history and culturally sickening stereotypes in literature from Chaucer to Shakespeare, Dickens and beyond, but also the disclosure of anti-Semitism inside left-wing institutions including the Labour party, circling around the shocking treatment of Labour MP Luciana Berger under Jeremy Corbyn, exposing the political left who position themselves as anti-racist but in truth cling onto deep-seated bigotry, only a whisper away from floating to the murky surface.
The play opens bizarrely onto a character called Hershel Fink, clearly a Jew, dressed in a loin-cloth looking skywards to find out who his people are. We know this is his name because it is broadcast on a screen behind him. So far, so bemusing. The scene is vaguely reminiscent of a scene lifted from Monty Python's The Life of Brian.
There is, however, a valid explanation for such a surreal opening number. Turns out, The Royal Court was met with much publicised outrage and attacked for anti-Semitism in relation to the name of a character, 'Hershel Fink', a fictional character in the play Rare Earth Mettle in November 2021.
Fink is a tech billionaire: manipulative, money grabbing and presumably—in hushed tones—Jewish. The name was changed to Henry Finn just before press night, but the media got wind and caused a ruckus as it served to reinforce the anti-Semitic stereotype that makes tonight's performance such a vital one.
Once the Fink scene is put to rest, the play fires off into a fierce stream of testimonies from British Jews in the spotlight. There are known figures such as Oberman, Labour politicians Margaret Hodge and Berger, novelist Howard Jacobson. There's journalist Stephen Bush, Union of Jewish Students ex-president Hannah Rose, as well as general members of the public: social worker Victoria Hart, paediatrician Tammy Rothenberg, decorator Phillip Abrahams, Baghdad-born Edwin Shuker and Talmudist Joshua Bitensky. Then there's Dave Rich, Policy Director at the Community Security Trust, which combats anti-Semitism, who acts as the narrator.
Vicky Featherstone and Audrey Sheffield's production, designed by Georgia de Grey, is fast-paced with screens used to broadcast tweets and interviewees' names appear as they speak to aid swift character changes. The cast rises to the challenge with admirable alacrity given the speed of character swaps.
The testimonies feature against a backdrop of subheadings: "Money", "Blood Libel" and "Power" marked out in red like dripping blood across the back wall to act as chapter headings to explore prejudices passed down through the generations against Jews.
Puppetry and masked medieval mystery plays are used as a theatrical device to highlight the horrific absurdity of centuries'-long prejudices against the Jews. This is where we witness revolting scenes of Jews being executed for allegedly killing Christian children in acts of blood libel. It's a confusing, slapstick expression of such brutality. The musical numbers feel clunky and uncomfortable, at best serving to break up the stream of statements from the actors. Such theatrics don't have anywhere to land and at no point is there any dialogue or exchange between the characters, so the drama doesn't build as the play presents one script after another.
That said, the statements do speak for themselves as separate entities and you would have to be a block of wood not to feel moved as each gives a personal account of the anti-Semitism they have experienced, that their families have experienced, and what it's like growing up in the UK as a Jew. The political quickly becomes the personal in an outpouring of astounding acts of anti-Semitism.
This is where tonight's true strength lies: the simple stories that shine a light on the deep wells of deception and bigotry; the smaller examples from everyday life that are instantly relatable. "Ah you're Jewish," says a director to Oberman after being pressed about her identity due to her physical appearance in a casting for a costume drama. She was reminded that there are no Jews in Jane Austen. Being told by parents to always have a suitcase packed by the front door just in case. The tale of a local Turkish newsagent who blames the pandemic on the Jews. Or the painter and decorator Abrahams over-tipping a taxi driver to change the perception of being a tight-fisted Jew.
Perhaps one of the most insidious themes to emerge from such loaded material is the inference that, despite centuries of oppression, Jews are always on the winning team—the oppressors, not the victims—feeding into the myth documented tonight that Jews are also responsible for Israel and all their policies. As one interviewee says: "what's Israel got to do with me?"
Social worker Victoria Hart (Rachel-Leah Hosker) gets right to the heart of this matter when she explains how anti-Semitism 'punches up', implying Jews have too much money and power, whereas most other forms of racial prejudice 'punch down', as in the group being attacked are inferior.
This is political theatre that cannot fail to evoke upset and anger in the face of such cruelty. The actors work supremely hard with the script, but ultimately the documentary style of performance, where characters do not talk directly to each other, makes it hard for any deep-lasting drama to take root. However, Jews. In Their Own Words. will surely get people talking outside the theatre. And speaking as a Jew, my hope for this show is that it attracts audiences who are not already well versed in the themes of anti-Semitism so vehemently expressed tonight.
Reviewer: Rachel Nouchi