Jim Steinman's Bat Out of Hell – The Musical
Book, music & lyrics by Jim Steinman
London Coliseum
–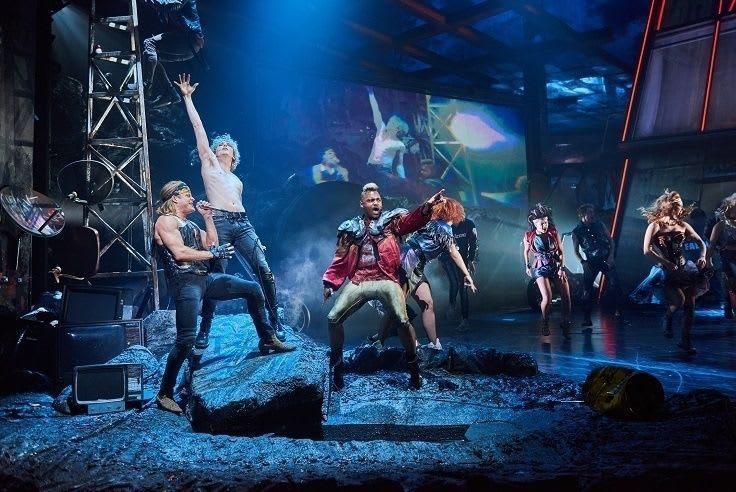 Given its iconic popularity with generations of music lovers, fans have had a long wait—almost exactly 40 years—to see Meat Loaf's legendary album finally transformed into a musical / rock opera.
Jim Steinman, the mastermind behind the original album and just about everything else sung by Meat Loaf since, has taken the project on single-handedly, which is simultaneously the evening's greatest strength and weakness.
While Jim Steinman's Bat Out of Hell—The Musical, directed with an underlying dark, rock ethos by Jay Scheib, glorifies the original album and uses every song to create memorable moments, benefiting from the kind of visual experience that one expects at rock concerts with Emma Portner's energetic and often spectacular choreography to match, ideally, it needs to do more.
Taking other parts of the back catalogue to supplement the main event will also prove popular and a number of new songs written specially for the occasion are characteristic and rarely feel out of place.
However, when it comes to plotting, Mr Steinman is way out of his depth. The storyline, such as it is, is approximately one part Romeo and Juliet, two parts Peter Pan with the remaining 97 having much in common with Ben Elton's much reviled book for We Will Rock You. Readers will immediately respond with the observation that, regardless of the book, the musical based on Queen's greatest hits has been one of the most successful West End shows of the last couple of decades. The same might well apply to Bat Out of Hell, which heads to Toronto after this two-month gig, presumably slowly circling in on Broadway.
Events take place in some dystopian future where a group of the "Lost" roam the dangerous streets of Obsidian, according to the programme notes a post-apocalyptic version of Manhattan.
They are led by Strat, played by American import Andrew Polec, who may well have been less than 100% fit on opening night, since his voice took some time to hit the necessary heights, though he did get there in time for the love duet "For Crying out Loud".
Life changes for Strat after he gets a glimpse of Christina Bennington's headstrong Raven on the eve of her 18th birthday. Mutual love at first sight causes immediate problems since the rebellious youngster is the daughter of dictatorial, ultra-rich Falco, Rob Fowler demonstrating that wealth is no hindrance to wonderful singing, frequently accompanied by Sharon Sexton in the role of his constantly dissatisfied and disappointed wife, Sloane.
Chuck in Danielle Steers and Aran McRae as kinky nurse Zahara and immature acolyte Tink, both excessively enamoured of Strat, and that is as much plot as you are going to get, leading to an improbably happy ending in which even the wicked baddie gets his girl.
However, punters heading down St Martin's Lane to ENO's headquarters for this show will be more interested in hearing their favourite songs delivered live, accompanied by Patrick Woodroffe's fantastic light show, some imaginative but over-used videos from Finn Ross and, above all, the songs that they have loved since childhood or not long afterwards.
Viewed in that light, they will not be disappointed, relishing a superbly visualised version of "Paradise by the Dashboard Light", the inevitable finale of "I Would Do Anything for Love" and, completely bringing the house down prior to the interval, "Bat Out Of Hell" itself.
This is certainly not high art but it is high entertainment with a guarantee that visitors will leave the theatre humming some great songs (including one or two of the new ones) and digging out their old Meat Loaf albums to remain in the moment.
Reviewer: Philip Fisher